Non-musicians who hear I travel to play concerts sometimes assume that I'm enjoying travel to exotic locations, and seeing the local sights during my concert trip.  This is partially true.  I have had the opportunity, because of a concert I'm playing, or an organ I'm visiting, to be in places I never would have otherwise gone, and I also try to grab chances, while there, to appreciate local attractions and beauty. Unfortunately, most of my time on a tour (when I'm awake and not traveling) is often spent inside a church, practicing madly, as my concert trips this past fall amply illustrate.  However, I still try to squeeze in a little local color when possible, and usually succeed – otherwise, this blog would often be pretty boring reading!
September began with a trip to Sacramento, which was warm and sunny when I arrived, as were my hosts.  My Sacramento trip could have been called "4 Days, 3 Events, 2 Organs, 1 Organist", if that didn't sound too much like a reality TV show.  I divided my time between practicing on two very different instruments.  I needed to become acquainted with a French romantic instrument, the Hupalo and Repasky at St. Mark's United Methodist, and a somewhat Baroque-influenced Bedient at St. Paul's Lutheran.    Thursday evening, I presented a lecture for the local AGO chapter about my time in Germany and how I changed as a player as a result.
-seated at the Bedient with Ryan Enright, sub-dean of the Sacramento AGO, one of my hosts for the weekend, and Organist Titulaire at St. Luke's Lutheran in Sacramento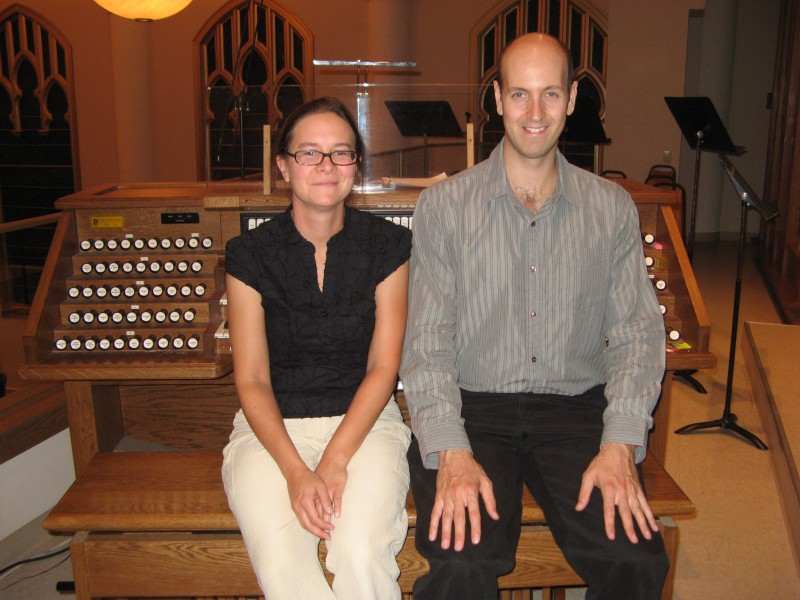 I rehearsed and performed with my new partners-in-crime, the talented and personable Gudonian Hand trombone quartet, on a Friday evening at St. Paul's Lutheran in downtown Sacramento, in a concert that was very well-received.  We played Baroque arrangements and original works for organ and trombone quartet, including selections from Bach's Art of the Fugue, and our own arrangement of the Toccata in Fugue in D Minor – always a crowd pleaser!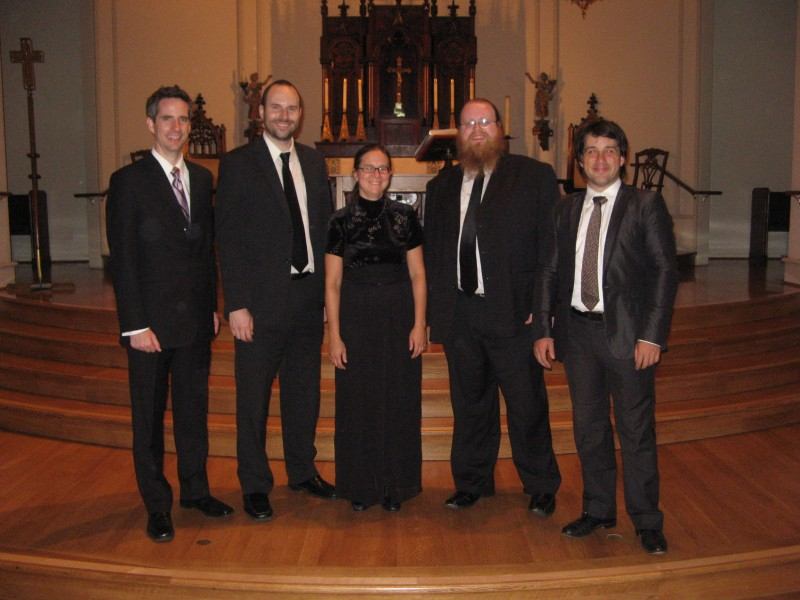 The following day, I played a solo recital on the French-inspired instrument at St. Mark's United Methodist.  Entitled the Art of the Fugue, my program traced the development of the fugue through various eras and countries, and contained an astounding amount of variety – a very fun program.  
Both of the concerts were part of the Bravo Bach Festival, in it's fourth year in Sacramento.
In the middle of that grueling schedule though, was still time for a lunchtime stroll through the rose gardens of downtown Sacramento, a walk on what is supposedly the longest urban bike trail in the US – which winds past a lovely river (and where we spotted an otter!) – delicious meals served outside in my host's beautiful backyard, and a chance to appreciate their bountiful gardens, as well as the mandatory late-night, post-concert beers (or root beers, as the case may be…) with friendly colleagues.  I didn't see much of Sacramento, but what I did see was most enjoyable, thanks to the thoughtful hospitality of the folks I had the pleasure to spend time with there.      
Back home in Holland, MI, it was great to see my family and enjoy fall in Michigan, before taking off again for Pittsburgh.  The amiable Don Fellows, from St. Paul's Catholic Cathedral, met me at the airport and ushered me to my hotel, where I noticed a convention of the American Society of Botanical Artists was also taking place.  "It's nice to see there are professions even geekier than our own", I remarked to him.  
– Don and I, with the mighty Beckerath
St. Paul's is a breathtaking space, and holds a very significant instrument, a four manual, 57 stop organ built in 1962 by master German organ builder Rudolph von Beckerath, and restored in 2009 by Virginia organ builders Taylor and Boody.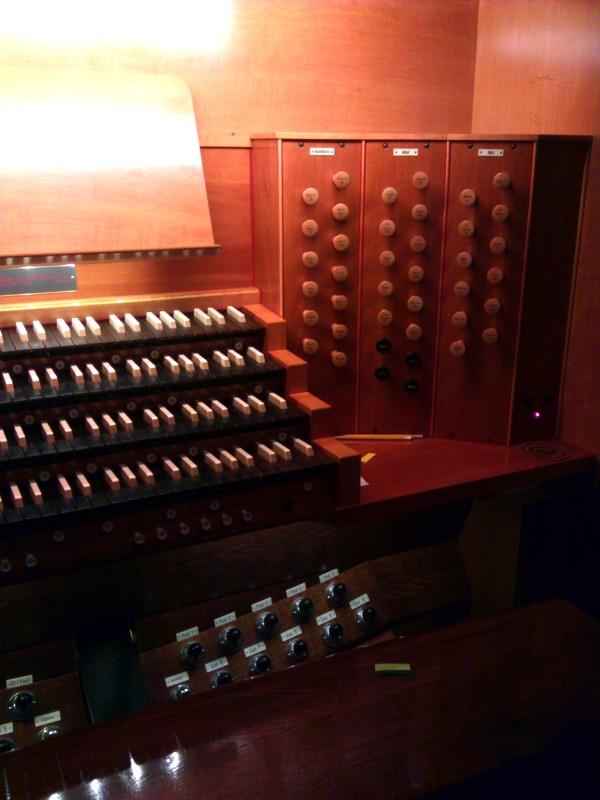 The instrument is massive, both visually and aurally.  It makes a huge and stunning sound in the reverberant room, but also contains many wonderful individual sounds and colors.
– a view of the room from the organ loft in the back – organists get the best views!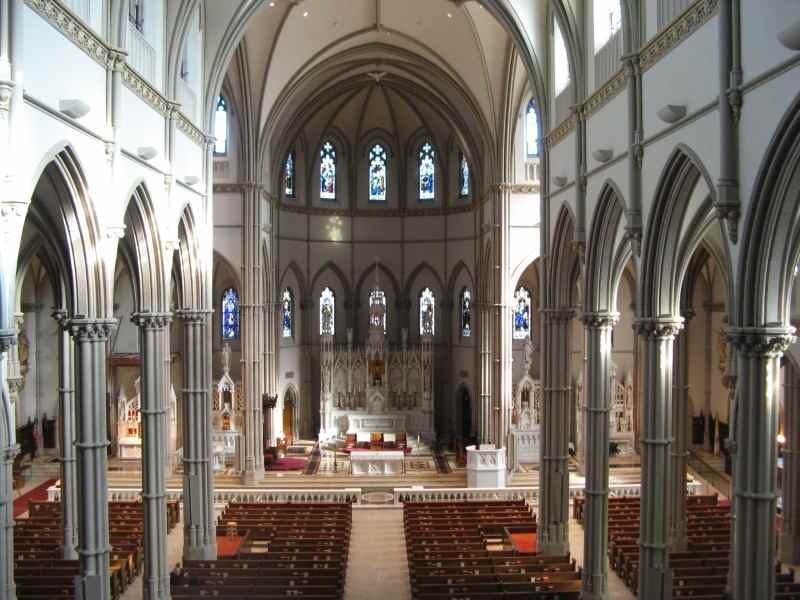 It reminded me of similar instruments I played while in Germany, and worked fabulously, not only for the music of the German Baroque, but also French repertoire, and the modern pieces I programmed by living American composer Margaret Sandresky. 
– St. Paul's from the street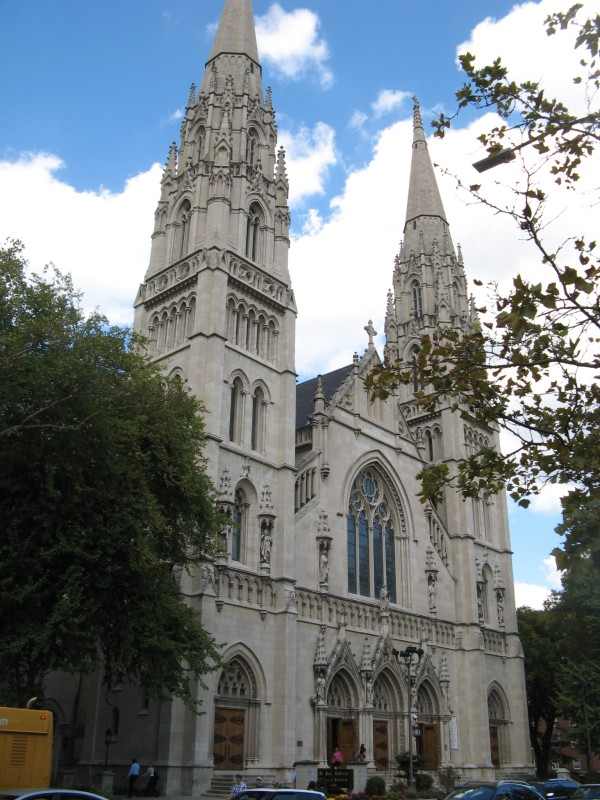 I hardly wanted to leave the organ bench, but breaks are necessary, and I had to vacate the organ loft for a couple scheduled weddings, so I soaked up some sunshine, and wandered around the U of Penn campus.  Nearby Heinz Chapel has incredible windows, with unusual subjects, such as Emily Dickinson and Abigail Adams.  
– Abigail Adams on the right, and Ben Franklin on the left –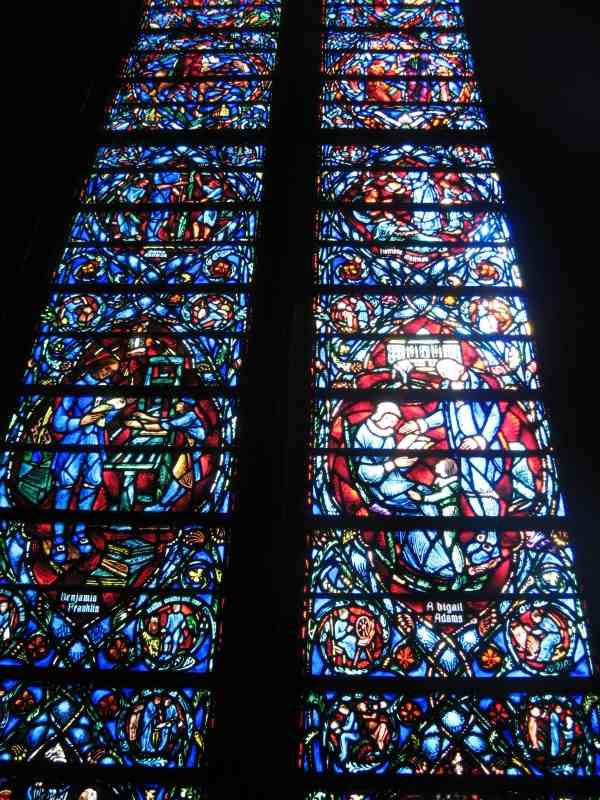 I also had the chance to catch up with some old Bloomington, IN friends – Margaret and her husband John – who I hadn't seen in over ten years.  Margaret was in our wedding (just a few years ago…), and we had some great Indian food that evening and traded stories of the intervening years.
My parents came out for the concert, and afterwards I spent some time with them, in the house where I grew up, and which they are in the process of selling.  Besides helping them pack and organize the house, I took some walks on the paths in the woods around their house, where I remember playing as a child, and which I will miss greatly.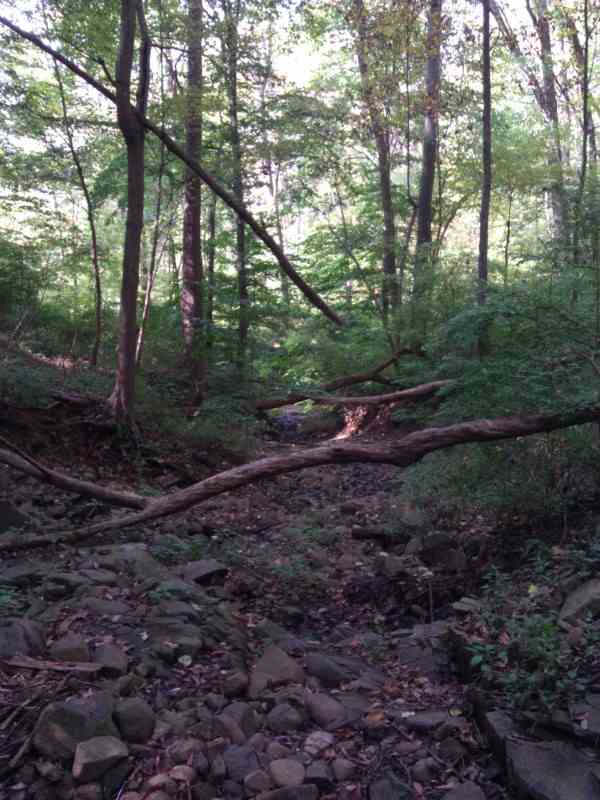 Back in Holland again, the kids and I enjoy a reputation as part of the avant-garde biking fringe of the Holland historic district area, biking to school together regularly, as the weather permits, as well as to playgrounds, the library, and the market.
-a fall day at the Farmer's market in Holland (and that's my very stylish 1970 Schwinn in the background)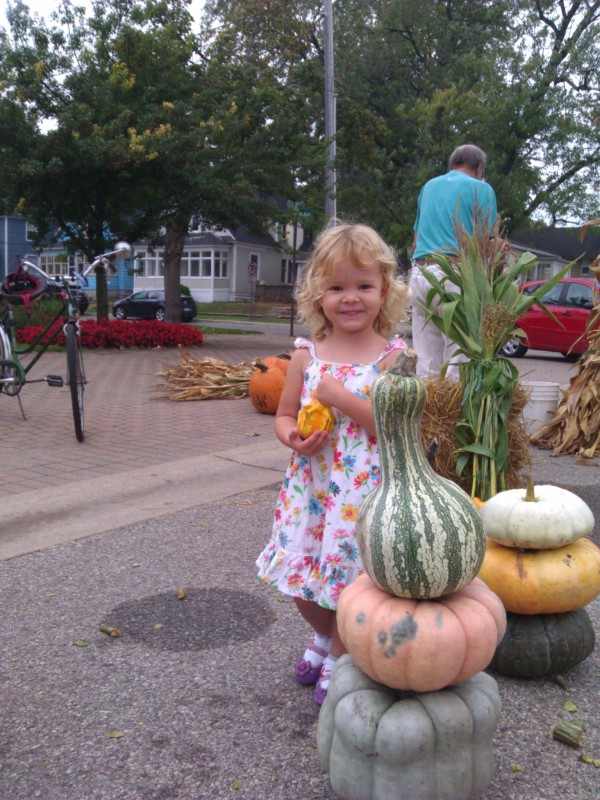 As dean of the local chapter of the AGO (American Guild of Organists), I help to organize and host presentations throughout the year for our members, and I was really pleased this fall to be able to welcome a fellow Indiana University alum, Yun Kim, to Holland.  She had been asked to play the annual fall recital at Hope College's Dimnent Chapel, and we took advantage of that fact to have her give a talk to our group about performing.  It was very well attended, and everyone appreciated her approachable manner, as she shared useful tips, and played an exciting concert the following evening, on the 1929 Skinner in the chapel at Hope College. 
-Yun and I, in front of the Skinner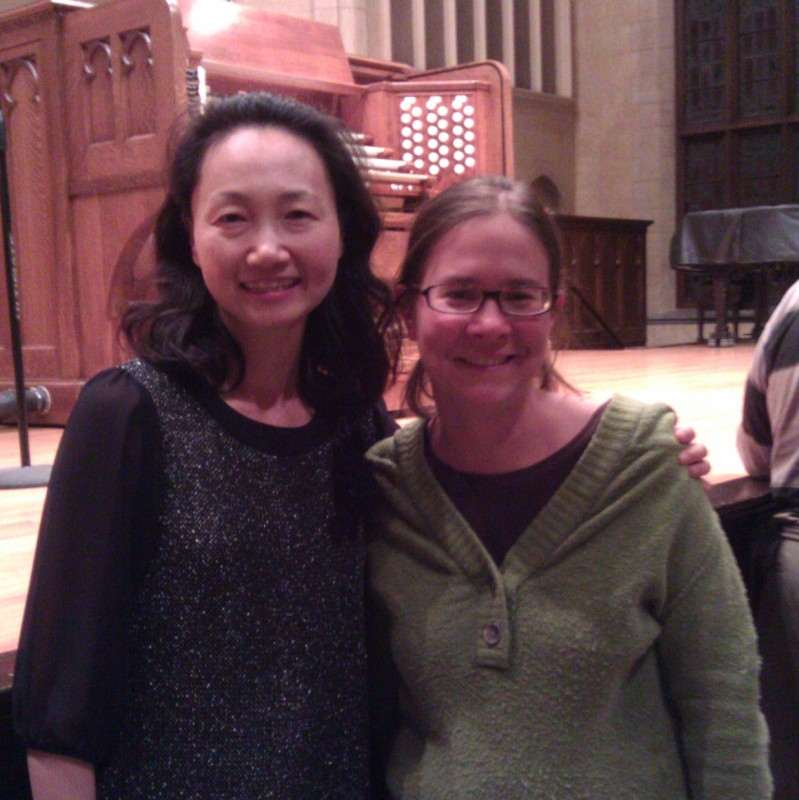 My final trip of the year took me to Saratoga Springs, NY, again with Gudonian Hand.  I played on a Danish organ, one of only four Frobenius instruments in the states.  I don't know Scandinavian organ building very well, but was delighted to get to know this instrument – my kind of organ building – sensitive, modest, yet full of color and variety, with a full organ sound that was rich and grand, but never harsh or shrill.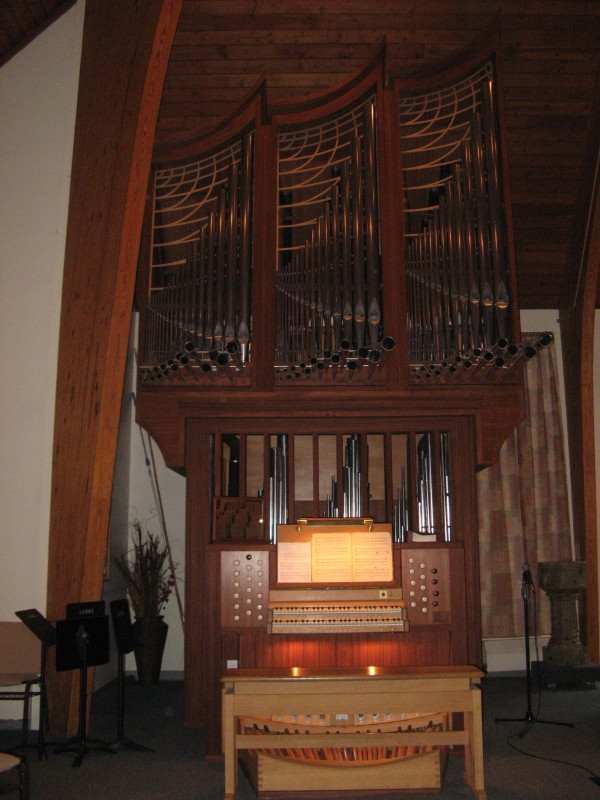 I had a great time hanging out with the guys from GH again, during rehearsals, practice breaks, and another very well-received concert.
– They had enough trombones to go around, at least for the picture.  Don't worry, I didn't try to play that thing!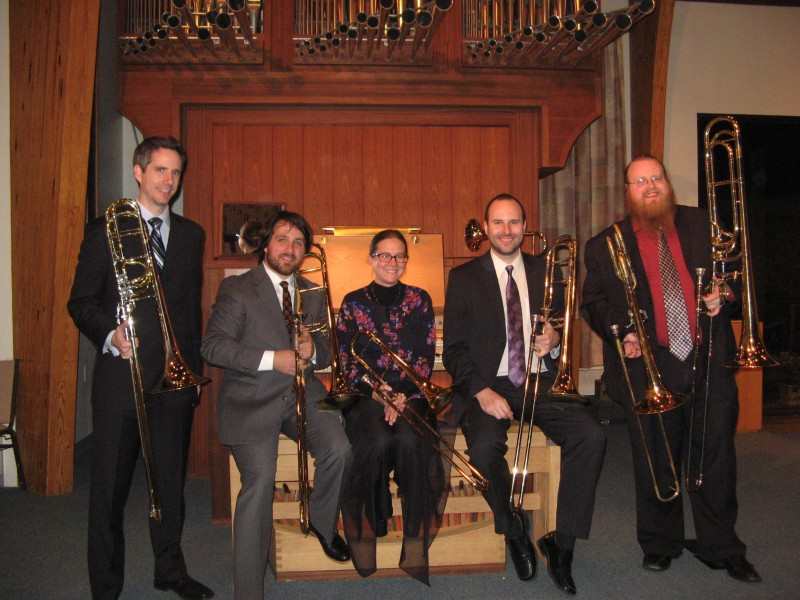 Saratoga Springs is famous for horse racing, and also has a great downtown area, with cute shops, good restaurants, and old houses galore.  A long, brisk walk back to the hotel after a morning full of practicing gave me a chance to enjoy all three.
– I heart old houses!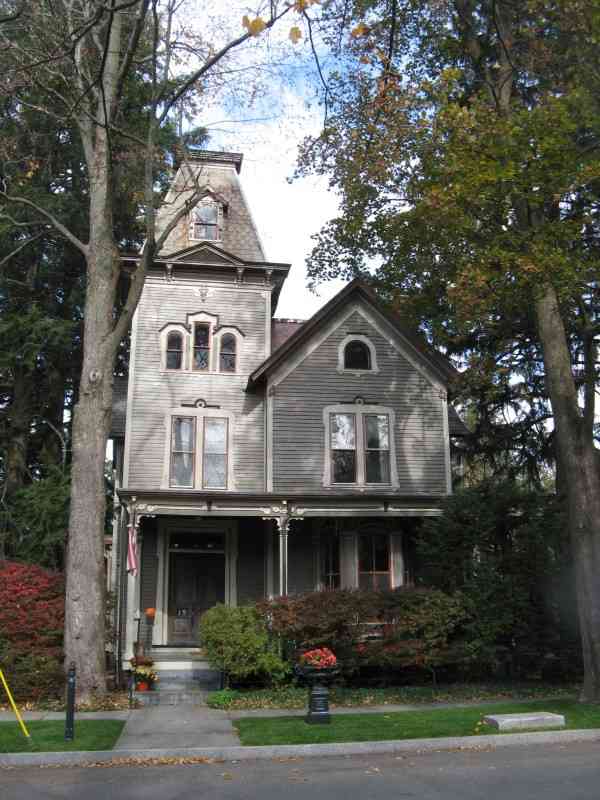 – My favorite kind of bookstore! (actually, this looks a little like our house inside…)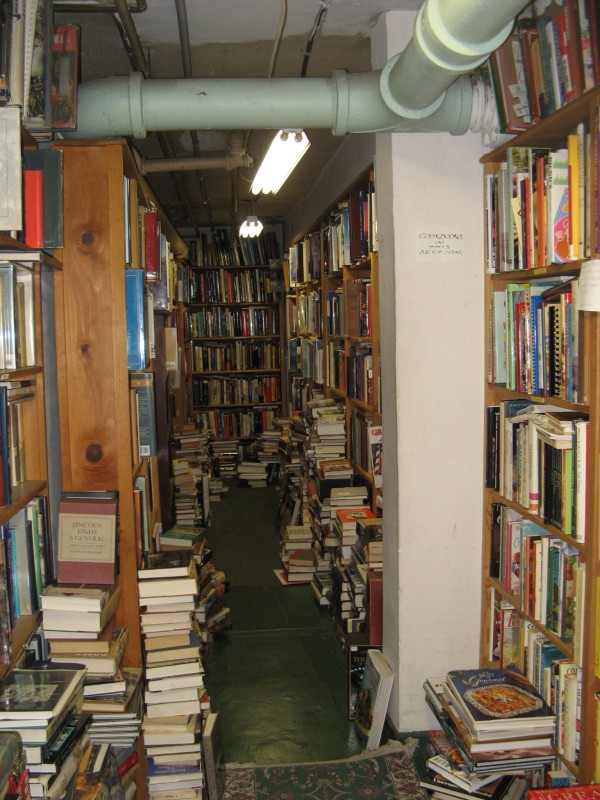 – those places where the horses sleep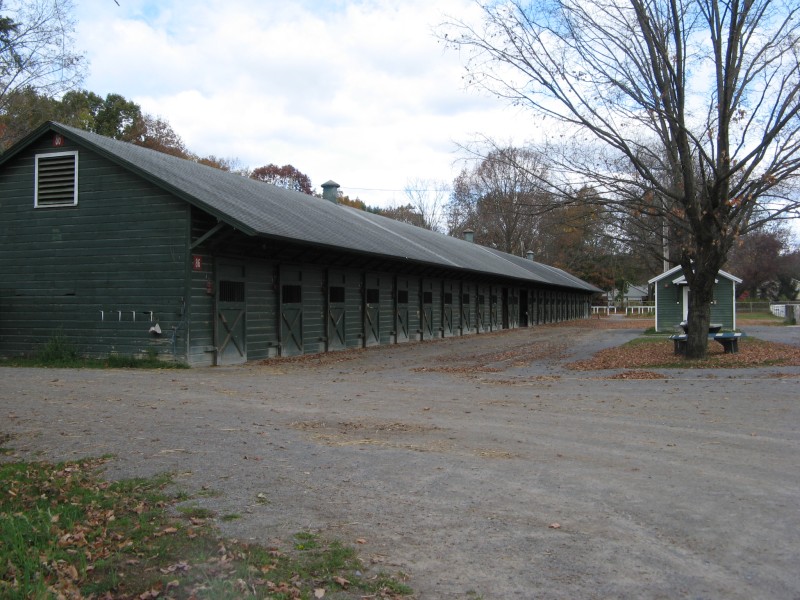 The rest of the year was spent in Holland, with some local projects: 
I accompanied the fall concert of the Holland Chorale, lead by hot-shot young conductor Meredith Bowen, a doctoral student at MSU, in an evocative program, "I Can See the Light", full of great piano parts!  My favorite piece of the evening was Dan Forrest's Three Nocturnes, for choir, piano, and a whole host of percussion, with amazing texts from Emily Dickinson, Walt Whitman, and e.e. cummings.  
A project I've been pondering for years finally came together, and friend and colleague Jane Bosko and I did a program full of organ/piano duets, as well as four-hand duets for organ and piano.  In spite of a tornado warning that day, we had a good crowd, and the ominous thunder, lightening, wind, and rain just lent an extra special something to do afternoon's performance.  (The train whistle in P.D.Q. Bach's Toot Suite was a big hit with my son.)
– Jane and I, with the instruments of Hope College's Dimnent Chapel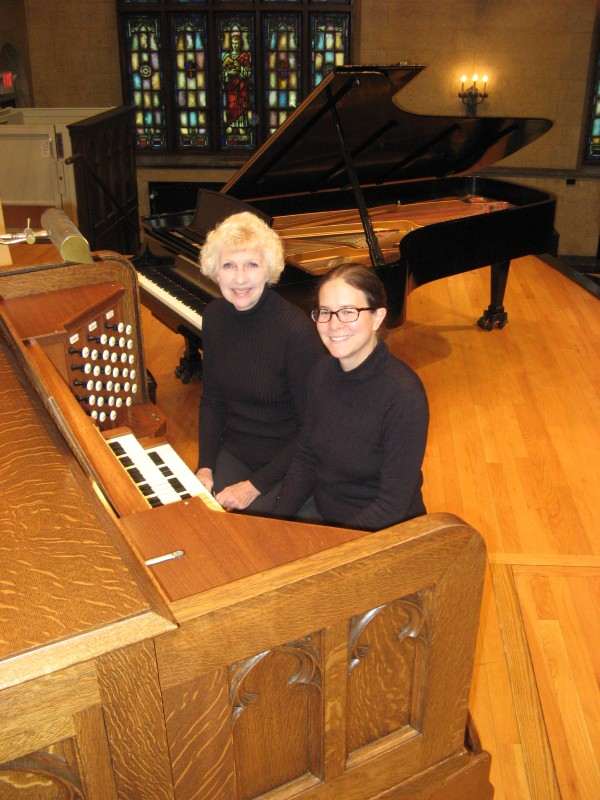 An Advent concert at Hope church – with Steve Jenkins and I playing an organ duet, and Greg Bassett and I doing works for organ and horn –  came in the middle of a side project, learning the  accompaniment for the entire Messiah, in two weeks, for the Zeeland Civic Chorus' annual performance.  This local choir has sung the uncut version of Handel's best-know work, for the last 74 years, and when their organist of 40 years suddenly was too ill to play, I took up the challenge.  The highlight (for me) may have been the homemade pigs-in-the-blanket (a Dutch specialty) and cookies in the church basement afterwards, just the thing after a strenuous concert!
– (did you have any idea that April 24 is National Pigs-in-a-Blanket Day??)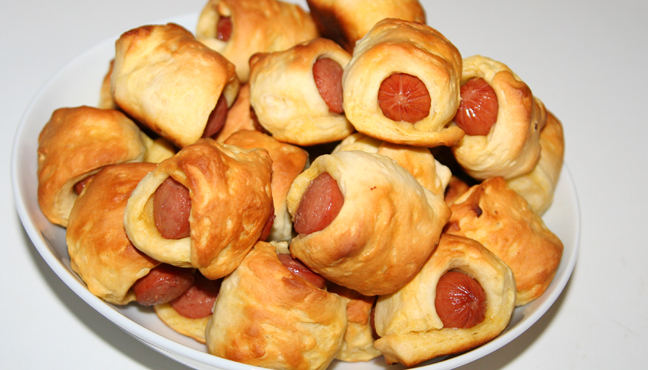 We're enjoying piles of snow in Michigan right now, as I prepare for another local concert – some very cool works composed in the last 20 years for French horn and organ, again with Greg Bassett. We're hoping we won't be snowed out!  Coming up in the next months are a trip to New York City to visit and play some great instruments, as well as trips to New England, Pennsylvania, and Indiana.  Stay tuned!
– who needs the gym, when you live by Lake Michigan?