I spent a week in New York City this February, and as with many things in life, it didn't quite go as I'd expected,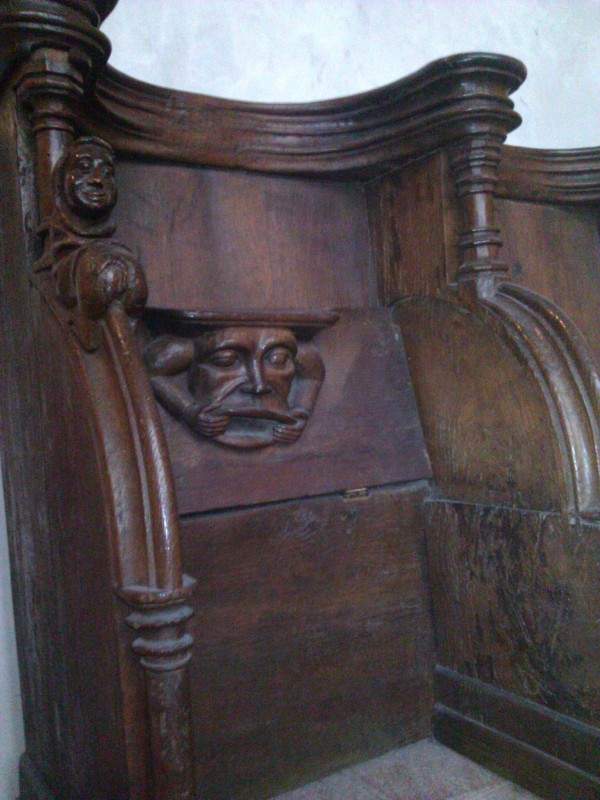 but was still a good time.  I had some concerts, teaching, performing, and recording lined up to do during the week I was there.  One of the many crazy snow storms of last winter blew in after I arrived and changed the teaching plans, and schedule conflicts canceled the recording plans, but instead I saw some museums, visited organs and churches, and spend time with old friends.  
I also had the surprising experience of bumping unexpectedly into three organists I'd known from other times and places while there.  One doesn't necessarily expect to randomly see people one knows while in New York City, but the organ world must be a small enough fishbowl that even in The Big City, you can't hide!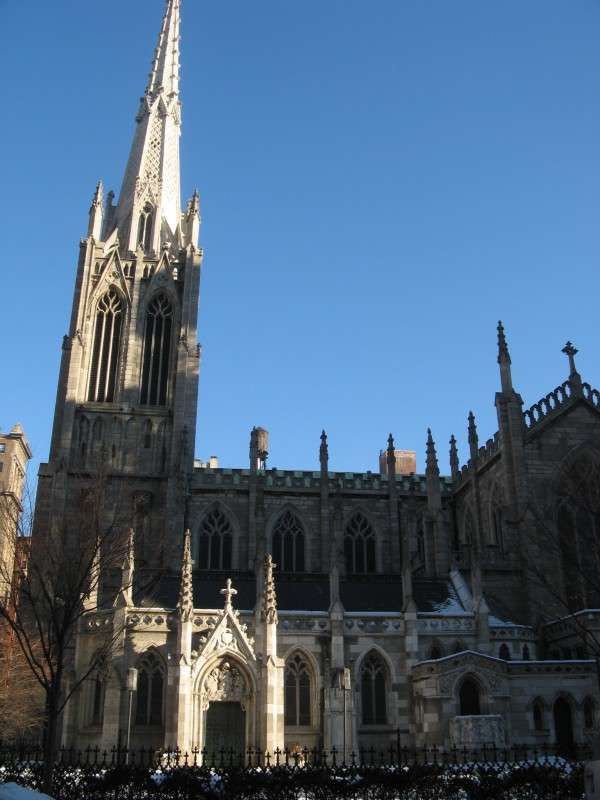 My first concert was at Grace Episcopal, on their new Taylor and Boody.  I'd seen this instrument in the shop in Virginia, and seen ongoing pictures online of the installation process, so it was a pleasure to see and play it finally in the room.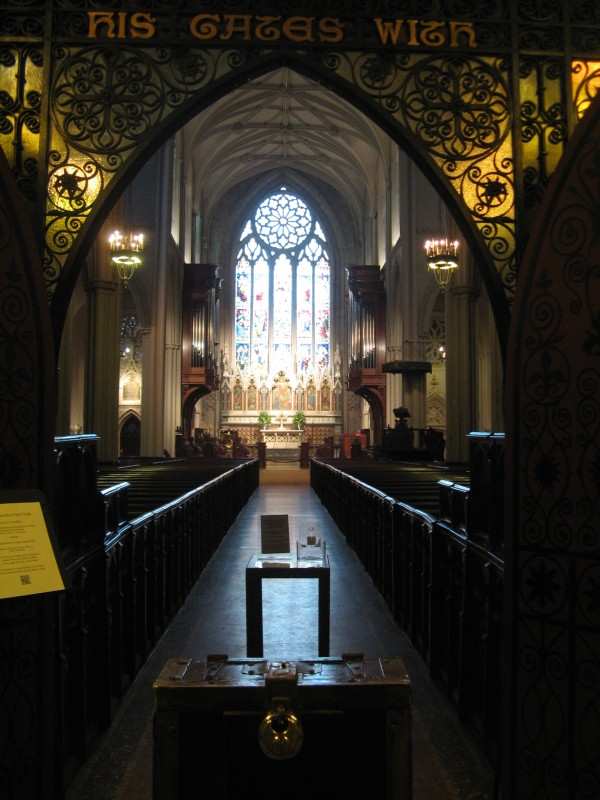 It looks perfect in this gorgeous space, and sounds magnificent.  The full plenum is powerful, the individual stops are sweet and singing, and the action is sensitive.  It was a real treat to practice for a couple hours here and perform one of the Mid-Day Meditations.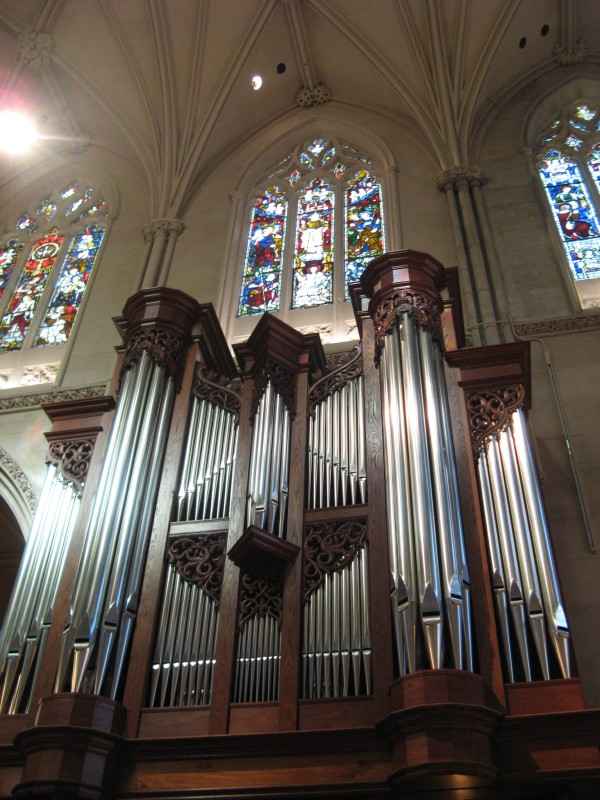 I also played a concert at Trinity Wall Street.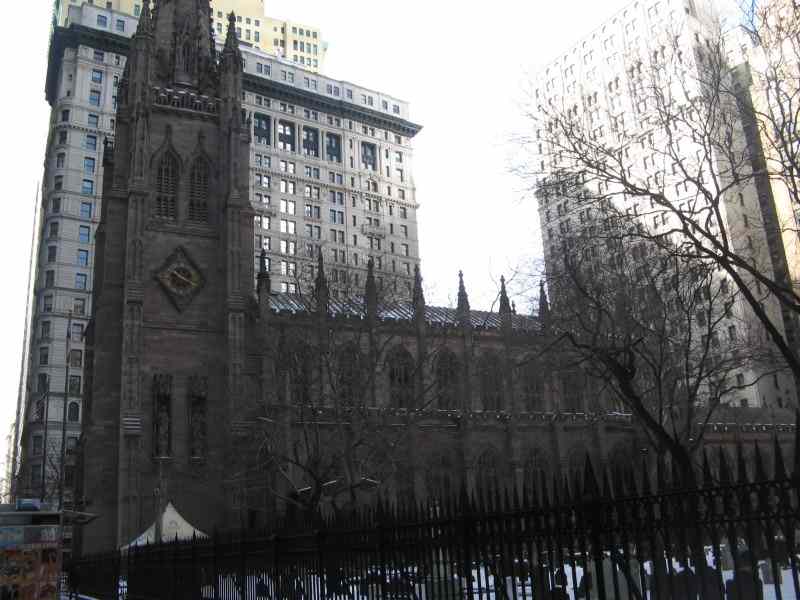 (if you own property on Wall Street, and use some of it for dead people, you must have a lot of money…)
Originally to be held in the historic St. Paul's Chapel,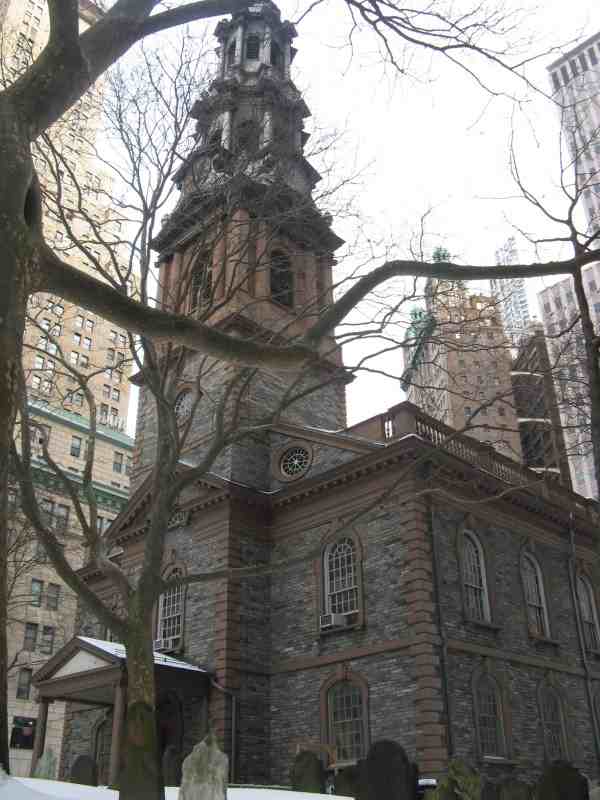 it was moved to the sanctuary because of construction.  I loved this clock over the doorway to the chancel, so those leading services and playing recitals know exactly when to begin!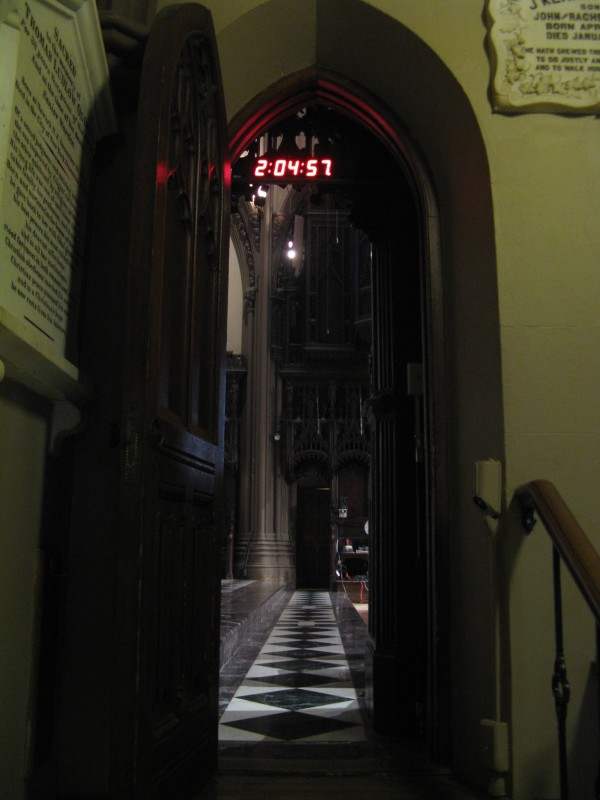 My first "it's a small world" experience happened here.  After my concert, a man came up to congratulate me, and as he came closer, I realized we'd been organ students together in undergrad, at Wheaton College!  Jeff Neufeld  lives with his family and plays organ outside of Chicago, but works three days a week on Wall Street.  He'd been meaning to attend some of the lunchtime concerts, and as he looked through the schedule, was surprised to see a familiar name.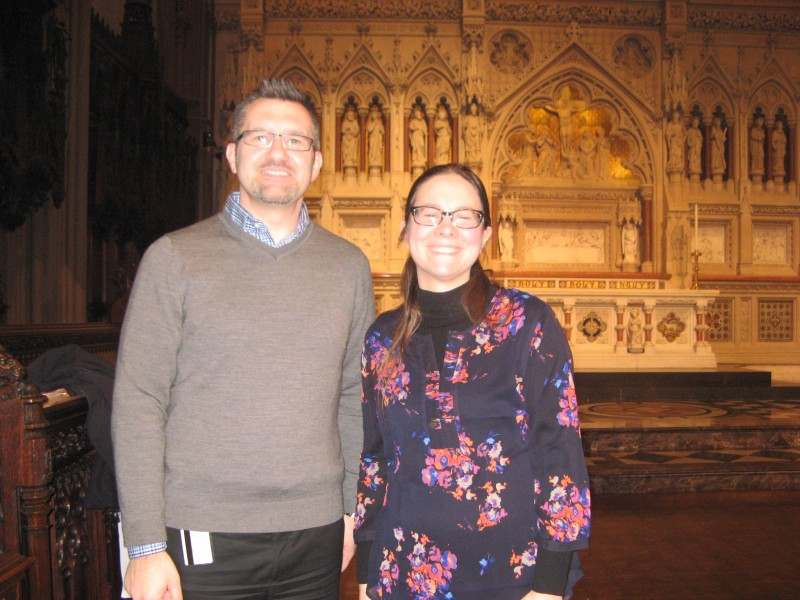 After the snow storm hit, my teaching at Rutgers and Montclair State University was canceled, so I decided to visit a museum I had seen 20 years ago with my family and loved – the Cloisters.  Located at the upper tip of Manhattan, on a hill overlooking the Hudson River, it is in the middle of Fort Tyron Park.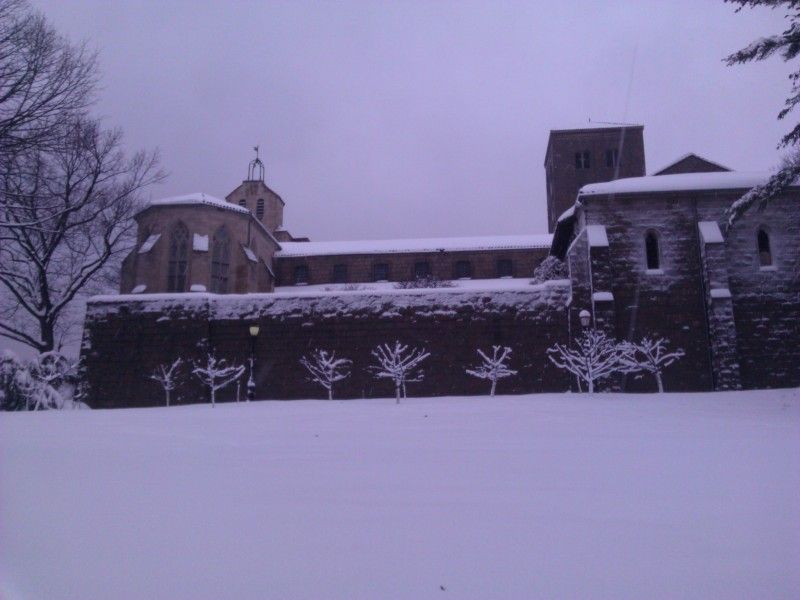 I hiked up the hill, through wooded and snow-covered paths in the middle of a snow storm for twenty or so minutes to reach this mountain-top oasis – full of medieval art, chapels, monastery grounds, and peaceful spots to sit and reflect.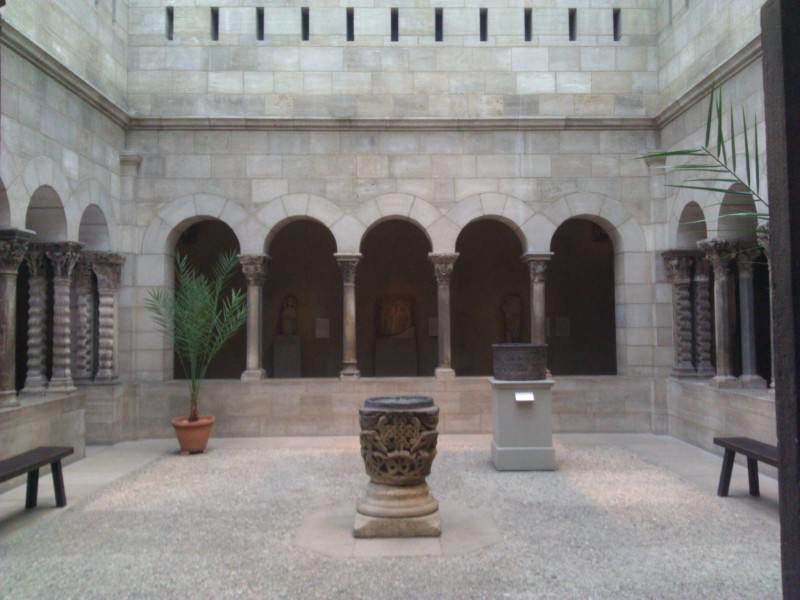 The always sweet and charming Renee Ann Louprette (the reason I planned this trip was her original invitation to come to NYC and play at Trinity, and she had also lined up my teaching for me), invited me to attend a choral concert she was directing at her church, L'Eglise de Notre Dame, where I enjoyed hearing the 1929 Casavant and her choir, and bumping into the next small world encounter – Larry Long – an organist who I knew from my Chicago days, and whose clever Variations on Ein Feste Burg I premiered in Chicago a couple years ago.  
While in the big city, I stayed with my friend William, a seminarian at General Theological Seminary,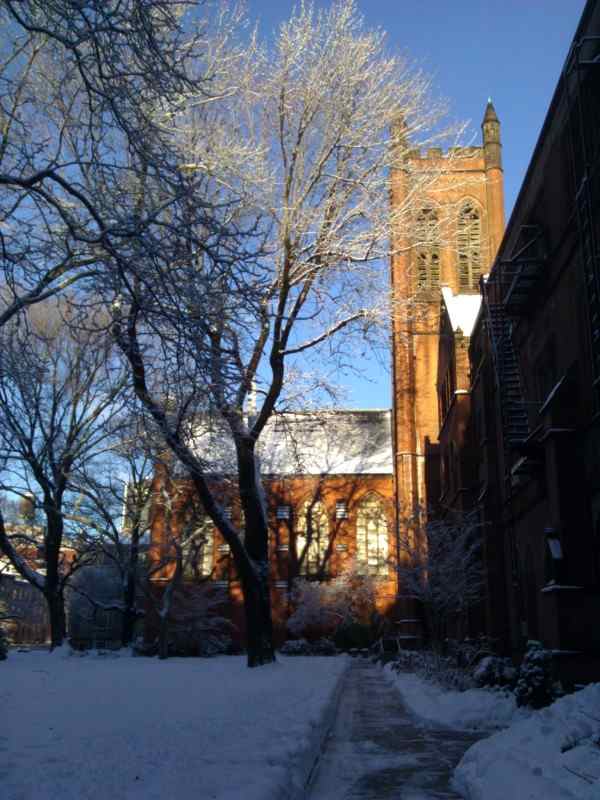 and one of the perks (besides the beautiful, green oasis in the middle of Chelsea that is their home and seminary), was practicing in the chapel evenings.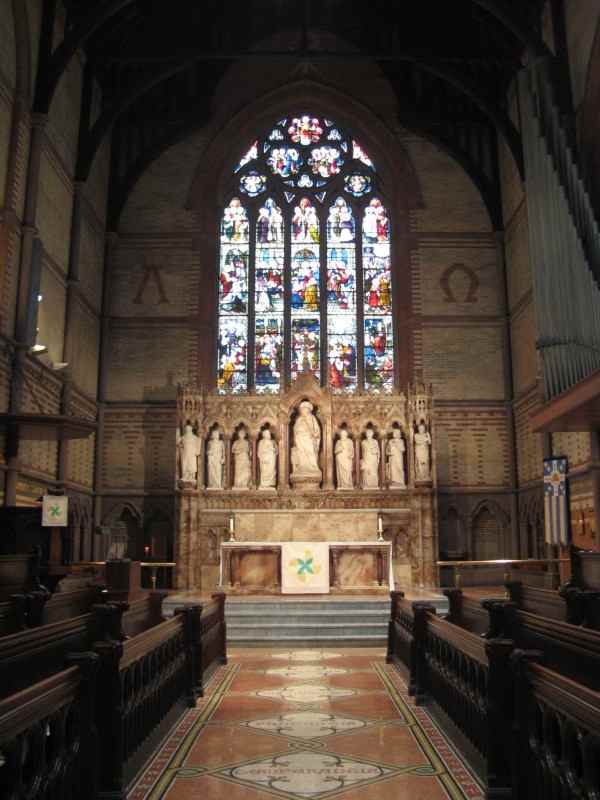 The third small world experience was emailing assistant organist Daniel Meincke about seeing the organ at Holy Trinity Lutheran Church, and realizing we attended Indiana University together!  It was fun to catch up with him, and have some time to play this instrument by another favorite builder, Paul Fritts, at the church where he works.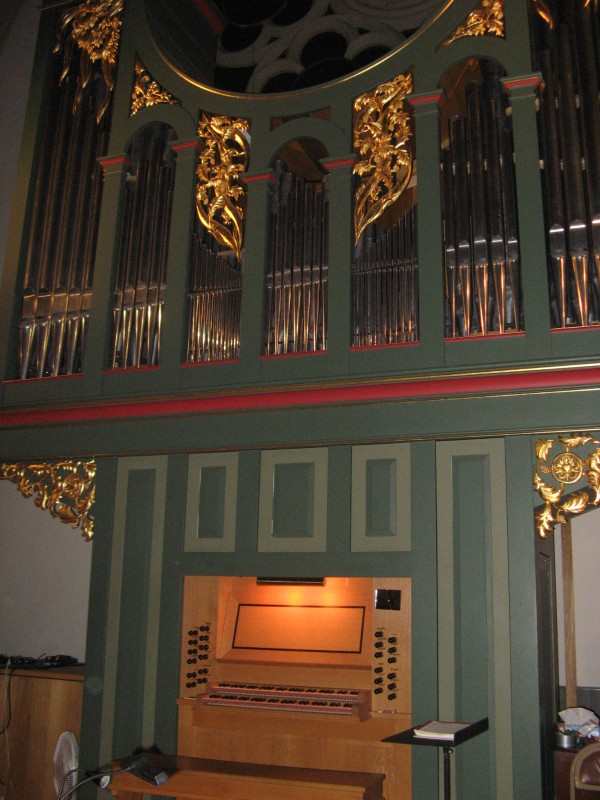 The next day, I visited the Mander organ at St. Ignatius.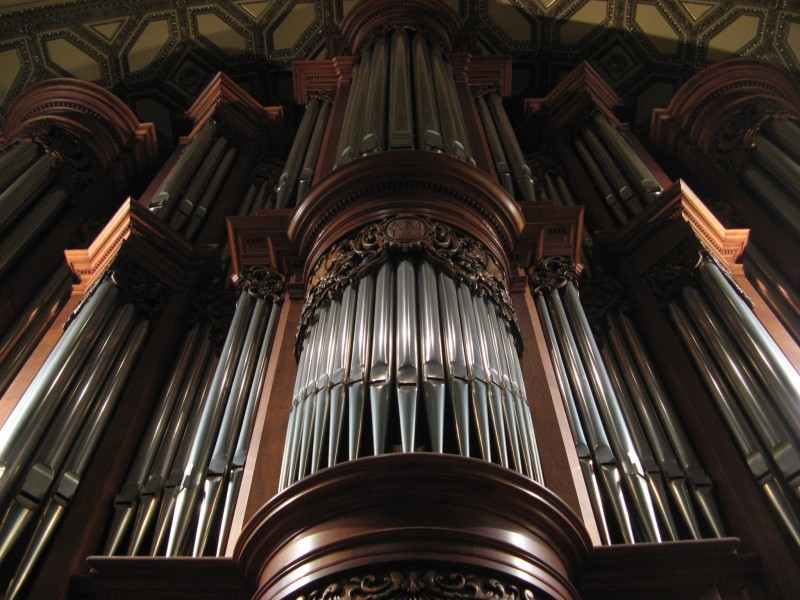 This is a breathtaking space, with a wonderfully live acoustic for organ music, and a very large instrument with many colorful stops and a thrilling plenum – very fun to play through some French music while here.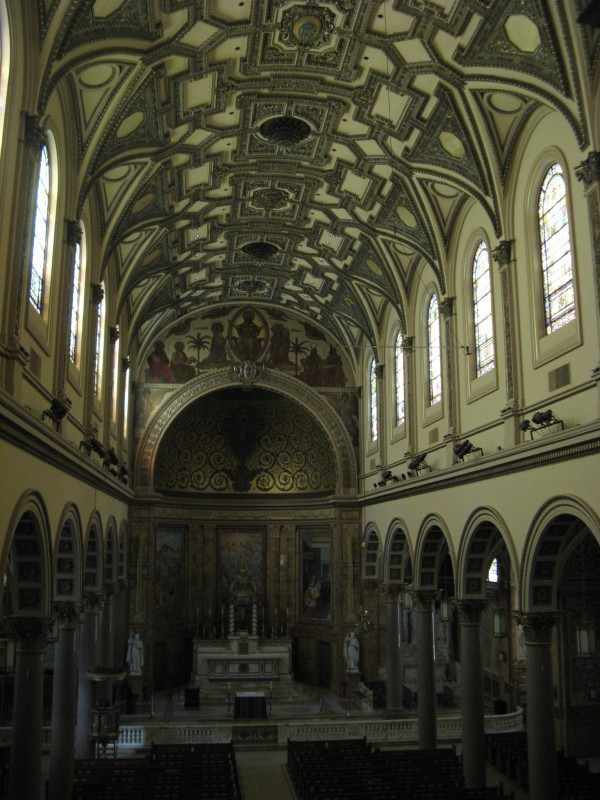 The console is very Rolls-Royce!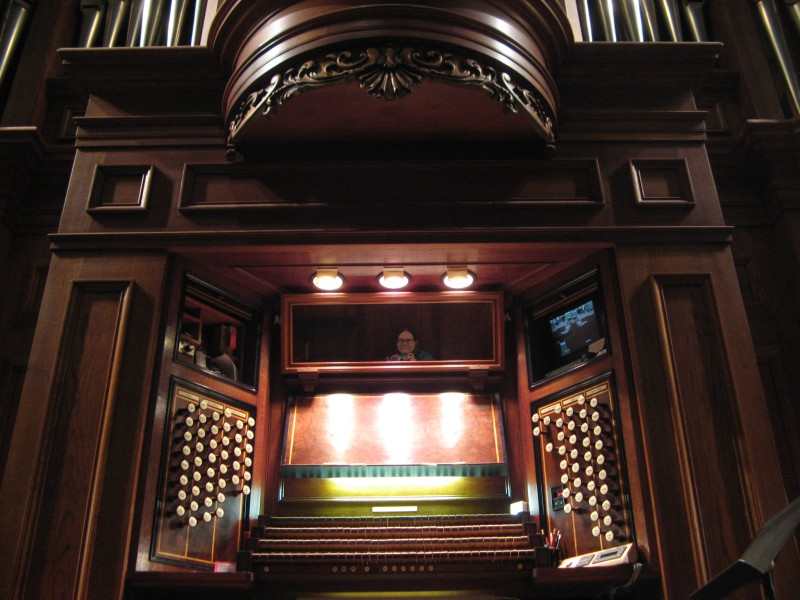 After a snowy stroll through Central Park,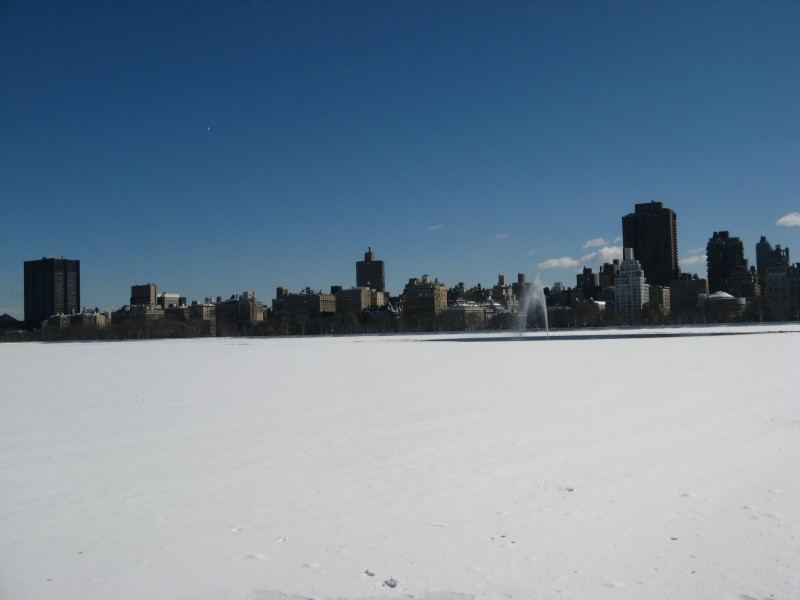 I met up with the guys from Guidonian Hand for lunch at a diner on Broadway, and after a nap and some practice, went to see the Cathedral of St. John the Divine – a place I'd heard much about over the years.  (A favorite author, Madeline L'Engle, writes about it often in her books.)  I really wasn't prepared for how massive this place is – towering out from the top of a hill overlooking Morning Side Heights, the size is almost difficult to comprehend.  The entire place is a concept that is almost larger than life – a never completed cathedral, with ideas always larger than the means to accomplish them.  The grounds of the cathedral, an 11-acre park, are home to peacocks, among other animals, plants, and pieces of art!  
Inside the amazingly long nave there was a new art installation being installed, but a Chinese artist, Xu Bing.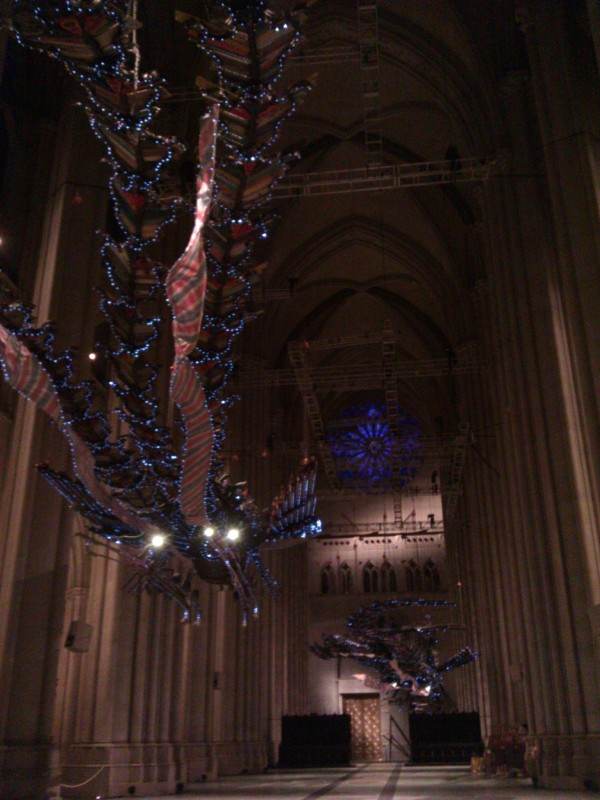 Two gigantic phoenixes, suspended from the ceiling.  Scroll down to the bottom of this blog entry if you'd like to hear a bit more about these phoenixes.  After marveling at these, I walked through the church, looking in the many small chapels around the perimeter and checking out the art work and liturgical decorations.
A friend teased me that he went to the theater when he was in NYC, and why did I spend all my time hanging out in churches and museums?  I do like the theater too, but I usually prefer going with a friend.  On my own, I'd rather hang out in churches and museums – call me odd.  
After dinner with another old friend from Indiana University – who lives the real life of a not-quite-starving artist/ pianist in a sixth floor walk-up on the upper West Side –  I headed home to pack and get ready to jet back home to Michigan again.  Thankfully, the snow that wrecked havoc with my mid-week plans disappeared in time for me to make my escape from the big city, back to small time life once again!
From the article "Phoenix Rising: Xu Bing at the Cathedral" in the church newsletter: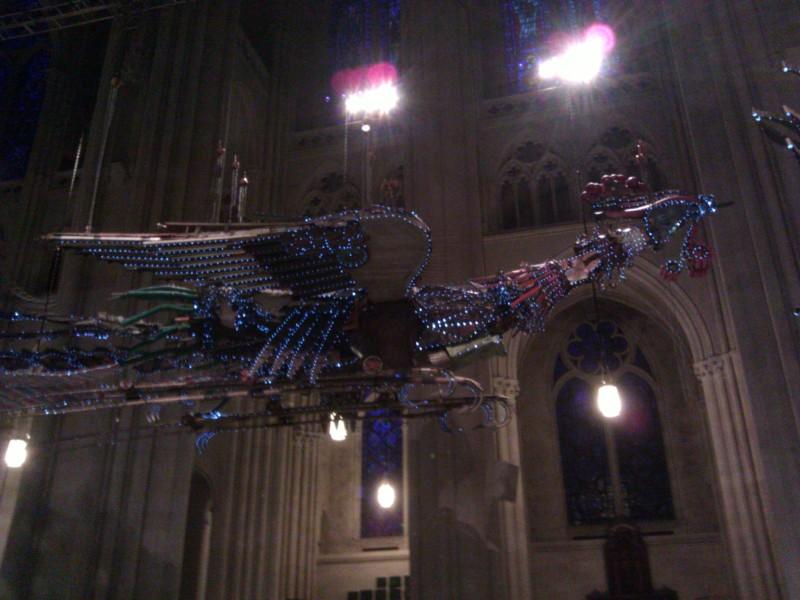 These are massive, scary-beautiful pieces of art.  Sinuous and elegant, sharp-edged and scrappy; the phoenixes are myth made flesh for our times, with the flesh being metals, chemicals, industrial tools and parts, and the dream/nightmare of explosive growth.  They are birds of modern China – powerful, resurgent, rough, magnificent.  They are also a reminder of ancient, medieval and early modern China, of the many great dynasties that have come and gone.
…  Xu  Bing's phoenixes tend to show us the dark side of the myth: the mystery, elegance and power of the eternal birds are still present, but the raw force needed for resurrection, and the violence of radical change are clearly represented in this sculpture.  Two years in the creation, the phoenixes are made entirely from what can be found at construction sites in China: steel beams, hoses, shovels, hardhats, fans, wheels, and gears.