June and July this summer were busy organ months for me. First, I was in Boston for the AGO national convention in June. Boston is just a great organ city, and I thoroughly enjoyed a week of hearing recitals, and catching up with colleagues and friends, and well as wandering around the city, searching for and finding various churches via the T. At the risk of leaving something fabulous out, highlights included being at Meuthen Music Hall, an iconic organ and space for us organist; Steven Tharp's transcription of Stravinsky's Rite of Spring for organ solo, played stunningly at the Christian Science Mother Church; and a side trip with Organ builder friend John Boody and Gen Bolena (Organist and Choirmaster at Trinity, Staunton, VA), to play Taylor and Boody's Op. 9 instrument at Holy Cross College in Worcester, an instrument I'd long wanted to see –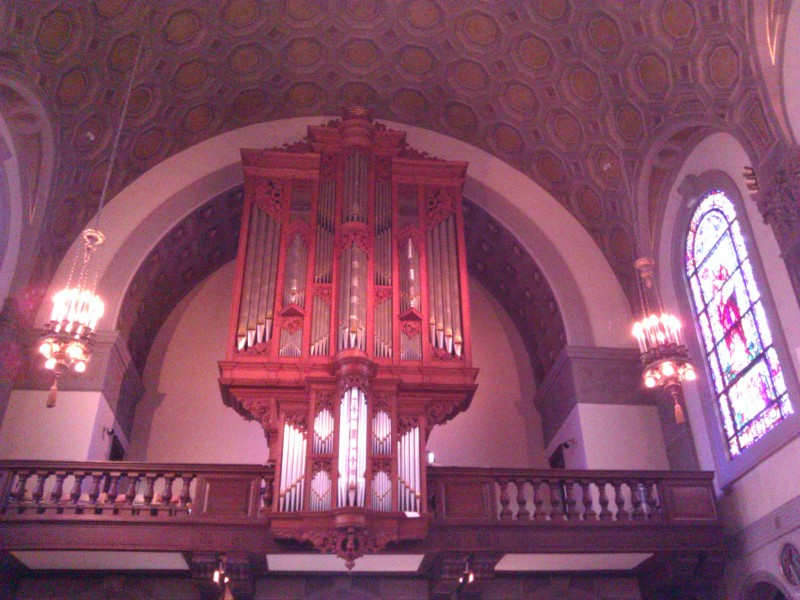 which did not disappoint! (though my phone photos don't quite do it justice…)
You always have the sounds you need here!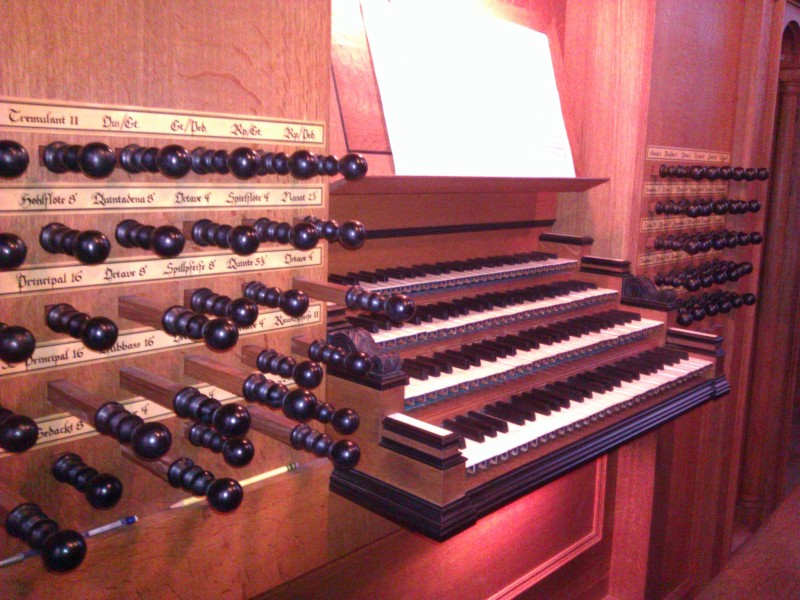 A workshop on the Hammond B3, given by a Berklee College of Music professor proved very entertaining, and offered a good contrast to the rest of the week. Another highlight was the Lutheran vespers at First Lutheran Church of Boston, with their Richards, Fowkes organ, and early music ensemble. That much Praetorious in one hour in a venue in the US, I don't believe I've ever had the pleasure of hearing! A real treat.
After a quick layover at home, to hug my kids and husband, pull some weeks, and repack my bags, I was off to Germany!, the real adventure of summer 2014. I took the Greyhound to Chicago, where I had a bit of time to sit in Millennium Park and do some big city people watching – on a sunny Sunday afternoon in the summer in downtown Chicago, there's a lot to see! My convoluted, but cheaper, route, took me via Dublin and Aer Lingus, through Cologne, to Leipzig, the region of my first concert.
My fears about the state of my speaking skills were calmed when, at the info desk in the airport in Leipzig, the lady helping me find my hotel gave up her attempts at English, complimenting me, "But you speak good German, don't you?"
After getting some sleep that night, I stopped at the Aldi, and then started off downtown. Originally planning to go take a look at some of the churches or a museum before leaving town, I was deterred by the fact that my suitcase was too big to fit in the train station lockers! American-sized, a friend called it. (Rhonda vows yet again to pack lighter on her next trip…)
I headed off on the train to Magdeburg first, home to my friend Barry Jordan, church musician at the protestant cathedral. (I love this view of the cathedral from the courtyard)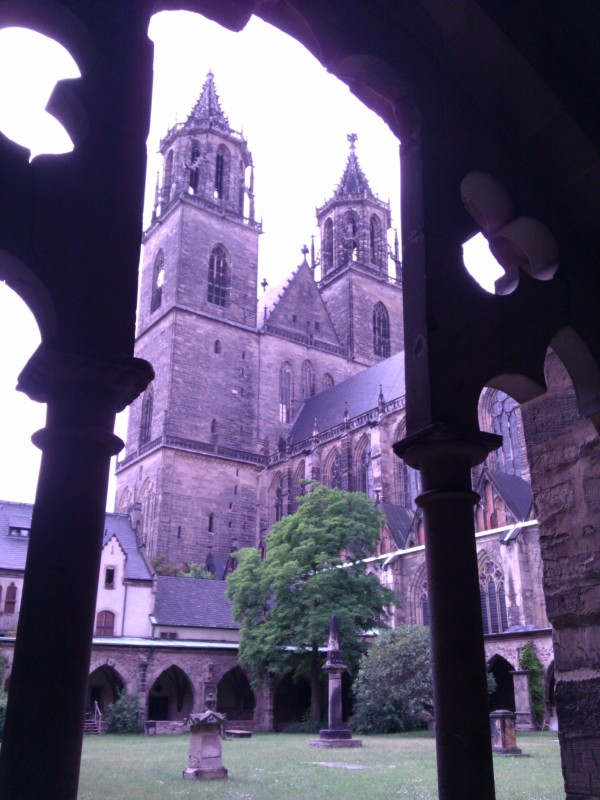 Barry found me places to practice that day and the next, (Niederndodeleben – hardest name of a German town for me to remember EVER)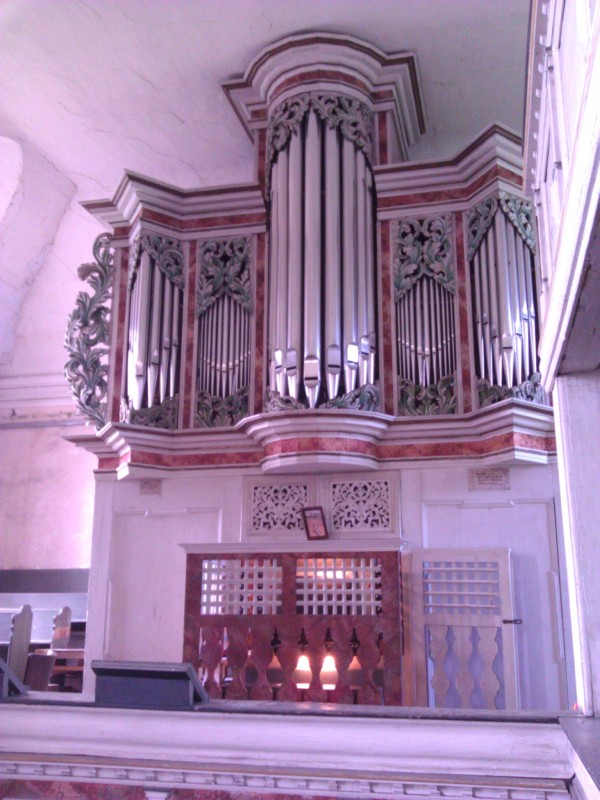 and kept me company at mealtimes, but I always forget to take HIS picture. Maybe next time.
Feeling a bit more ready now for the concerts coming up, I hopped on a train next to Freiberg, in Saxony, home to a number of important historic organs by Gottfried Silbermann.
I was fortunate to be playing at the Dom St. Marien in Freiberg, which houses two Silbermann organs, a small one in the front side balcony, from 1719, (see it on the left?),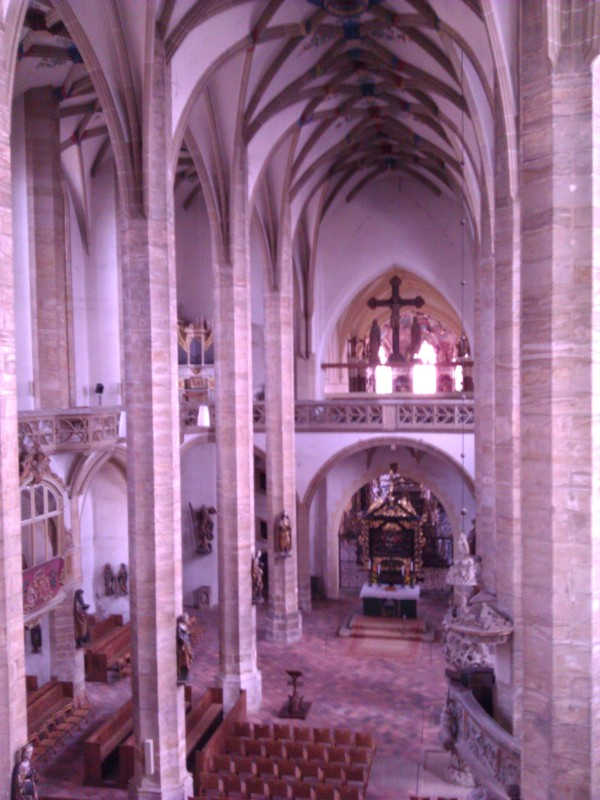 and a very famous large instrument in the back balcony, celebrating it's 300 year anniversary this year, from 1714.
This is a fabulous space, dating from 1500, full of amazing liturgical art, such as this ceiling in the chancel.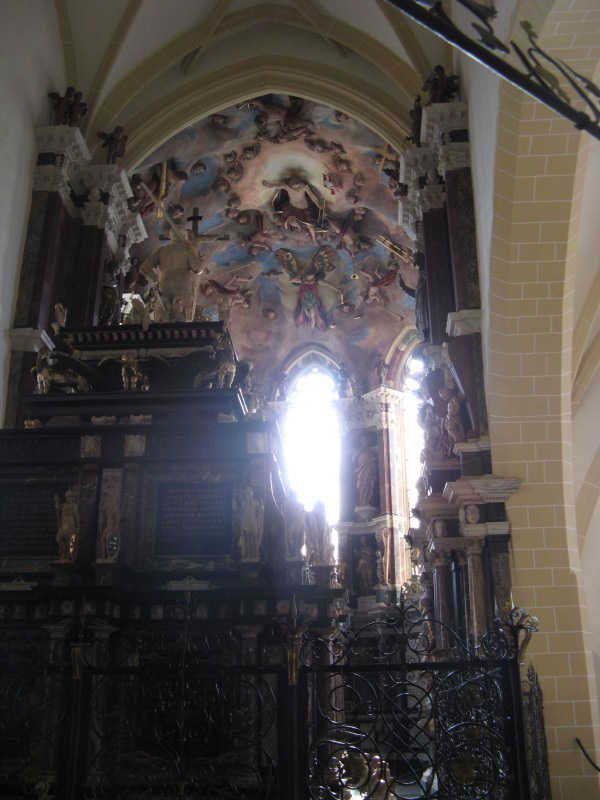 The arch over the main entrance outside is even older, taken from another church, and built in 1225!
I stayed in a very old house which housed a bed and breakfast, across the street from the church – very practical! – and though most of my awake hours were spent on the organ bench,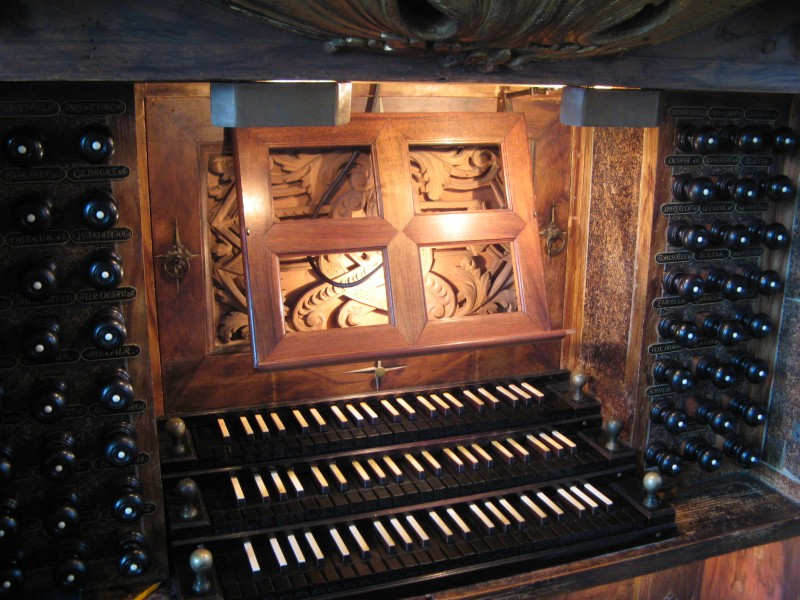 did enjoy an afternoon walk around the old part of the city, which was lovely and picturesque. I also enjoyed the chance to go out after my concert (for German beers, of course!)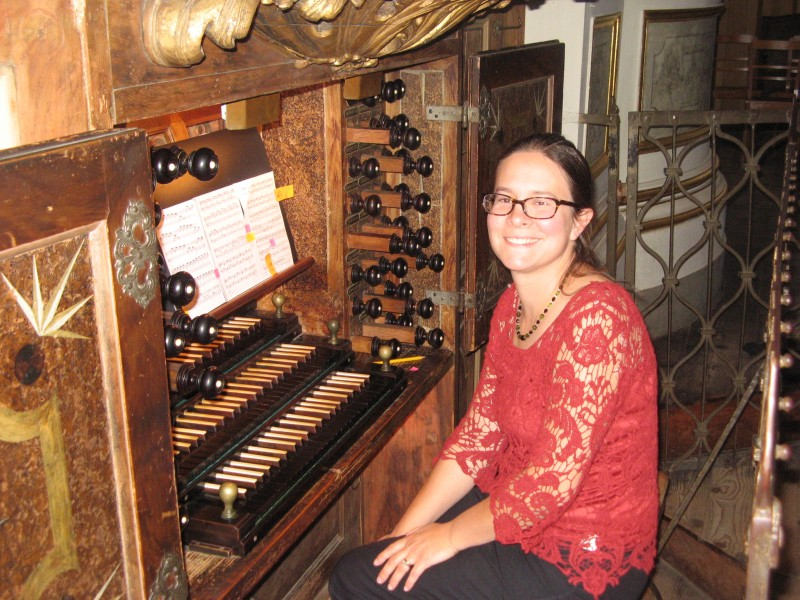 with Albrecht Koch, organist at the Cathedral, and others, and discuss topics like why there are no super star German organists.
The next morning, I was back on the Deutsche Bahn, this time traveling across the country to Ostfriesland, a region in the northwest where I've spent considerable time, due to it's close proximity to Bremen, and the large number of important and historic organs there.
I landed first in Marienkirche, a small village with a very large church.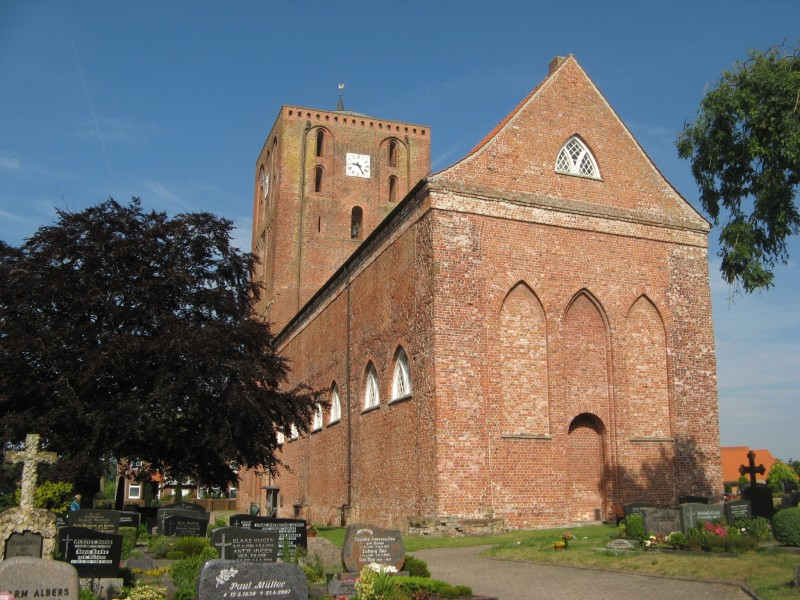 My hosts there were generous and warm, and even lent me a bike for getting to the church to practice, which was great.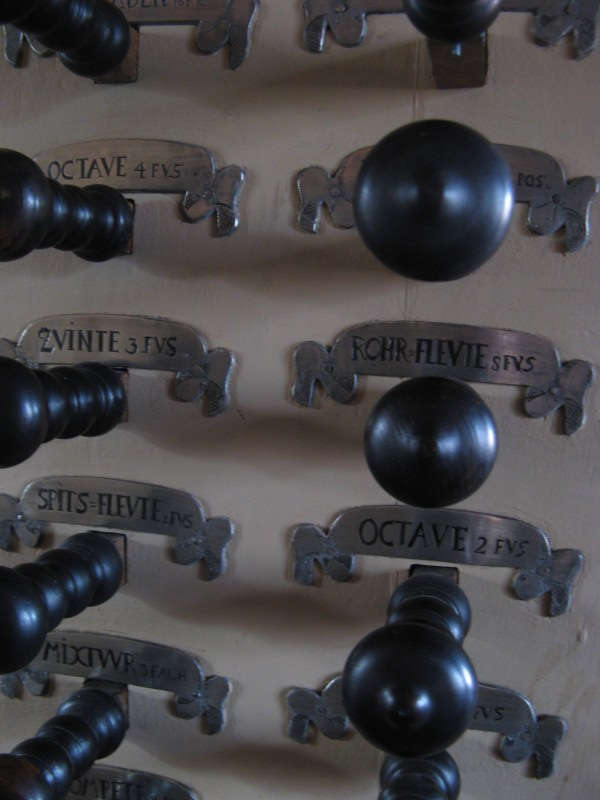 Zipping around the quiet streets in the evenings on a bike; Bach, Scheidemann, and Buxtehude echoing in my head; with the fresh sea air of the region in my face, helped me feel right at home. The organ in Marienhafe, by German builder Gerhard von Holy from 1713, is a striking combination of room and organ.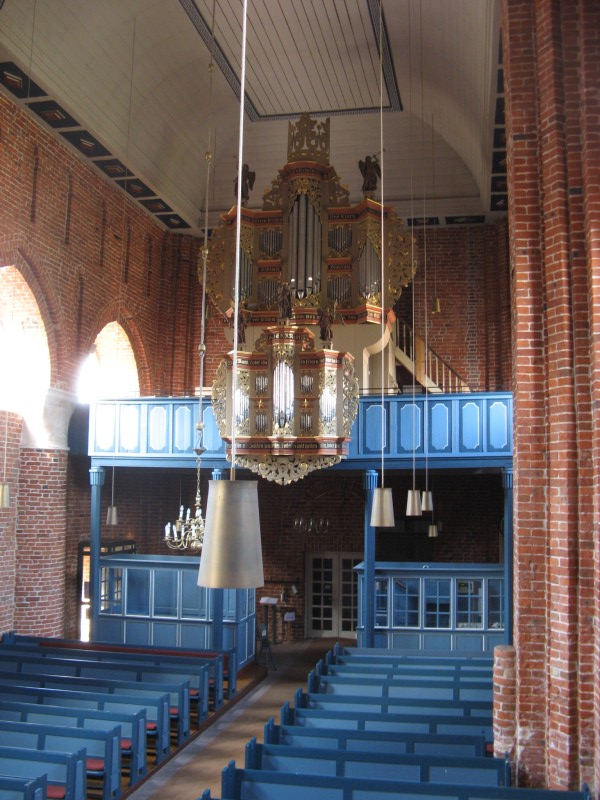 Inside this simple red brick building, with high ceilings and clear windows, is a colorful, ornate instrument and space. A short octave in both keyboards and pedal kept me on my toes while practicing (so to say…) I was also intrigued by the weights they place on the keyboards when the organ isn't being played.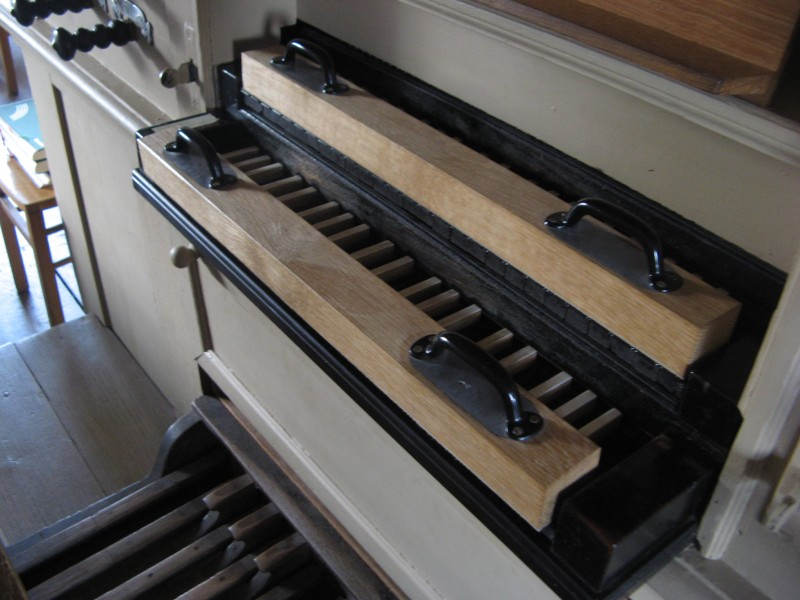 This allows the air to circulate through the bellows, to help prevent further problems with corrosion of the metal pipes, which this instrument has suffered from in the recent past.
The next morning, I was off on the train again, to another village in Ostfriesland, called Weener, where I have spent many hours.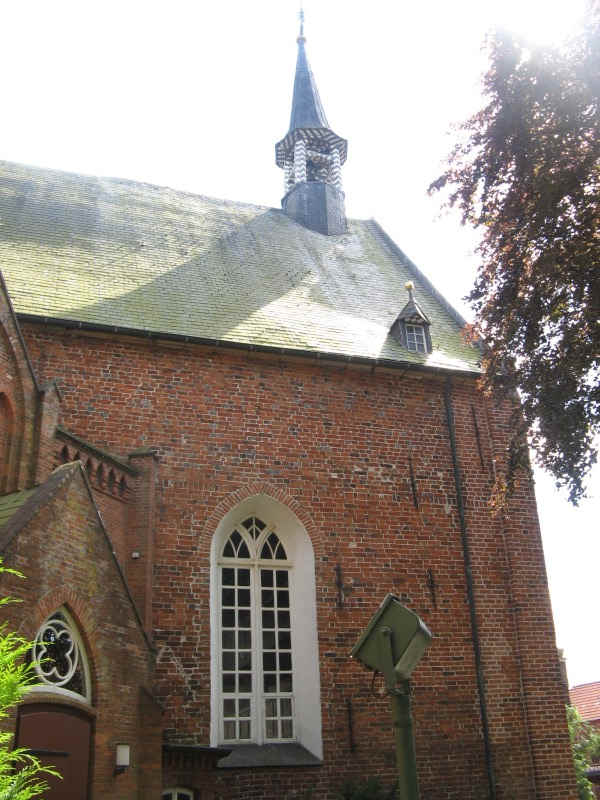 Professor Vogel began a keyboard instrument museum in a large old villa here, and it is also the former site of his well-known North German Organ Academy. The museum has continued since his retirement, with the acquisition of even more harpsichords, old pianos, and small organs. This is a demonstration organ I saw in the museum.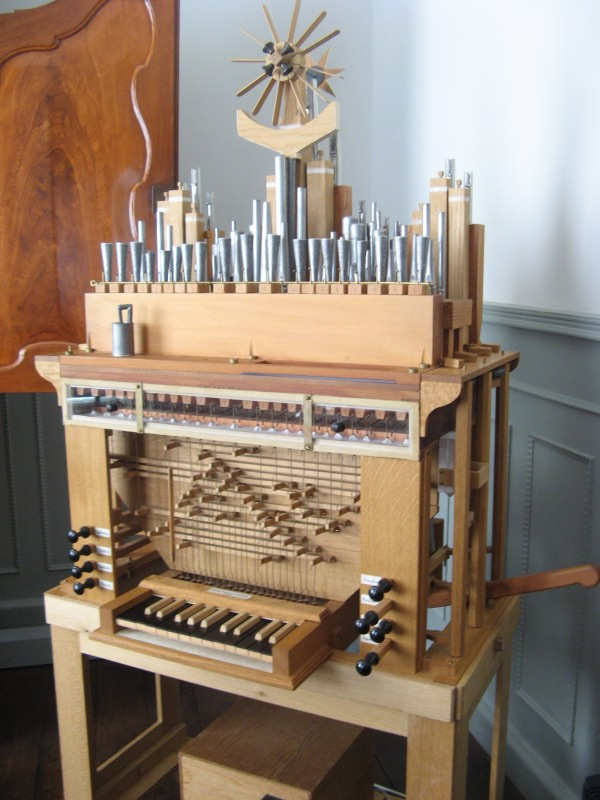 A nearby church (Georgskirche) houses an Arp Schnitger organ from 1710 that is also wonderful.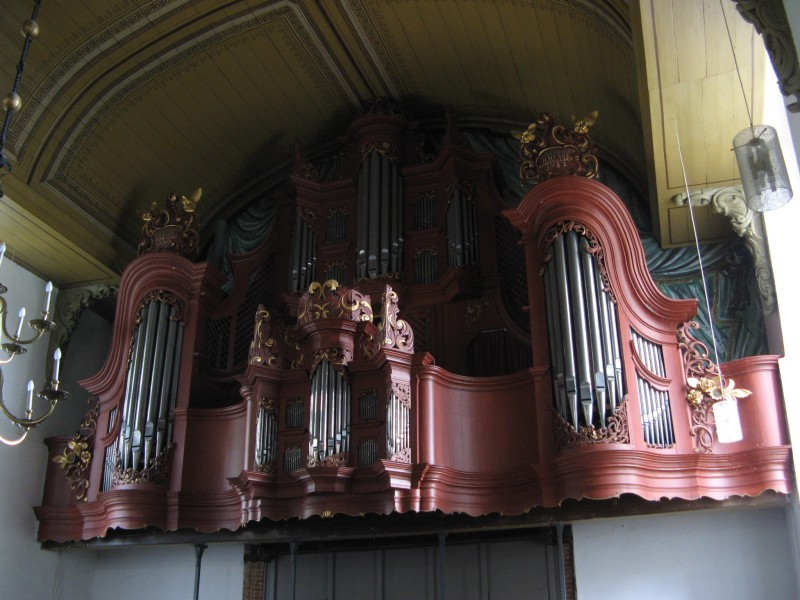 Besides practicing, I had time on Saturday and Sunday for some lovely long walks by the old harbor in Weener.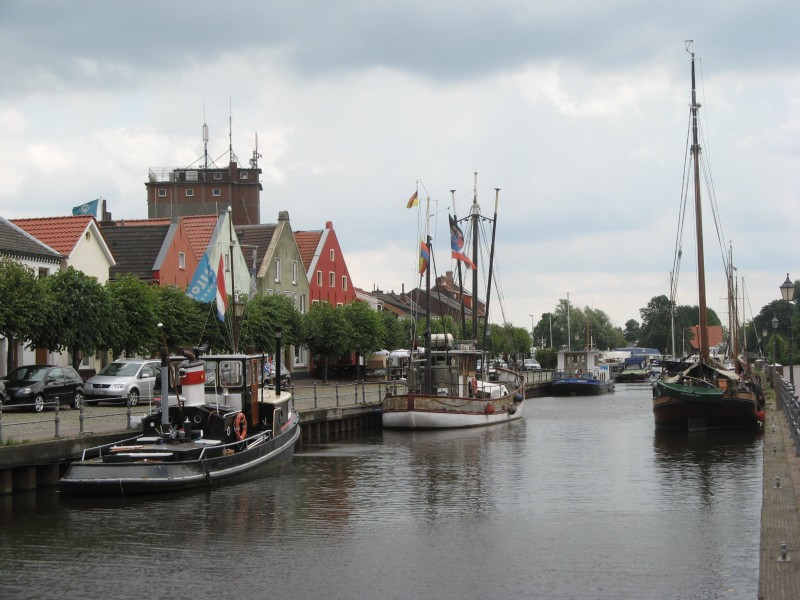 I enjoyed imagining life on a house boat, greeting the sheep and cows grazing on the dike, and was surprised to find a very tasty Pakistani restaurant as well!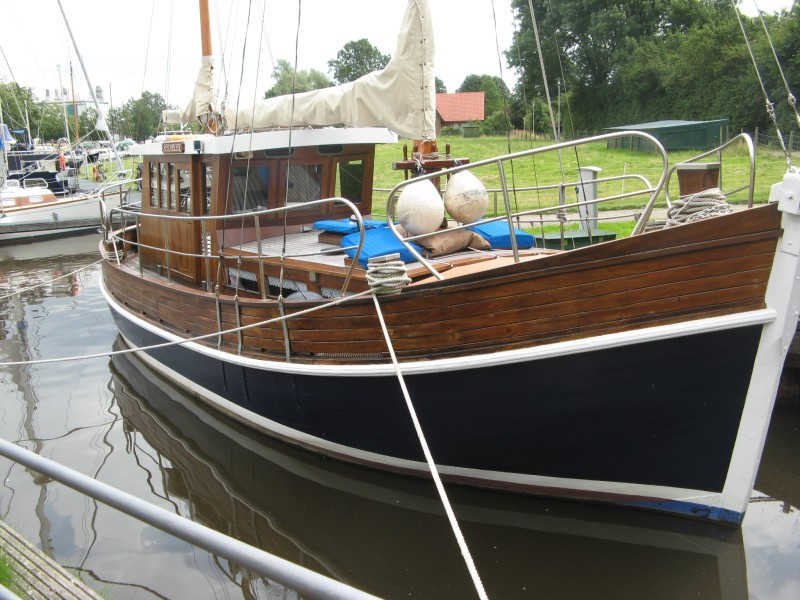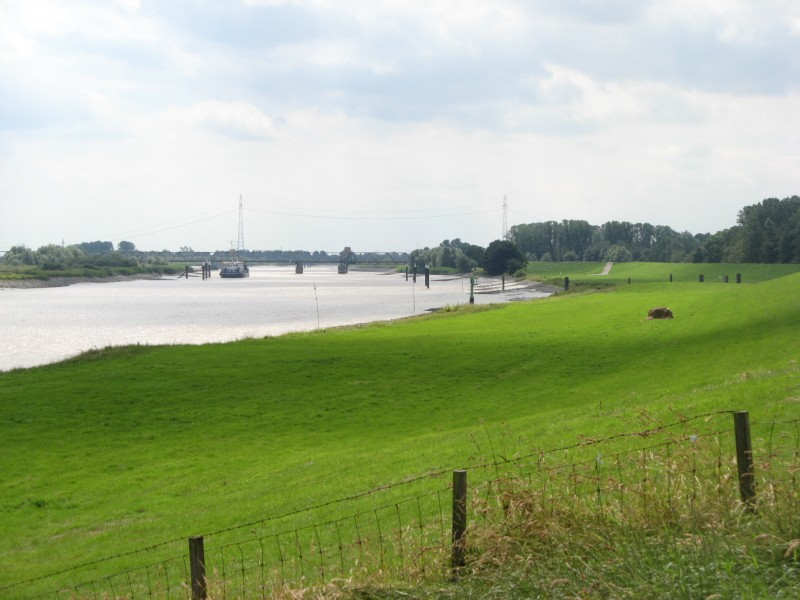 My Sunday evening concert in the Georgks Church in Weener was well-received.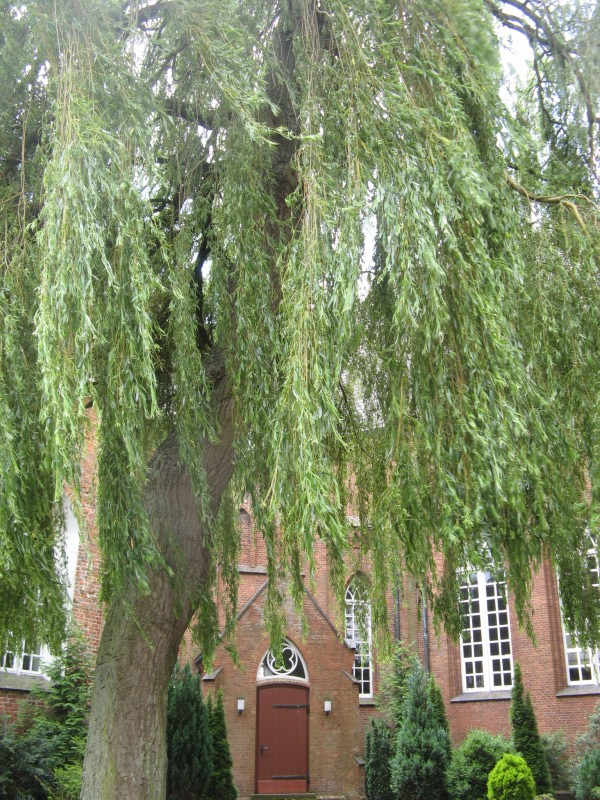 A local reporter was there to take pictures and ask me questions, and remembered my last concert in Weener, five or so years earlier.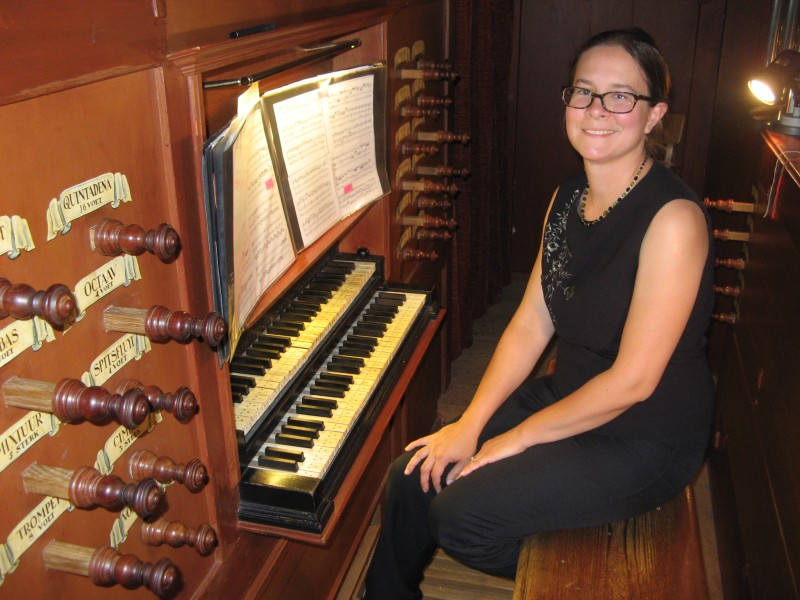 I played more North German composers on this program than any other – Tunder, Buxtehude, and Scheidemann – as well as some of the pieces I'd done elsewhere on my tour – Bach, Böhm, Lübeck. (Love these keys!)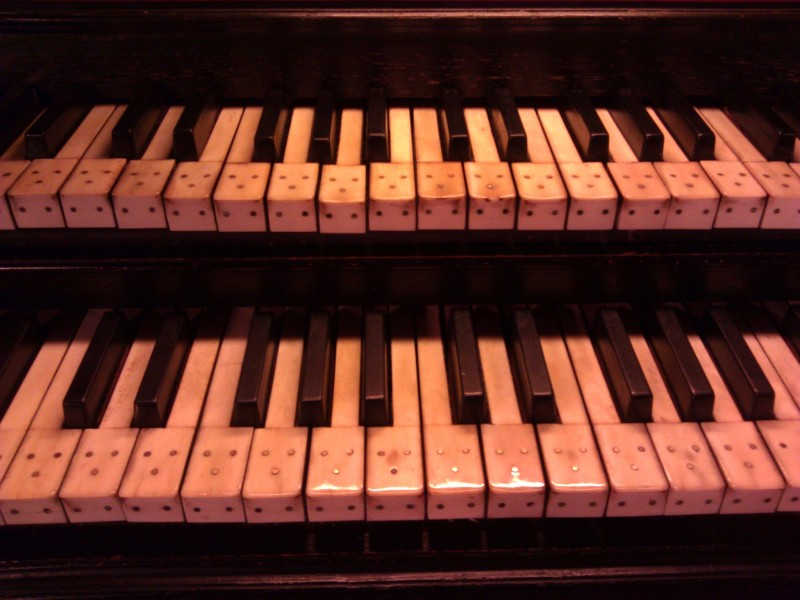 Winfried Dahlke was a stop puller extraordinare, and serenaded a few guests afterwards in the Organeum with demonstrations of the many instruments. This was also where my little room was located for the weekend – sleeping in an old mansion full of instruments – what fun!
Monday morning found me back on the train to Marienhafe again, where I spent some free time covertly climbing up the steps inside the huge bell tower.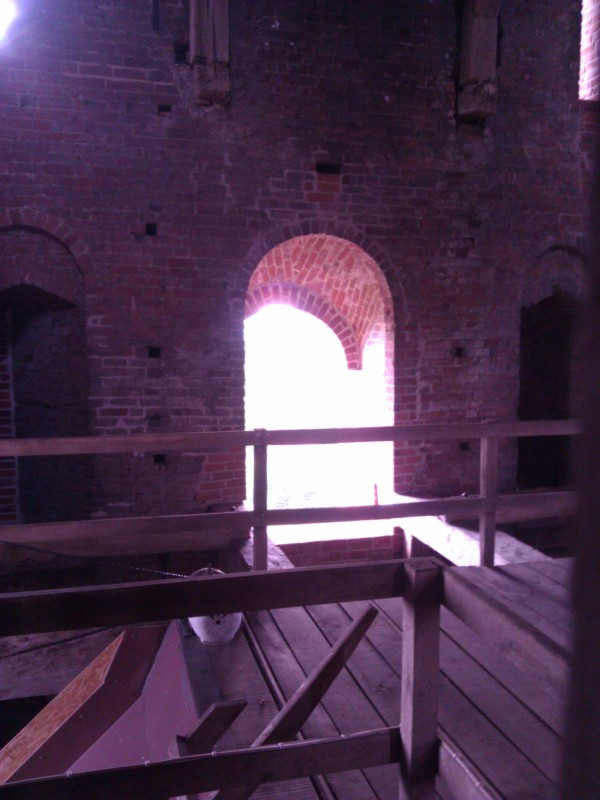 Unfortunately not officially open on Mondays, my only day in town, I used my church keys to gain some views of the town from above anyway.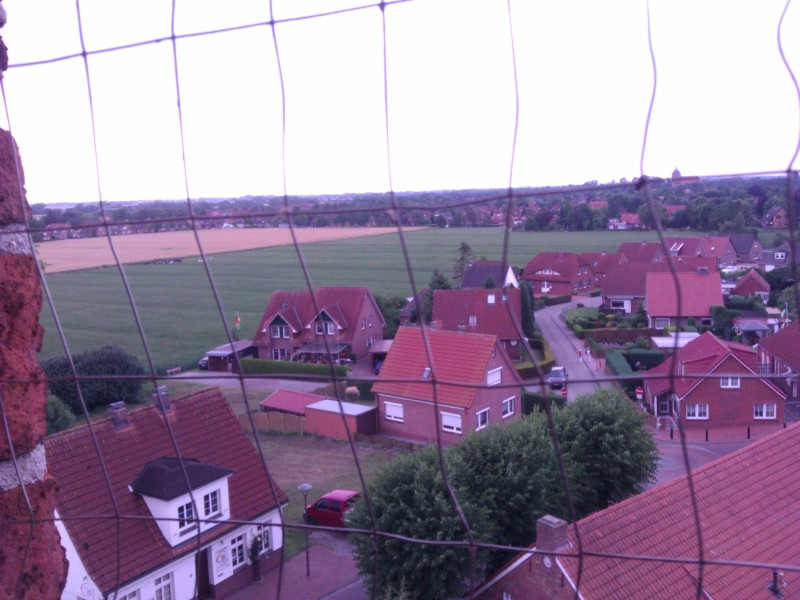 The crowd that evening for my concerts was small – about 15 folks sat up in the chancel – but appreciative, as small crowds often seem to be. My introduction was given by a local retired teacher, at whose house I was staying, and included tidbits he'd researched beforehand, such as the fact that I was playing two pieces never before heard on that organ. I'd been also asked if I would say a few words about my program, which greatly strained the limits of my German speaking skills, to be sure! Simple sentences and short thoughts seem to go best, but my comments were apparently understandable enough, and appreciated. Two local newspaper photographers were present to take my picture at this concert, perhaps testament to the slow pace of life in this region of Germany. 🙂
Afterwards, I was invited out for beers and something to eat with my hosts from the local congregation, the organist and her husband, and the couple with whom I stayed. We ended up at the same restaurant where I'd eaten lunch (which they then told me was the best place in town), a traditional German-style pub/ restaurant/ hotel. We all enjoyed local beer and delicacies, while an overeager young man, who had obviously partaken a little too generously of the local brew, peppered me with questions that began – "I am so fascinated to hear that you are from the US! Tell me, is it just like in the movies?"
Not letting the grass grow under my feet, early the next morning found me sitting in another train, again bound to Saxony, this time the town of Naumburg.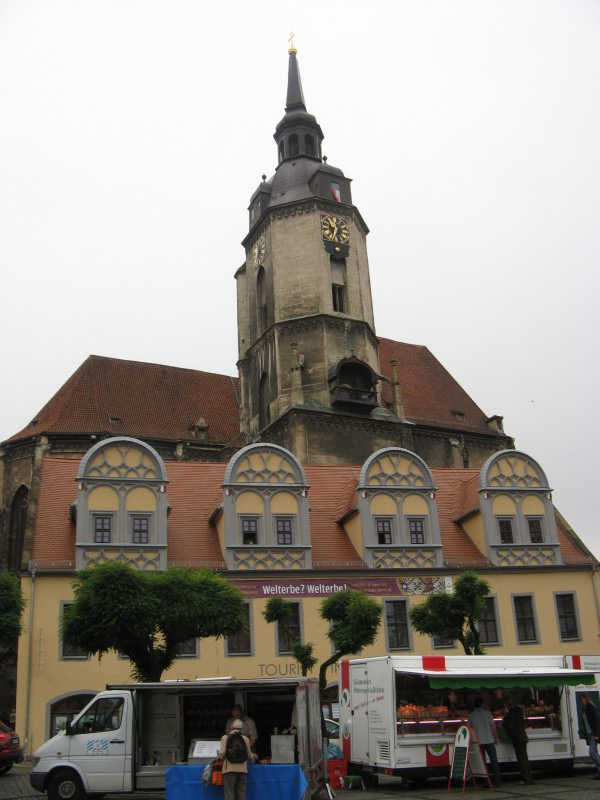 There, in the Wenzelkirche, (St. Wenzel Church), is what organists like to refer to as one of the only remaining "Bach organs" – meaning that not only did Bach play these very keys (this is also true elsewhere), but he also collaborated with the organ builder to decide which stops should be included on this instrument.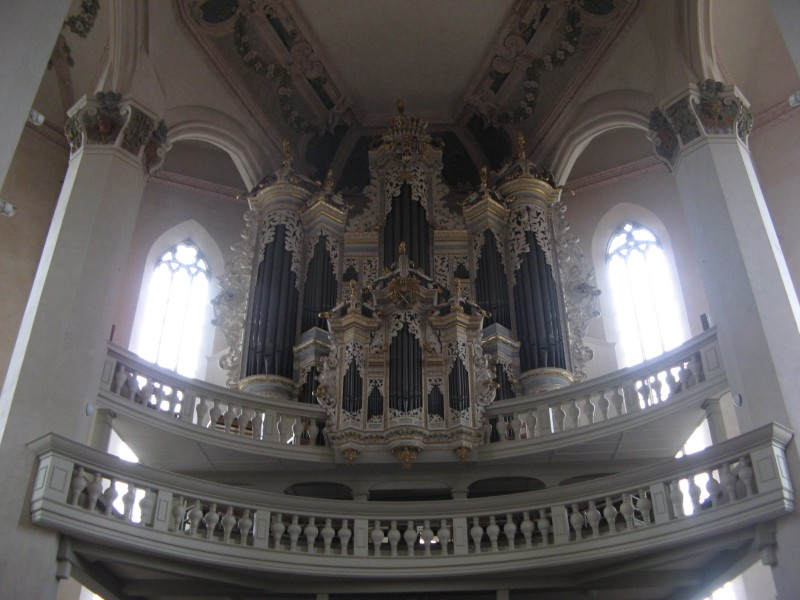 In a fabulous room, ornate, with valuable artwork, and a generous acoustic, the instrument is grand – full of more colors than one can use in a concert, and incredibly versatile. The organist, David Franke, was helpful and gracious, and also a superb stop puller for my concert!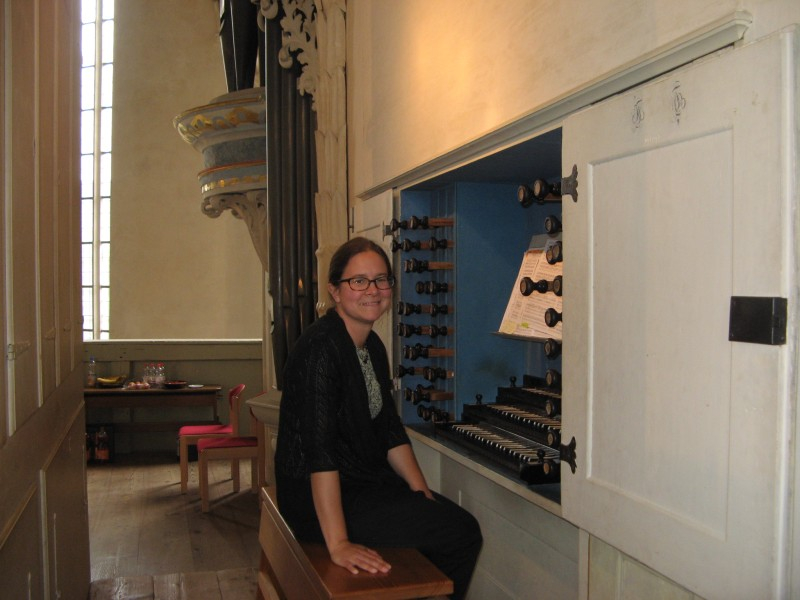 I really had no free time in Naumburg to enjoy the city, not even time to stick my head in the Cathedral, which is going to be declared a UNESCO World Heritage Site shortly, and is apparently wonderful, because I practiced like mad, taking advantage of this rare opportunity to spend hours on such an important instrument.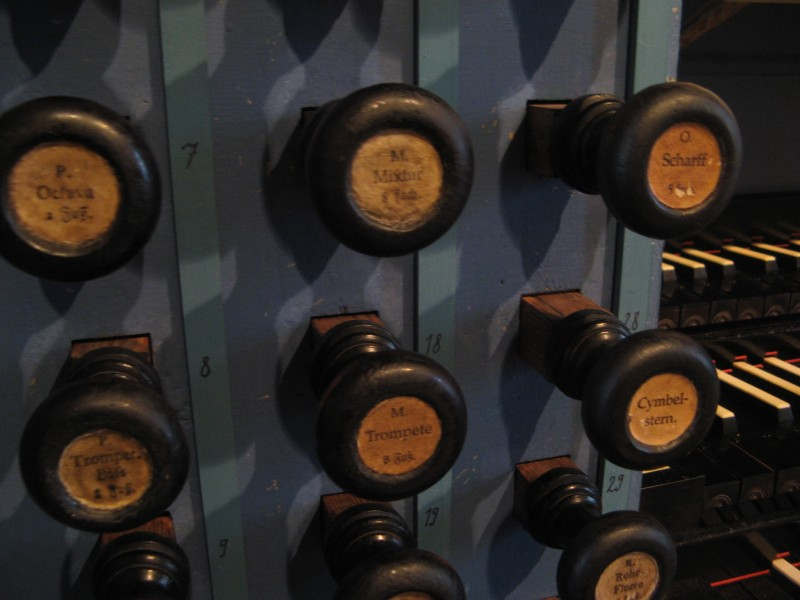 But it was worth it.
As I walked back to my room that night through the darkened cobbles-stone streets of the old city, (seen here in daytime, while the market is still in session)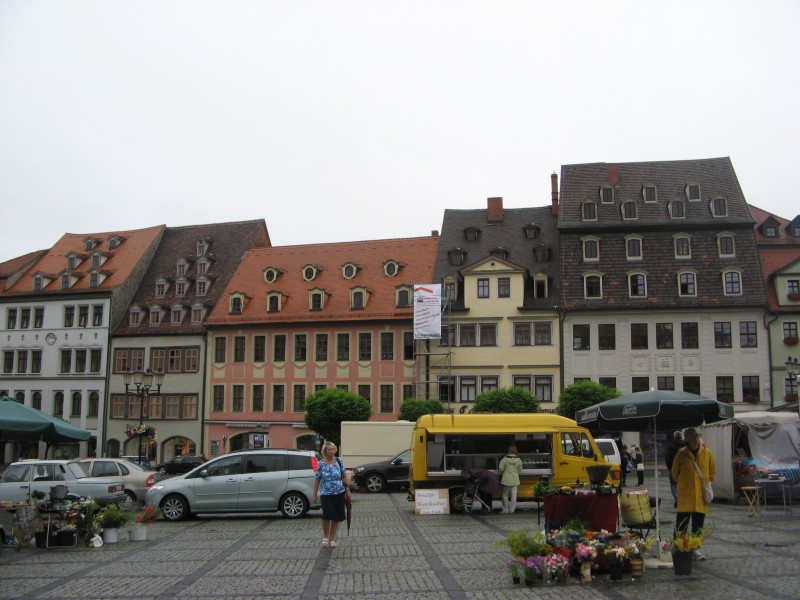 Germany was playing in the semi-finals of the World Cup, and I could hear the cheers out of windows all around me each time they scored. While taking with a friend in Bremen on my cell phone, I could hear the cheers BOTH places, at his house through my phone, and in the streets of Naumburg, so I didn't even need him to mention, "We just scored.", to realize Germany was doing well. Life in Germany during World Cup…
After my noontime concert on Wednesday and lunch with David, I hopped another train, back to Bremen, to see old friends and relax for once – and play another concert! I spent time in Bremen wandering around favorite haunts,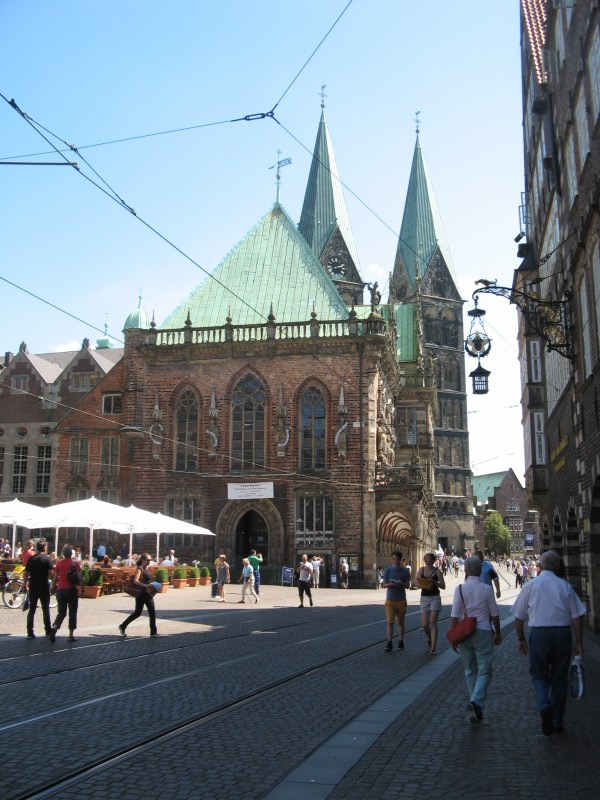 both alone and with friends; lingering over meals and conversations; buying presents for my family; and generally relaxing. (Favored German past time – visitng markets)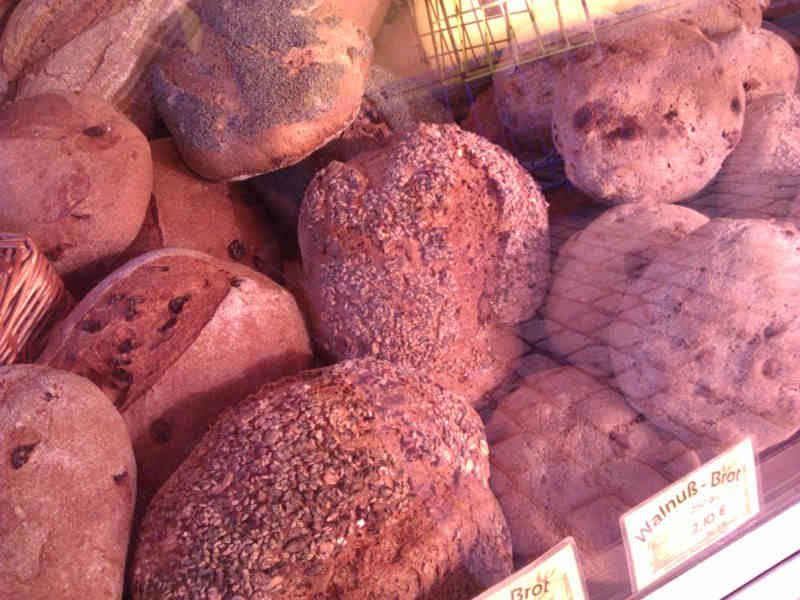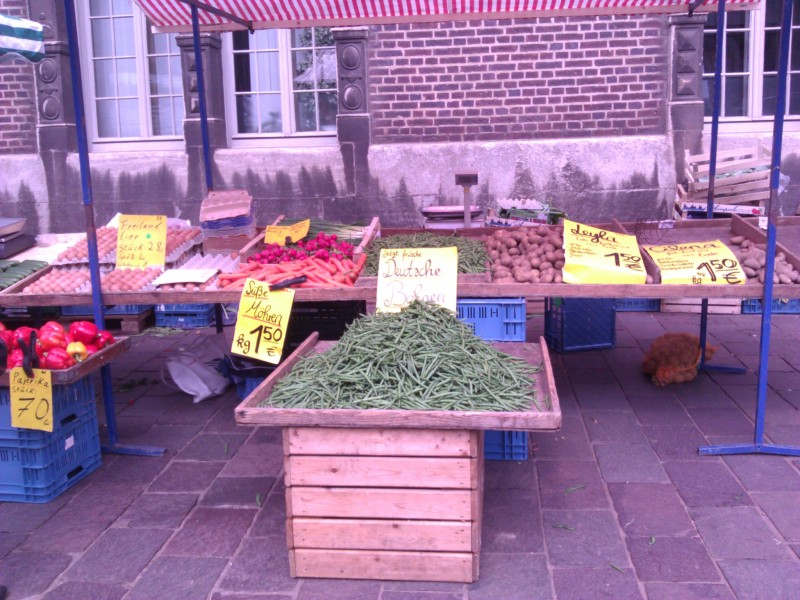 I played my concert Friday afternoon in the Unser Lieben Frauen church, it and was fun to see a lot of friends there to hear me. (the daily flower market outside the Lieb' Frauen Kirche)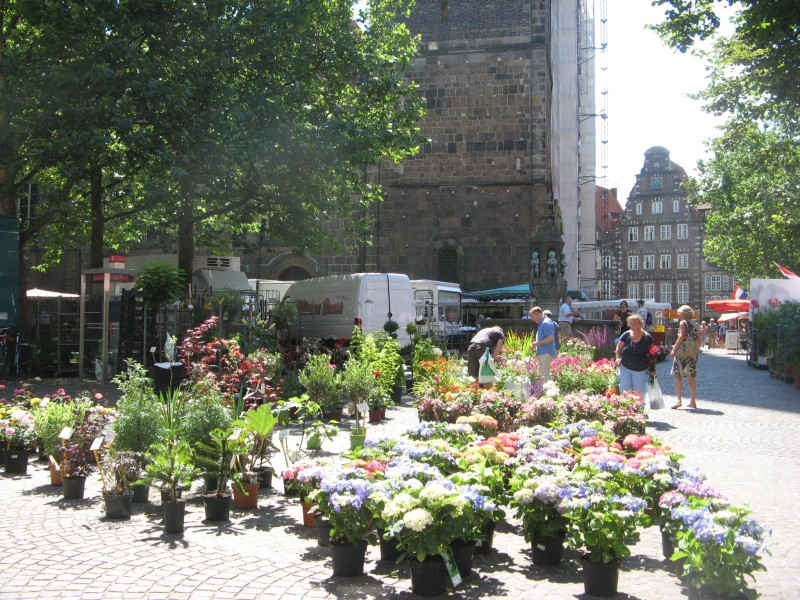 That evening, church friends held a small get together for me at their house, which was a good time to sit and talk with folks I haven't seen in too long.
Saturday morning saw me off on another train for my final concert, in the small village of Harbke, near the former border between East and West Germany. At one time a thriving town, now it contains only housing for folks who work elsewhere, the ruins of an old castle, and an old church with beautiful old organ.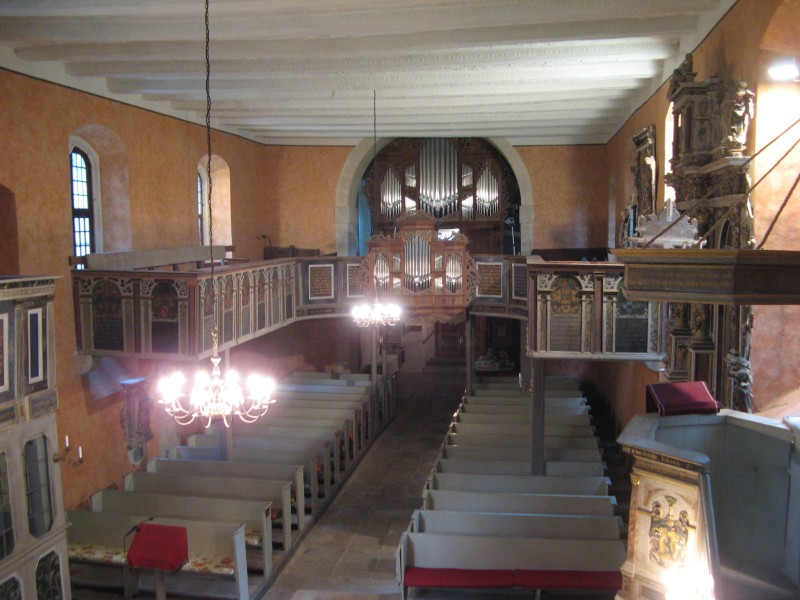 The pastor met me at the train station the next town over, and drove me to Harbke, where I met the custodian of the church, who hosted me that weekend in her apartment adjacent to the church.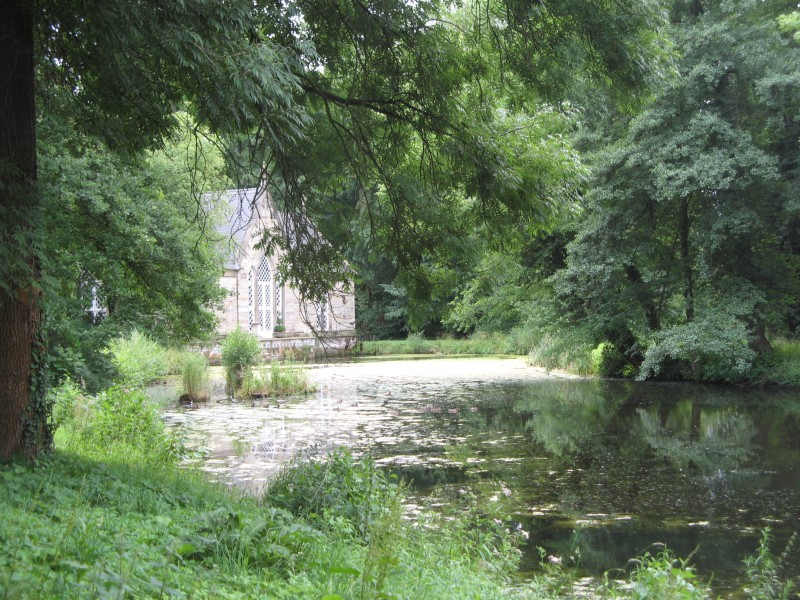 She made sure I had enough to eat always, and it was great to have more free time to wander the park surrounding the castle grounds, and practice whenever I liked.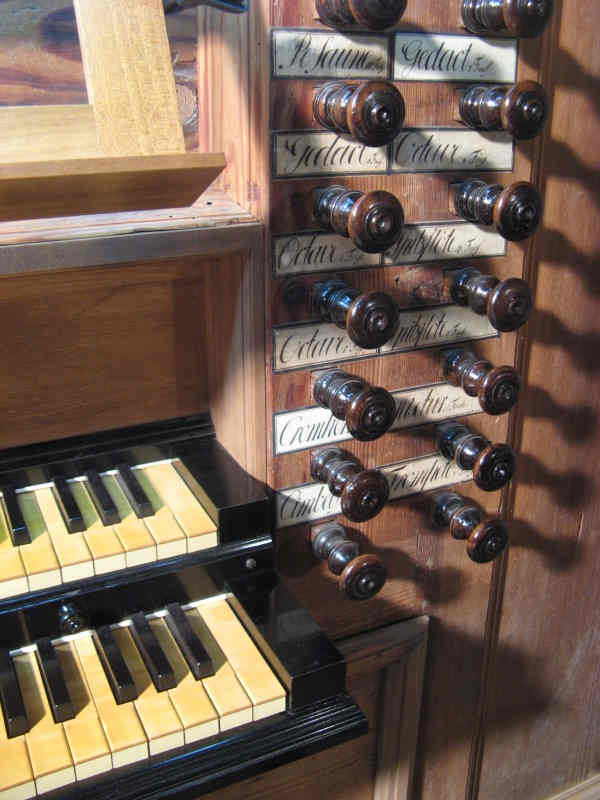 Sunday afternoon included torrential downpours, and Pastor Mücksch worried that combined with the upcoming final World Cup game (where Germany was playing Argentina) no one would show up, but we still had a good crowd at the concert.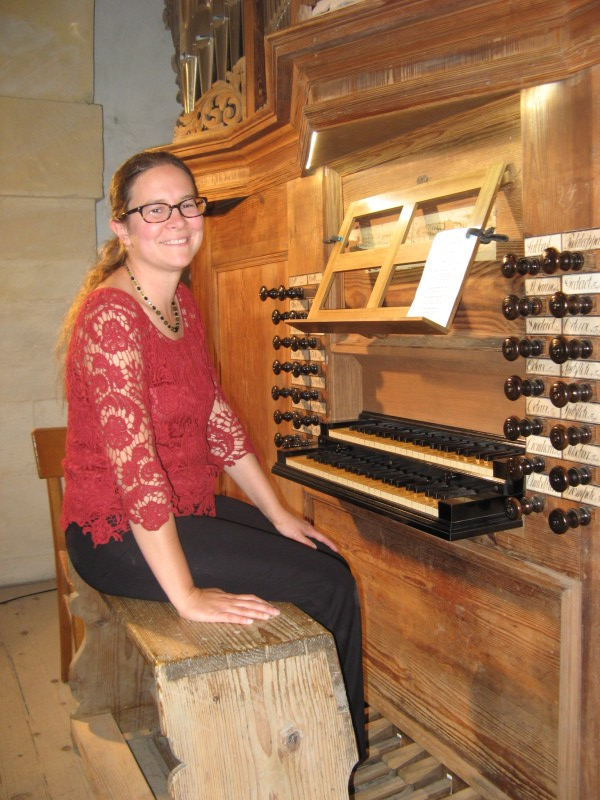 The pastor handed me a bouquet of freshly picked flowers from his garden after my concert, a German tradition.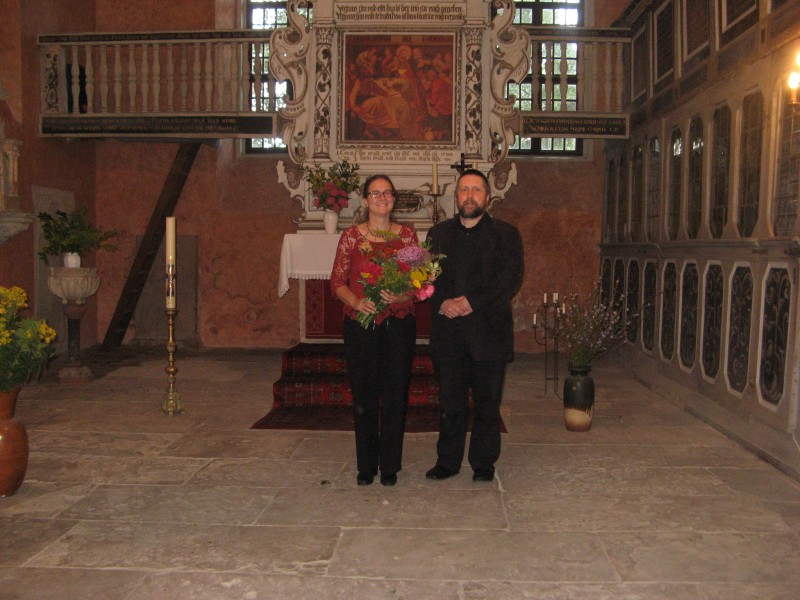 I took the train back to Bremen that night, arriving in the middle of the World Cup game. It was showing on a big screen in the basement of our old church, which being located right beside the train station, was a good place for me to wait for my ride. It was a close game, though I am obviously not a true fan, heading to bed before midnight, and the final exciting minutes when Germany pulled together and won the World Cup.
Monday and Tuesday were made of more time spent with friends and some well-deserved relaxing in favorite places with favorite people. (windmills everywhere I go…)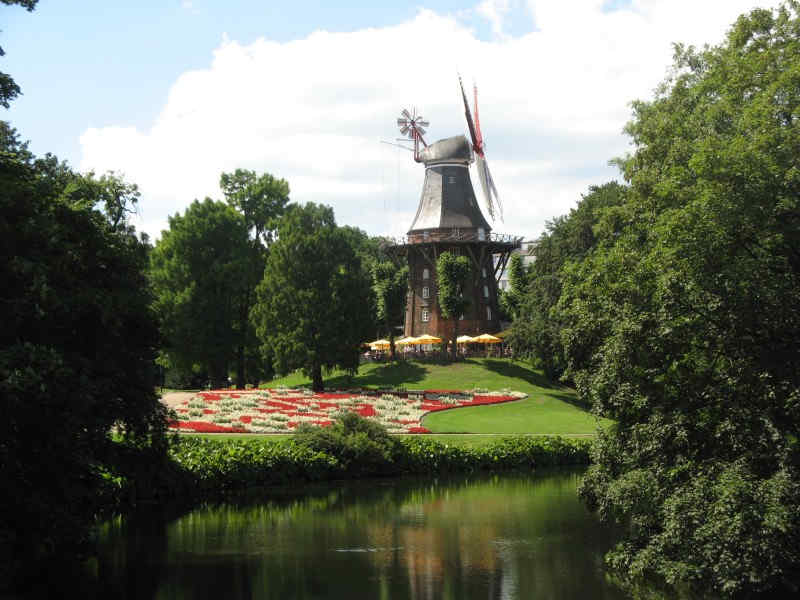 Wednesday morning I flew from Bremen, back to Dublin, and on to Chicago, where I stayed with old friends before taking a bus home to Holland on Thursday. Whew!
The rest of the summer was full of family visits, and relaxing at home in Michigan, with some blueberry picking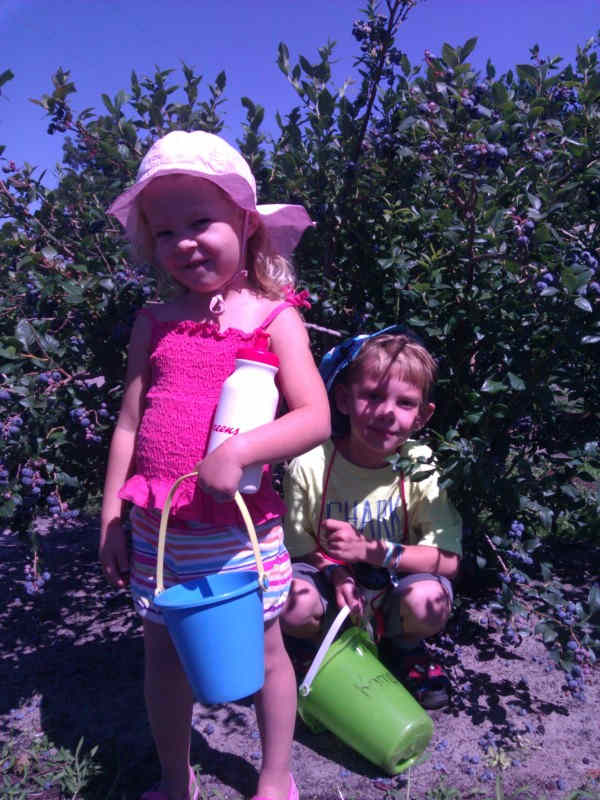 and camping thrown in for good measure.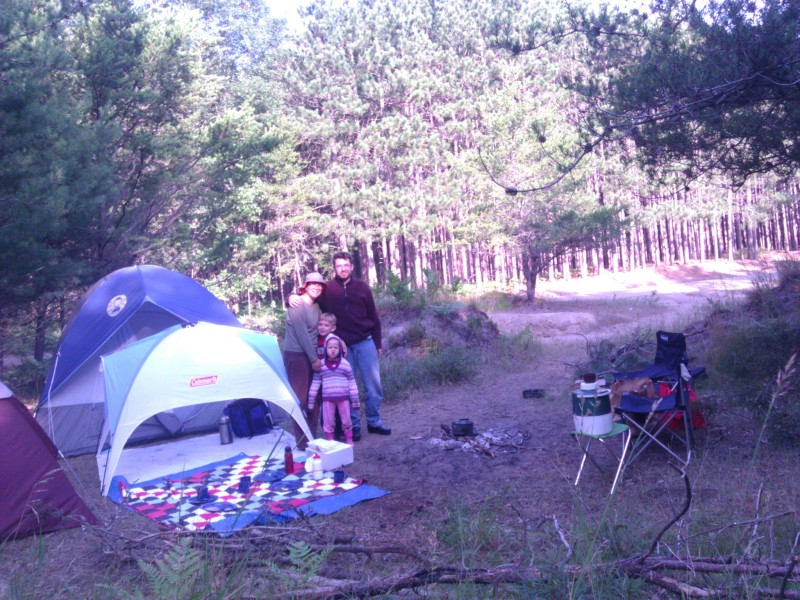 It all passed by so quickly… (but you know, when you say this, it just means you must be getting old!)