My "mini tour of the South", as I liked to call it, was this February, to Chattanooga, TN and Birmingham, AL. I had hoped to see lots of sun and the arrival of spring a good month or two before we can hope for such things in Michigan. Alas, balmy it was not, but at least there was sun, and a bit warmer weather than what we've been experienceing as of late.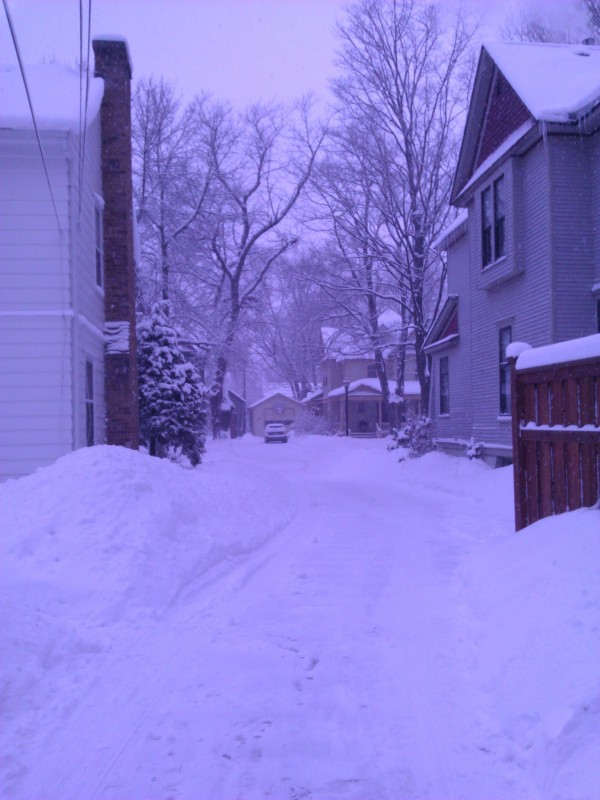 This was my first trip to Chattanooga, perhaps even my first visit to Tennessee, though I'm not positive, and it was fascinating to note the differences between the Midwest and the Bible Belt. There was a Trust Jesus/American Flag road side sign that I wanted to get a picture of, but couldn't manage to drive and take it at the same time, so here's my next best typically-Southern picture. Nothing says the South like a big old dilapidated house (with veranda) – I don't know about you, but this one is screaming Faulkner to me…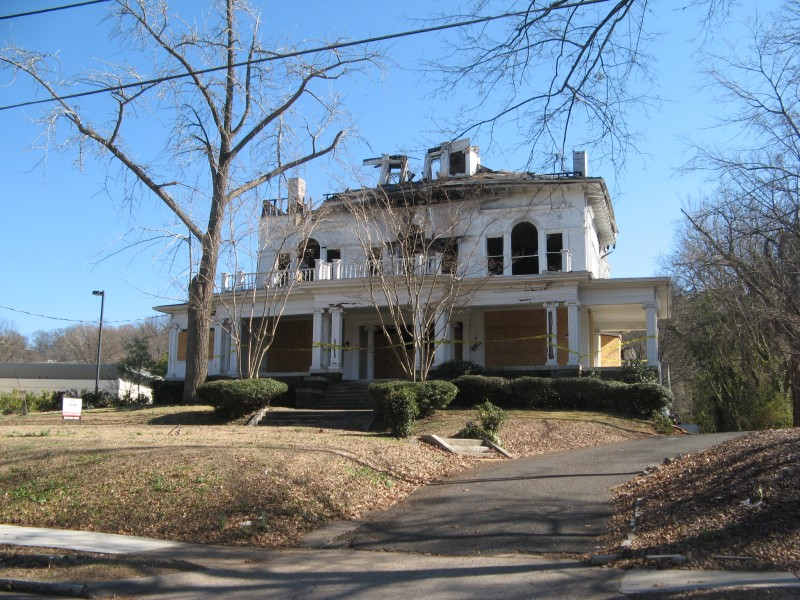 Karla and Bruce Fowkes met me at the airport and took me to the home of Keith Reas, where I was staying. It was thanks to all these kind folks that I owed the original reason for my trip – a concert at Christ Church Chattanooga, where Karla is Music Director and Organist, and the organ is built by Richards, Fowkes organ builders.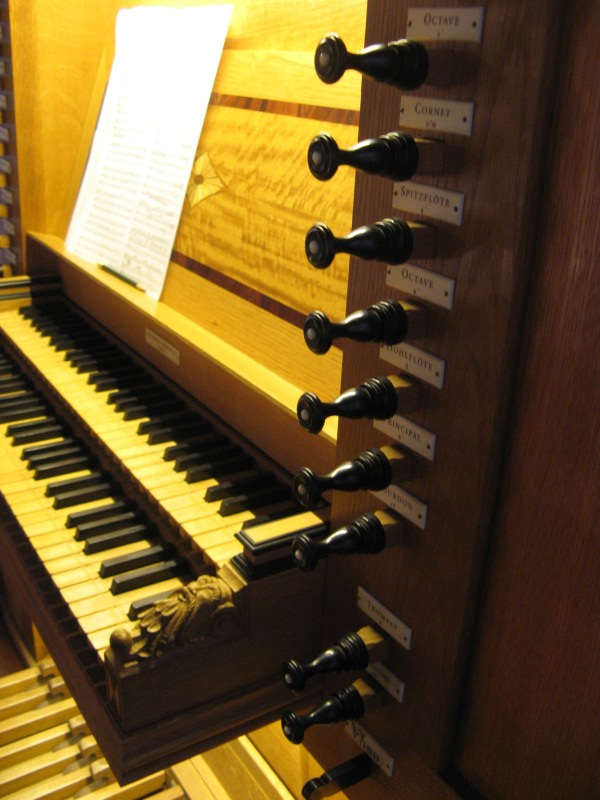 The instrument was a joy to play, and I thoroughly enjoyed my practice time there on Monday.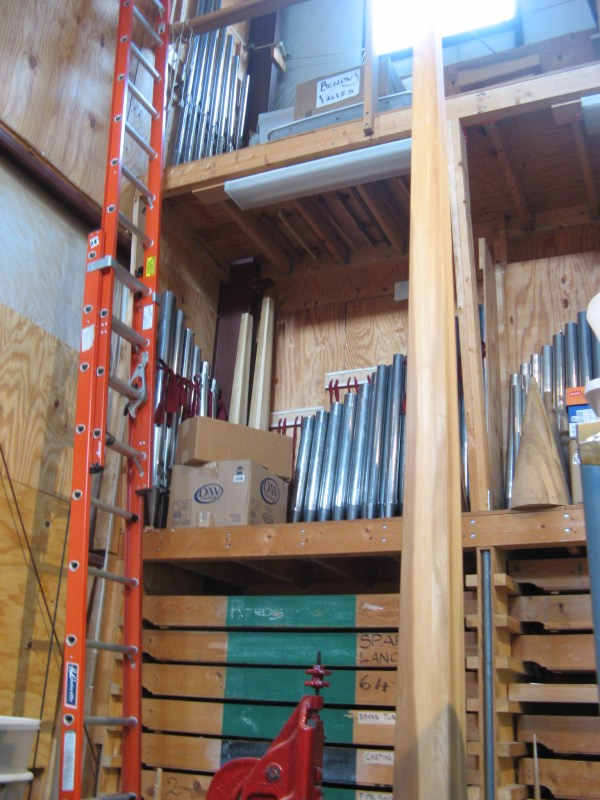 Monday afternoon, Bruce took me on an organ field trip, with visits to the Richards, Fowkes shop, in the midst of a big expansion project, where I finally met Ralph Richards (the R in R&F), and enjoyed chatting with Russel Draeger, as well as checking out all the fascinating things there are to see in such an interesting place.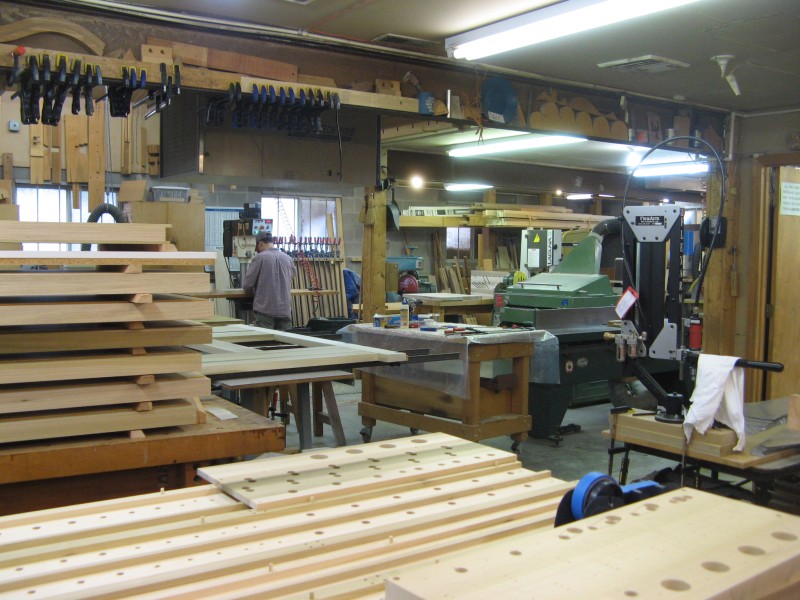 Waiting to be shaped into pipes…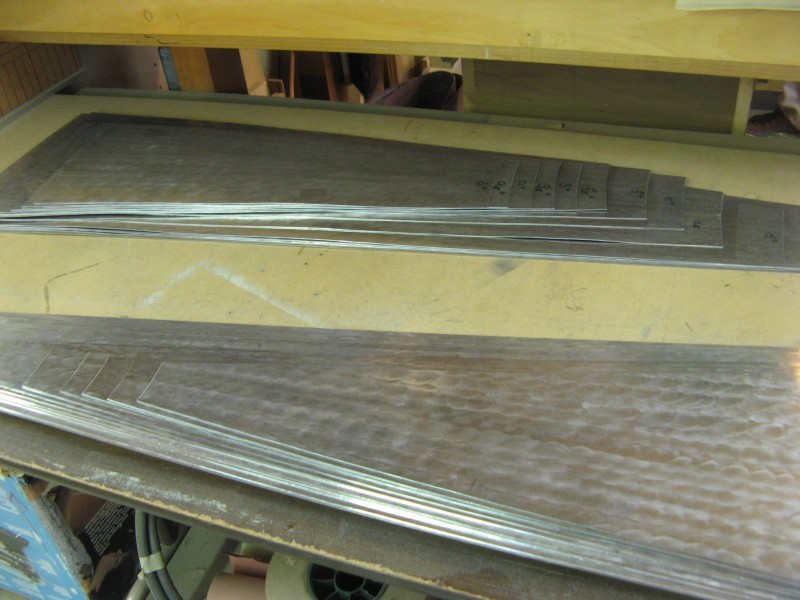 Then Bruce took me over to Colledgedale,TN, to Southern Adventist University – a place I'd heard about for years, because of the collection of organs there built by master American organ builder John Brombaugh.
I love the duck…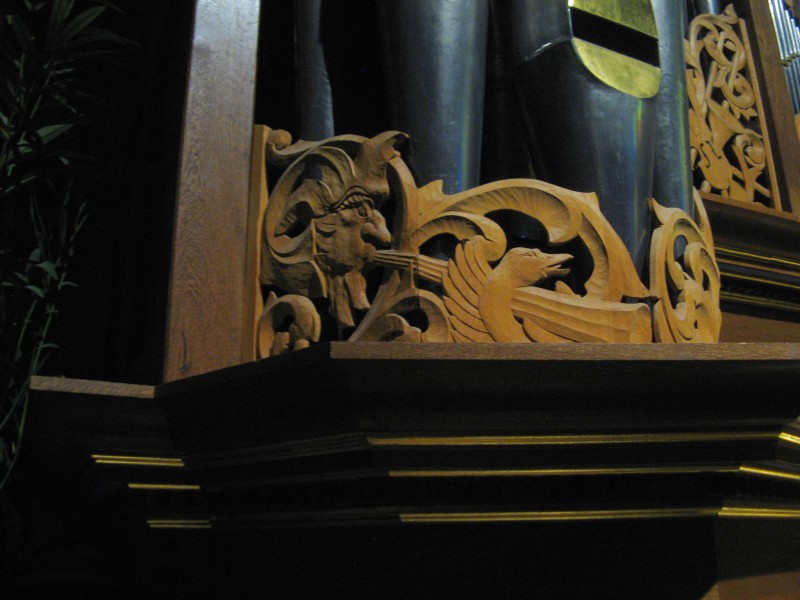 I'd met John years ago in Germany, and heard his last instrument (in Springfield, IL) played by Harald Vogel, shortly before leaving for Germany, but had not yet had the chance to play any of his instruments myself.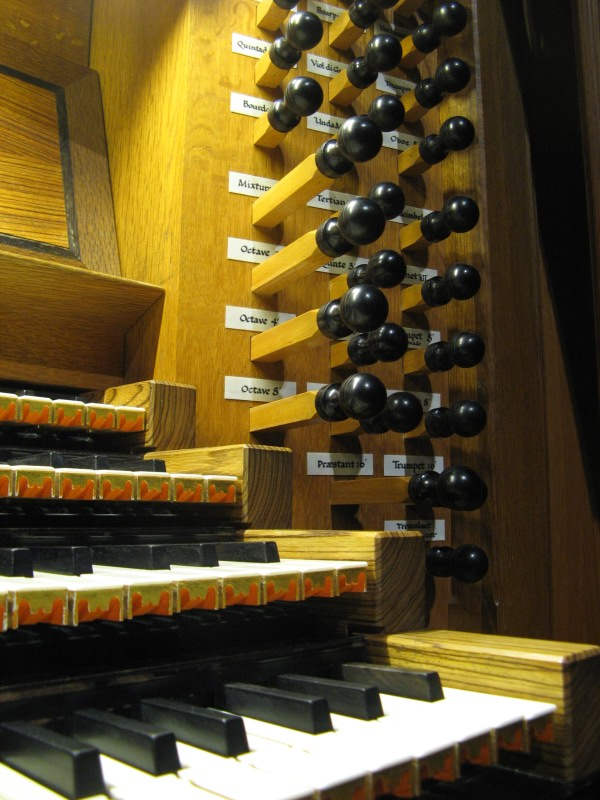 The immense chapel organ was lots of fun, full of amazing sounds, and the beautiful little recital hall instrument was also a delight. (I'll take one of these to go, please…)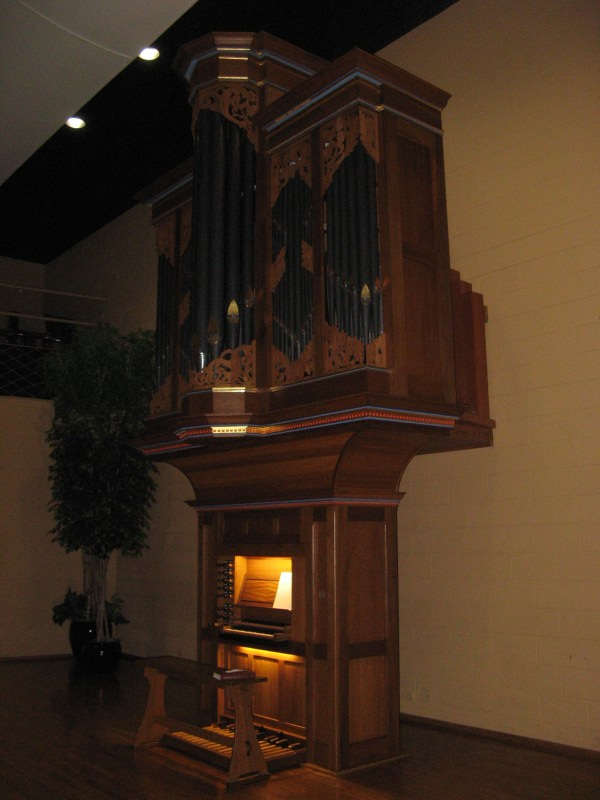 Monday evening, I was treated to dinner at a local establishment with Keith, Karla, Bruce, and Russell, where I had my first taste of something of which my Northern palate had never before imagined – fried pickles! Very yummy. There was other good food as well at dinner, but those memories pale in comparison…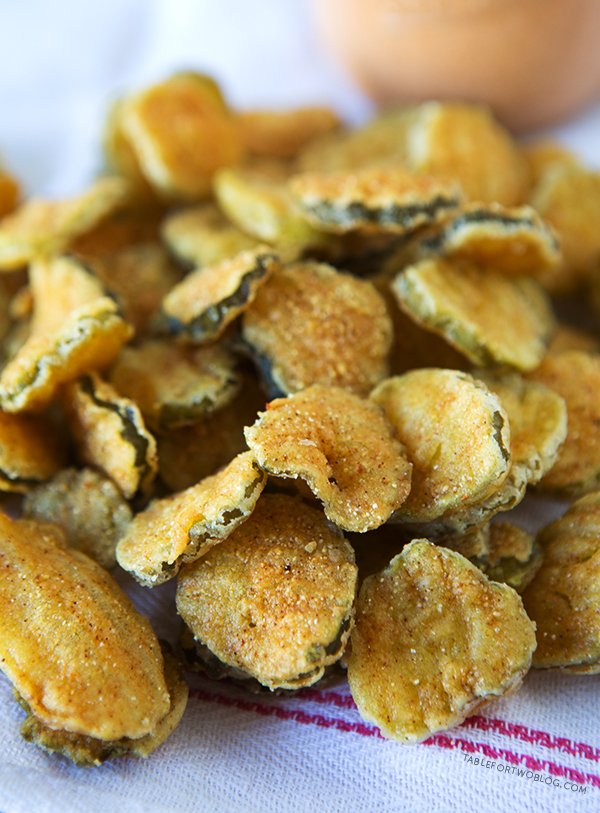 After more practice at Christ Church, my concert Tuesday evening was a great time.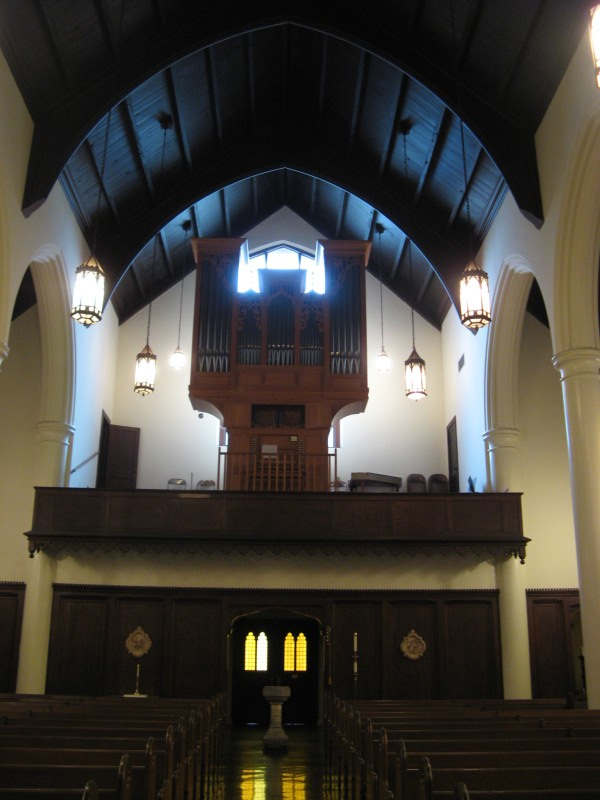 A very appreciative crowd came out to hear my Art of the Fugue program (tracing the fugue through various countries and centuries – a creative programming idea, if I say so myself…). Russell was a superb page turner/stop puller, and my silly encore rendition of Chattanooga Choo-Choo even had a couple audience members singing and clapping along – a rarity at an organ concert. At the reception afterwards, I heard some perceptive comments from audience members – always nice to know people are listening out there – and we snapped a picture before adjourning for the mandatory post-recital revelries (as in, I drank half a beer and had a salad…)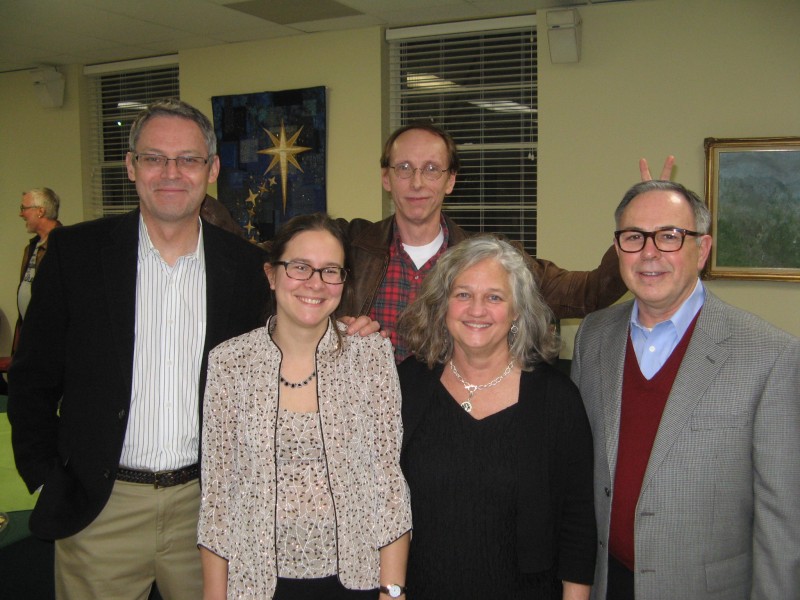 Bruce, Rhonda, Ralph (Mr. Serious), Karla, and Keith
Wednesday morning, Keith showed me where he is Organist and Director of Music, St. Paul Episcopal Cathedral in Chattanooga, a beautiful place, with a Casavant that brought back memories of the one I used to play in Oak Park, IL.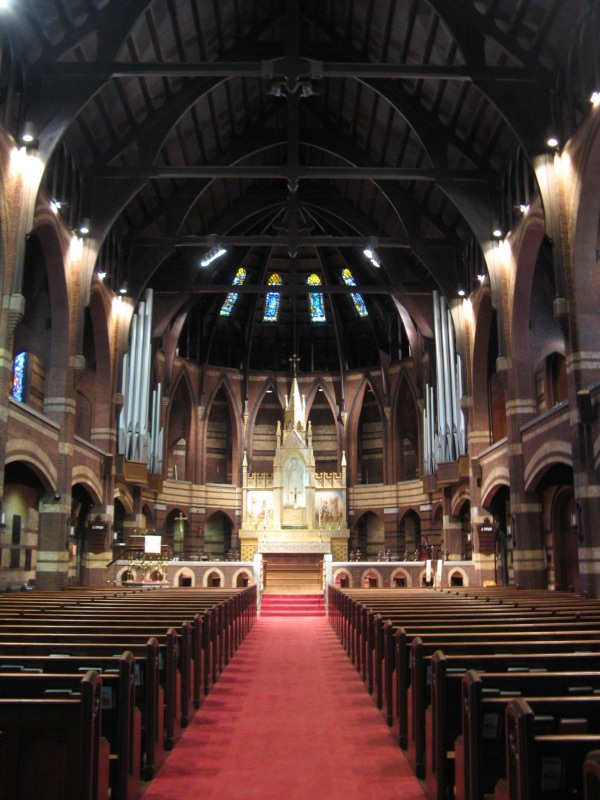 I picked up a rental car after that, and drove down to Birmingham, Alabama – positively my first visit ever to Alabama. I'd planned to spend a number of days there with Sarah, a very old friend from Bloomington days (who was in our wedding, just a few years back…), and who now has children I've never met, and a husband I only know slightly. Unfortunately, their household was reeling from many rounds of sickness, and Sarah warned that I should entertain myself for a couple days.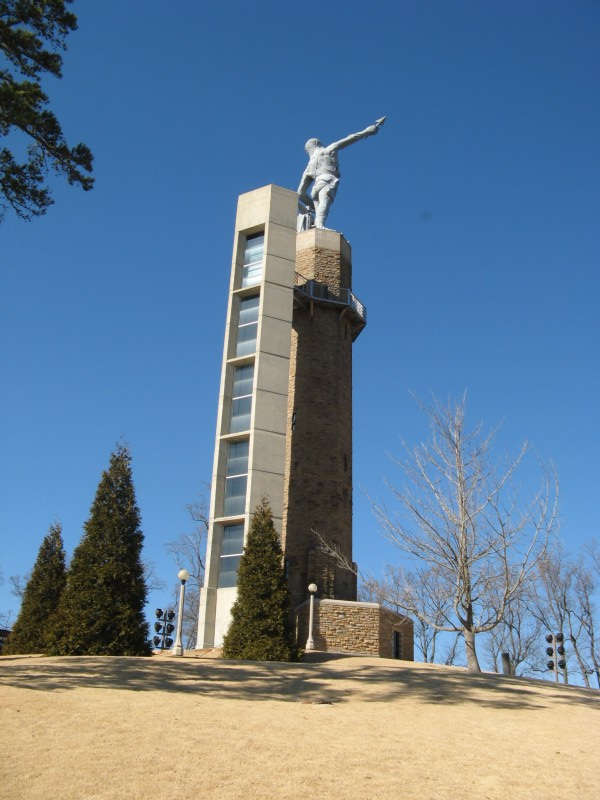 Driving down the highway, I happened upon Vulcan Park (Vulcan, as in the Roman God of fire, and the guy atop the tower), a monument from CCC days, that looks out over the city, and where I enjoyed the sunshine and lovely weather for a bit. Then I headed downtown to see the Birmingham Institute for Civil Rights, a museum which tells the story of the ways Birmingham people and places played a role in the civil rights struggles of the 60's.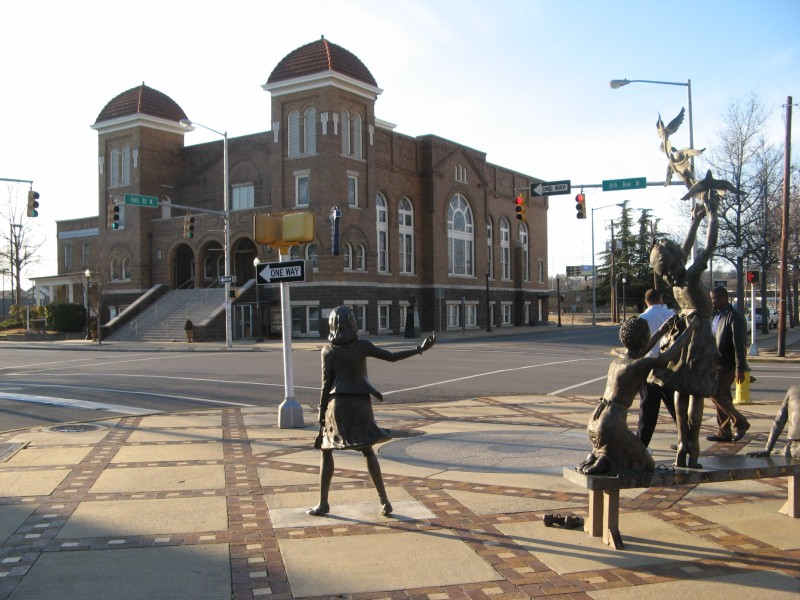 The museum is right across the street from the 16th Street Baptist Church (the church where 4 young girls were killed in a racial bombing in 1962), and Kelly Park, with some interesting statues, like this one, that commemorates those four girls. I appreciated the chance to learn a lot more about the history of Birmingham and how the events that happened here were influential in shaping our nation's history.
The hospitable Leon Couch, who lined up my talk for Thursday morning, entertained me in Sarah's absence, and helped me find another place to eat fried pickles that evening. The next morning, we headed off to Birmingham-Southern College, where he teaches, and I gave my talk. A respectable group of students showed up to hear me speak about "Study in Europe: why I went (and stayed), and why you should go too", complete with pictures of organs and churches, and some live musical examples. Not being used to lecturing to college students, I tried not to let the IPhone usage distract me.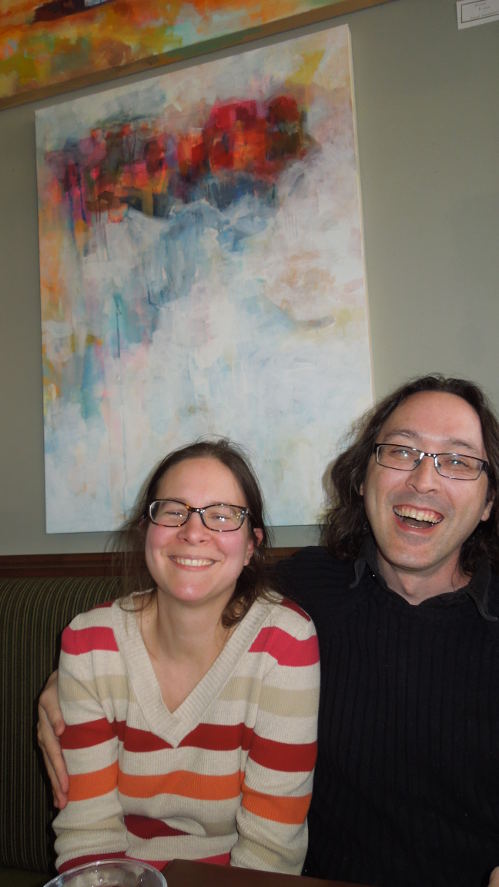 (Leon and I in Grand Rapids last winter – where there are no fried pickles, which is no laughing matter)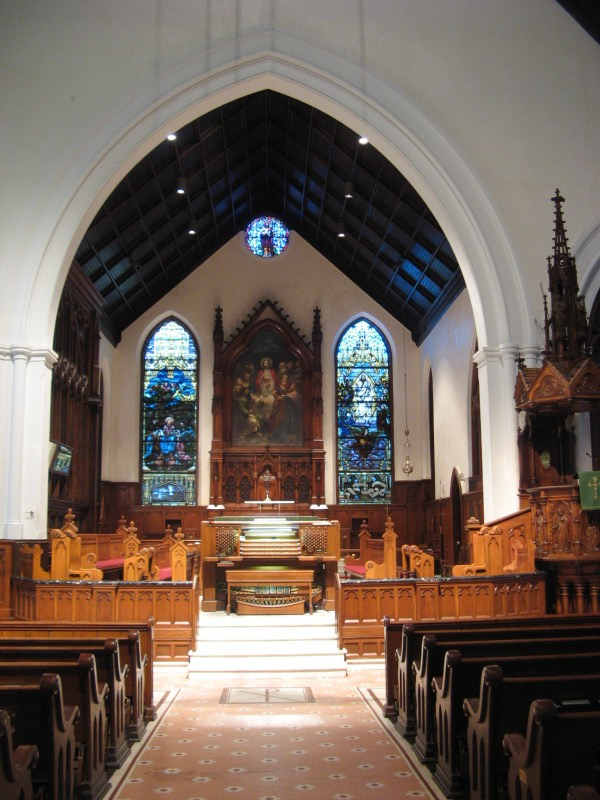 Friday morning, I headed to the Cathedral Church of the Advent, where I gave a noontime recital on the lush romantic-style instrument there. Containing sets of pipes from of a number of older organs from the cathedral's past, like Austin, E. M. Skinner and others, it was combined into its current form in 1988 by Moller, and includes an antiphonal division, always fun.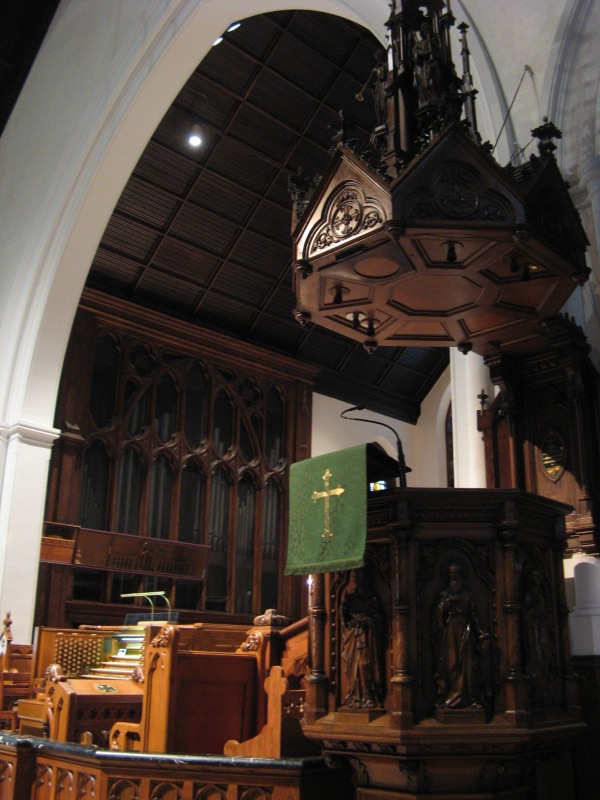 Both organists Charles Kennedy and Fred Teardo were there to welcome me and hear my recital. I originally met each of them back when we were all students, and it was fun to catch up a bit and see what they've been doing in Birmingham. Another old friend from my Indiana days showed up at my recital unexpectedly, Melanie Martin Couch. We could have staged a battle of the music schools – Indiana vs. Michigan vs. Eastman, but we didn't. Melanie and I had them outnumbered anyway.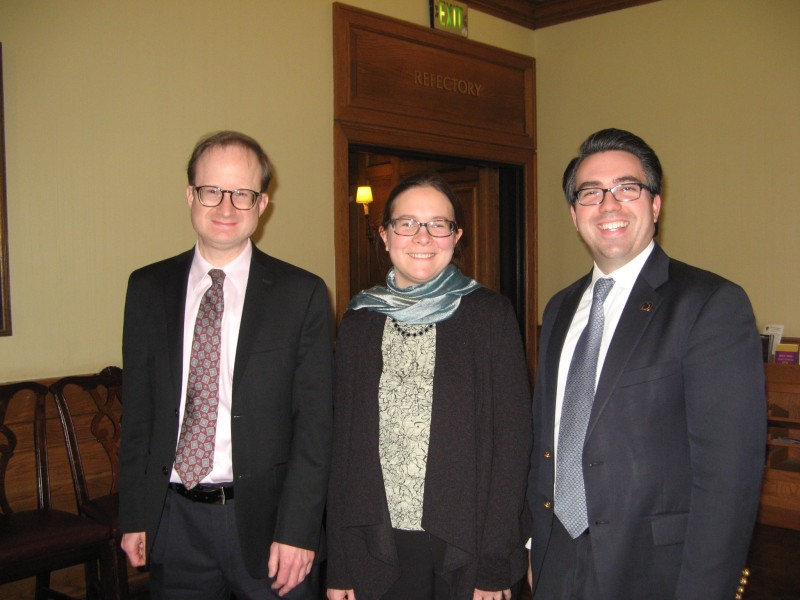 Charles, Rhonda, Fred – Melanie didn't have a black jacket on, so we couldn't let her in the photo
After my recital, I had just enough time to see another organ in town – the Dobson at Independent Presbyterian,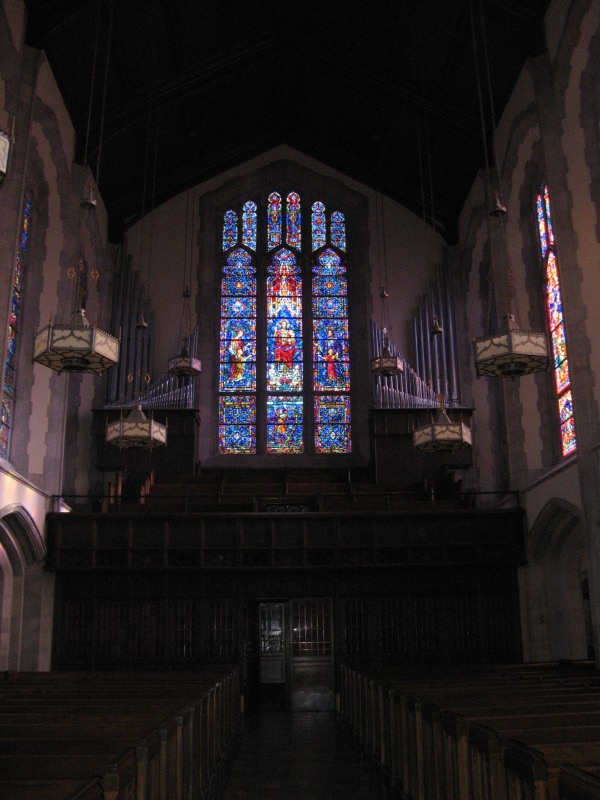 before finally heading off to see Sarah and meet her family. It's no fun being sick.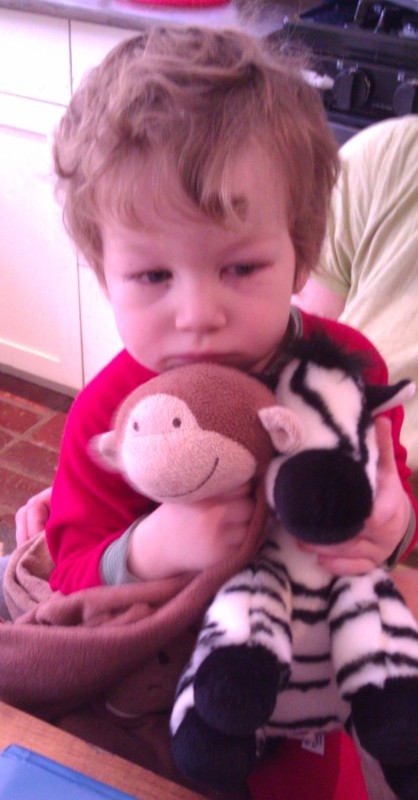 They treated me to more Southern specialties, including fried chicken and biscuits, BarBQ, mustard greens, baked beans, mac and cheese, and banana pudding – though not all at the same meal.
Sunday's return trip took me through the always tortuous O'hare airport, where excessive delays in terminal G at least gave me time to sit peacefully in my favorite spot at my least-favorite airport – the Urban Airport Garden.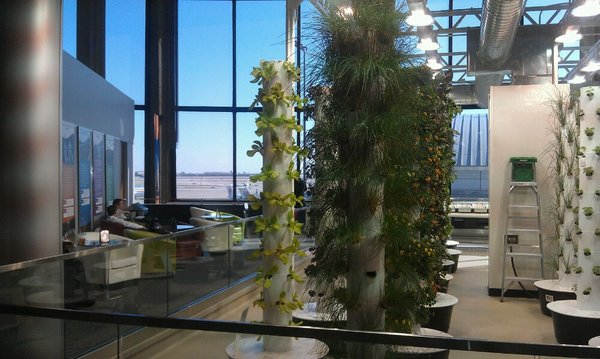 There are always pilots, flight attendants, and airport employees hanging out here, so you know that means it's a good place: quiet, green, well-light, and with comfy chairs.
Winter will be dragging on for us Michiganders much longer, I'm afraid, but many thanks to all the warm and friendly folks in TN and AL, who made my trip such a good time. I hope to be back for more fried pickles soon!