So, if you visit my blog for fancy pictures of organs, chats about organ gossip, and to see who I brushed shoulders with in the organ world this month, this is NOT the post for you! [Mark and I in Japan!!]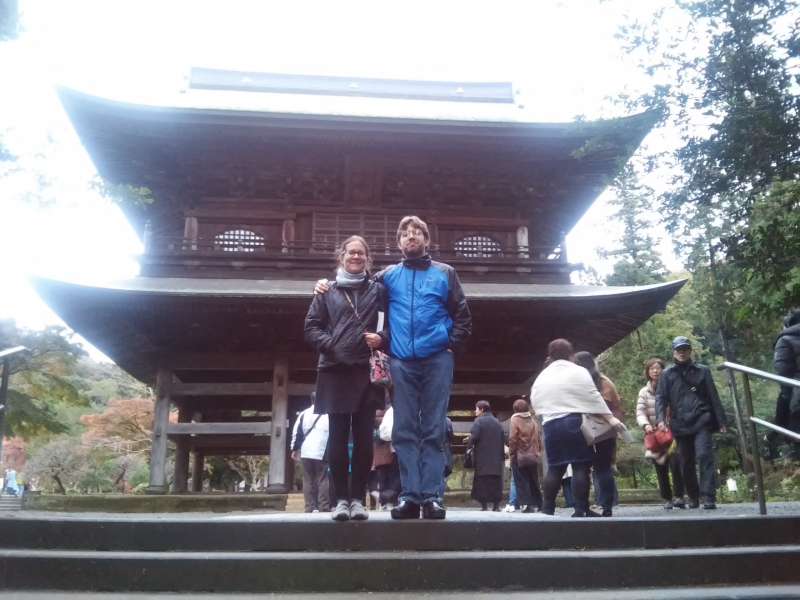 However, if you like interesting pictures, stories, and talk of my exotic travels, (and/or you heard that I've been in Japan, and want details) this is JUST the place for you.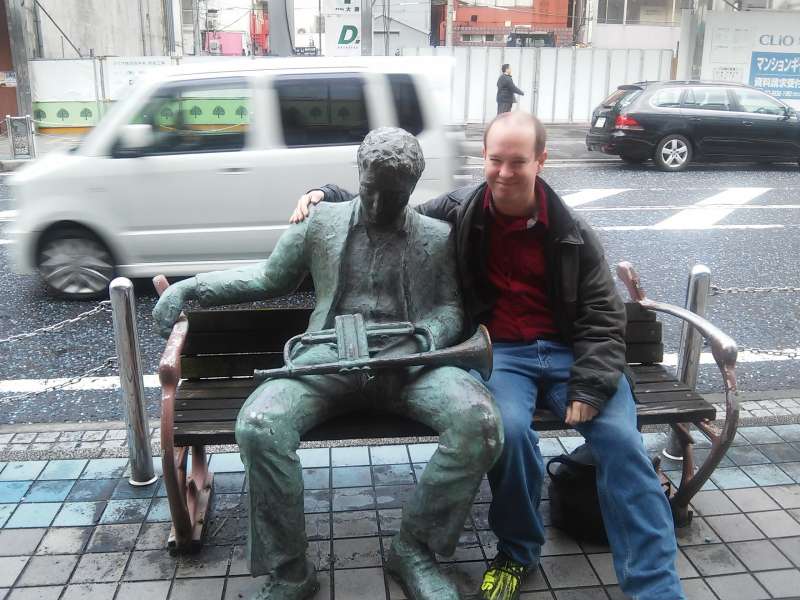 My brother has been stationed with the US Navy Band in Japan for the last two years, and Mark and I finally got our acts together and went to visit him. Without our kids. Because 8-year olds on jet lag is not a fun thing. And trying to get 10-year olds to eat weird-looking foods because they probably taste good is also not fun.
[Eric and I in front of the Tokyo Tower – yes, it's supposed to look like the Eiffel Tower, but I'm not really sure why… And I'm wearing this hip Japanese hat Eric got Isaac for Christmas, but he thought it was weird. I however, thought it was way cool. This either means I'm not, or he has no international sense of fashion.]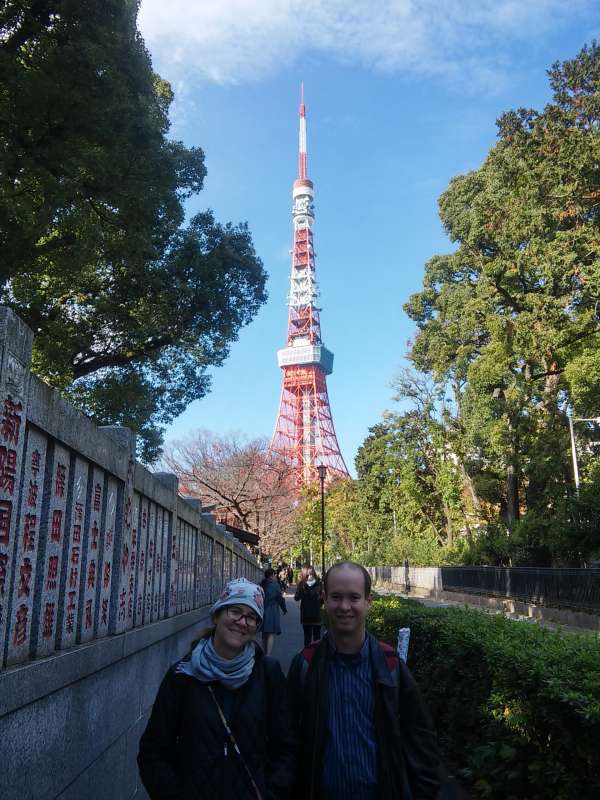 The first thing I took a picture of, because I'm weirdly observant, is that they had a suggestion box right beside immigration in the airport. This is so Japanese – can we help you in any way? Do you have any suggestions on your customs experience? (they do not do this in Germany… "You didn't like it? Too bad!" is what they say in Germany. More or less.)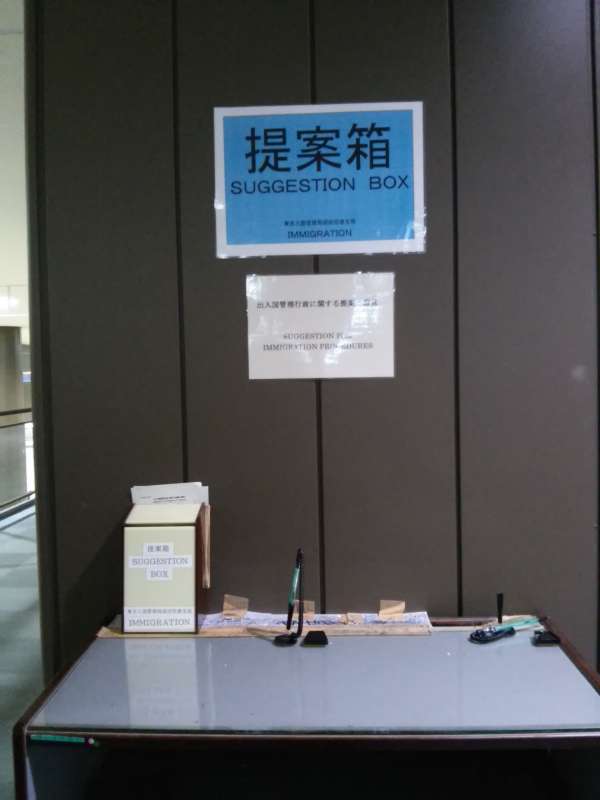 The flight lasts between 12 and 13 hours – another reason not to bring small children with you. We watched lots of movies and ate lots of airplane food, and arrived to a 14 hours time shift. Eric met us and got us back to his apartment. He lives in the city of Yokosuka, in an apartment building, and we amused ourselves with some of the signs, posted for both the native residents, but probably mostly the Americans like Eric, who live there. This was Mark's favorite one.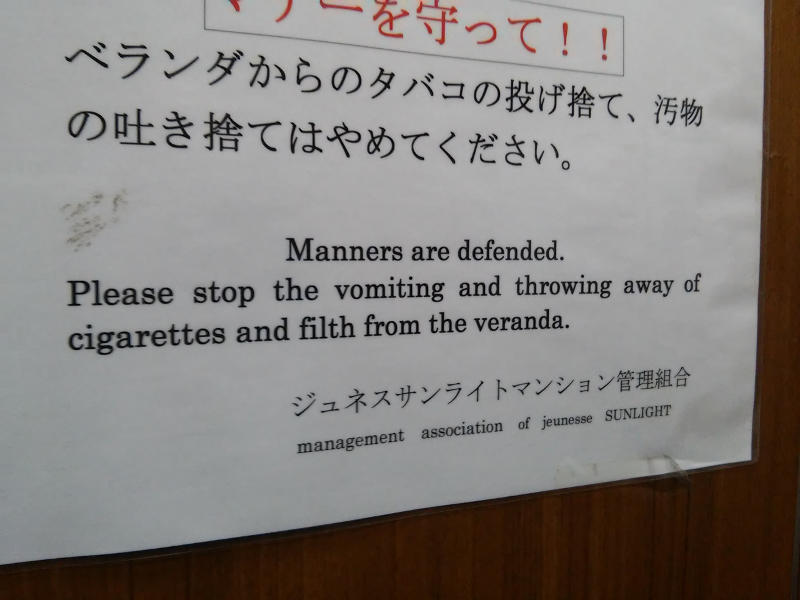 Eric was still working a couple days, so we had time on our own. After walking around his city, poking around shops and restaurants, Mark and I made a day-trip to nearby Kamakura. This small town is filled with amazing shrines and temples, and one of the most famous landmarks of Japan – a gigantic statue of Buddah which was cast in the year 1252.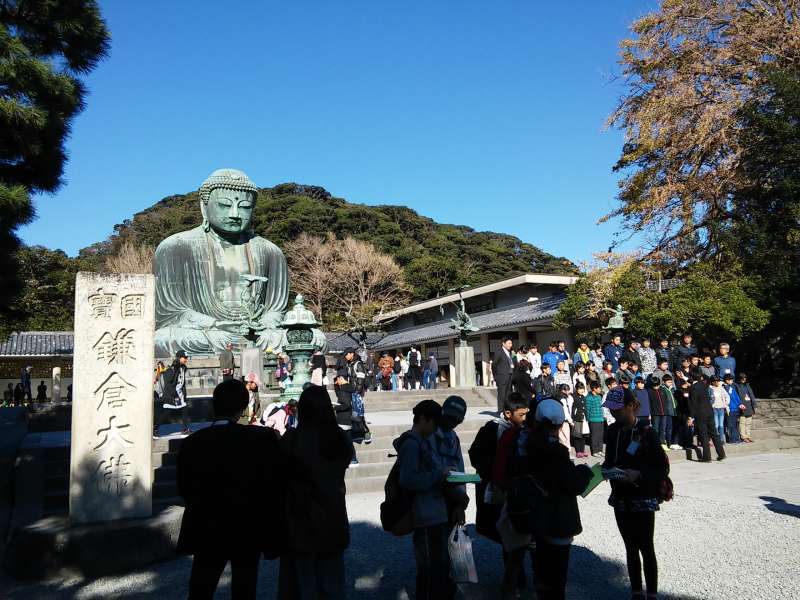 Also, a wonderfully peaceful and beautiful Buddhist Monastery.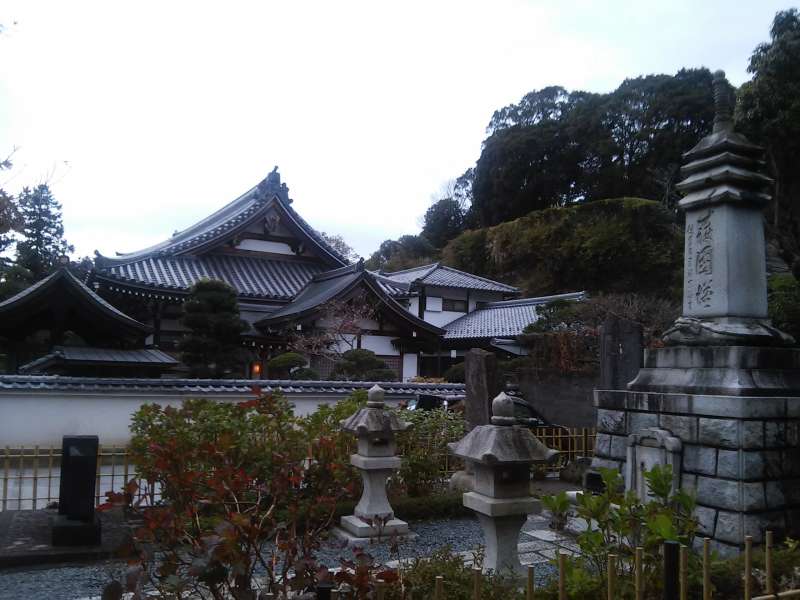 In addition to international tourists, there were lots of schoolchildren on field trips at these sights. We were approached by a group who's assignment was to "survey" English speakers, and so practice their speaking and writing skills. We thought it was very cute – being asked our names, where we were from, and various questions, from our favorite Japanese food, to our favorite animae characters. It got less cute by the time a third group approached us, (and by then we'd decided to look less friendly, and furtively skirt the school groups!) Each group wanted a picture with us, and for our first group, while we were still finding it charming, we took one with them as well.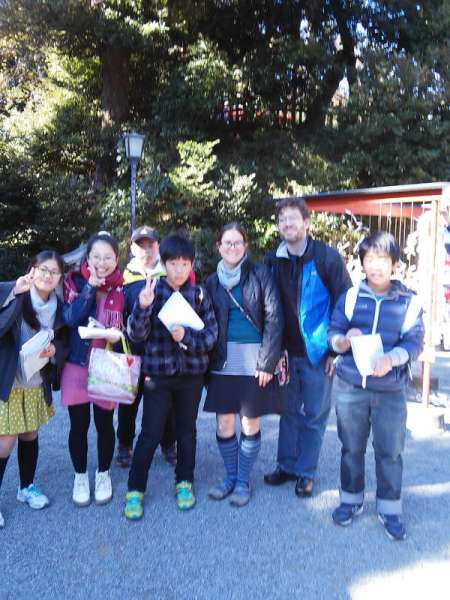 I think this statue was for good luck, but I just thought he was so cute!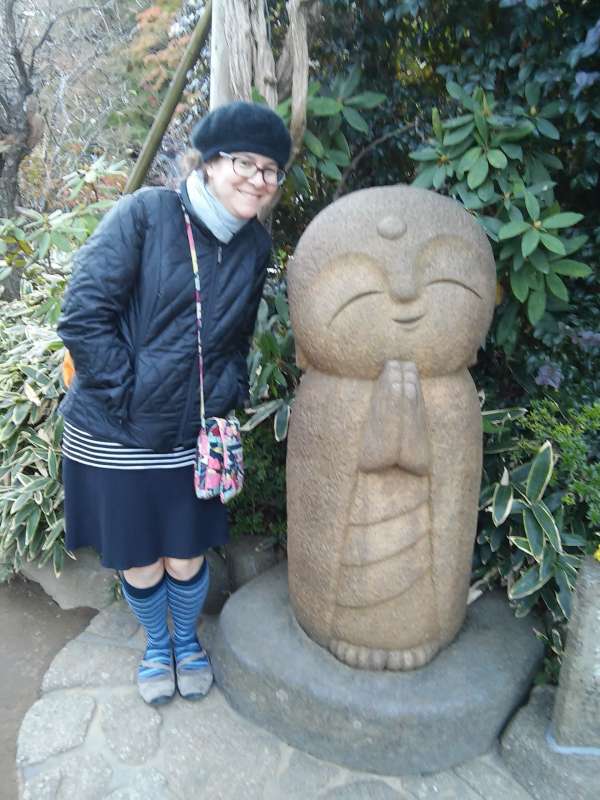 We took the train to Kamakura, the way we got around the country in general, but once there, rented bikes to ride around with, which was a little scary but also very fun. Lots of bike riders in Japan, so we felt right at home.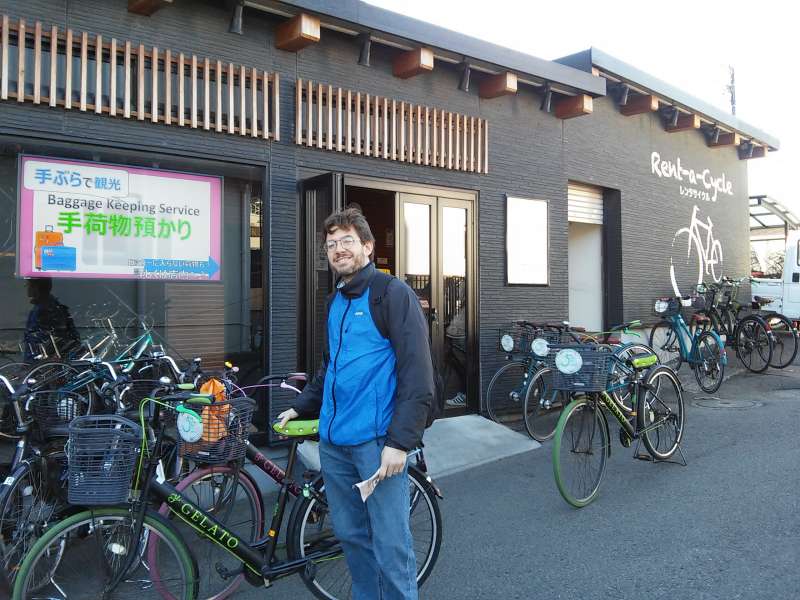 Once Eric was off work for Thanksgiving, we took the train to nearby Yokohama, and visited Chinatown there, with lots of good eating, and plenty of sights to take in.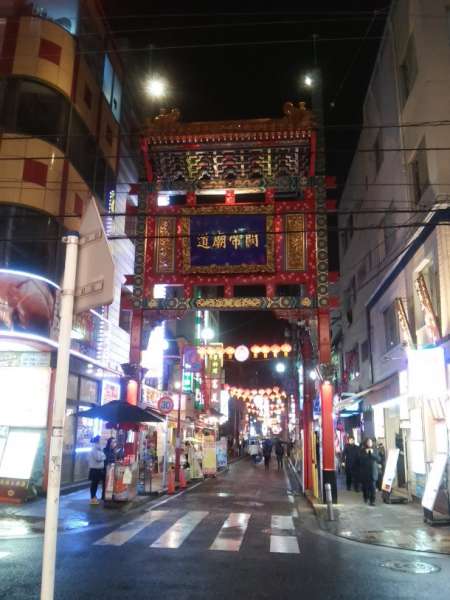 We also took part in something Eric recommended, which is going to a special store where they have tanks of water and tiny fish. You stick your feet in the tanks, and the fish nibble on them for your alloted time. It's supposed to be healthy and cleansing -gets rid of all that dry skin! Cleopatra used them, the informational sheet told me. It tickles like crazy, and is pretty funny to watch too.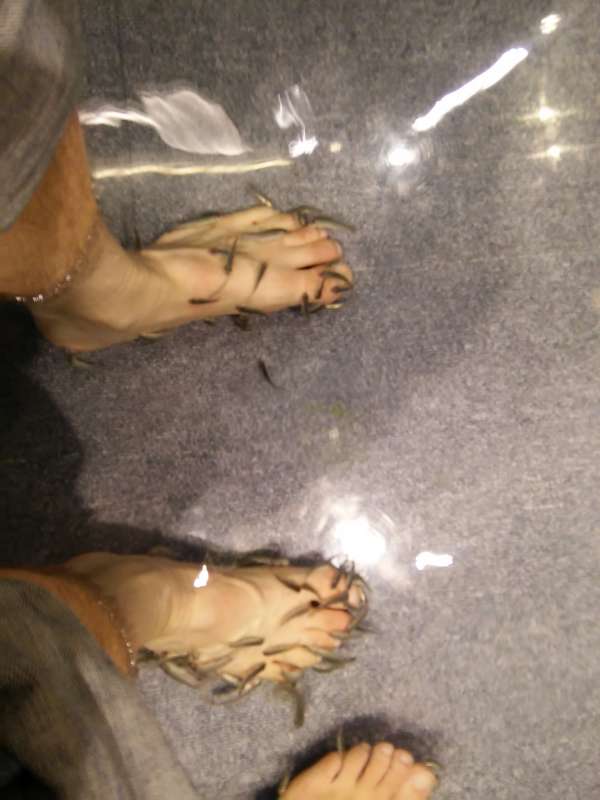 Eric took us into Tokyo one day, and that was a blast. Tokyo is filled with people, and some pretty amusing pop culture. Including theme cafes – Maid Cafes, Kitten Cafes, and Owl Cafes – we didn't go to one, but I did get my picture taken with a real owl!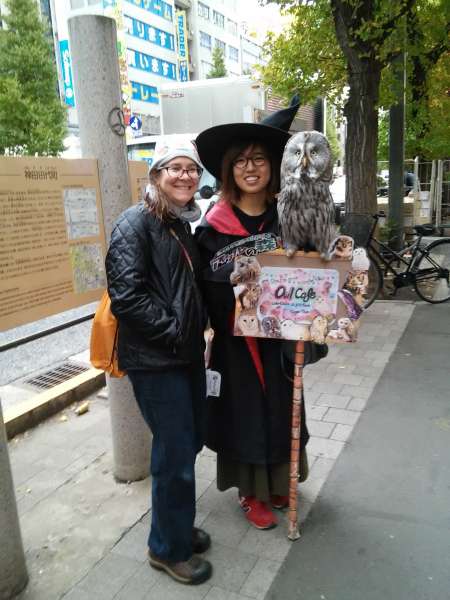 Also, amusement parks – Eric is known in certain social circles as a roller coaster fanatic, and since we grew up loving to ride roller coasters together on family vacations, we had to take in one coaster. It was pretty fast!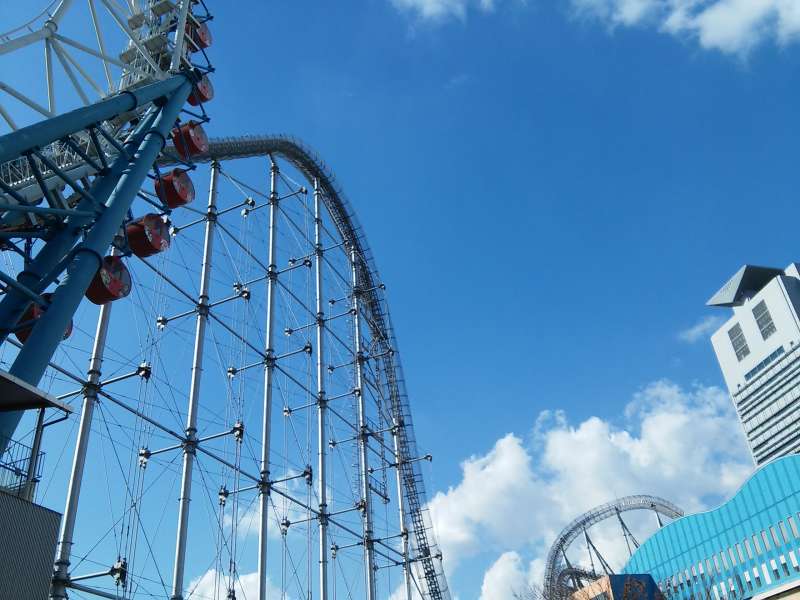 We wandered through shops in the well-known Akihabra district, which is full of electronic and tech gadgets. One building was entirely full of little shops, each staffed by usually one man, who sold some speciality niche electronic-something – wires, or parts, and other men browsing through these shops, looking for just the right thing. There is a certain kind of man (and I know him), who would be very geeked out by this kind of place. How funny, that there is an entire neighborhood devoted to this type.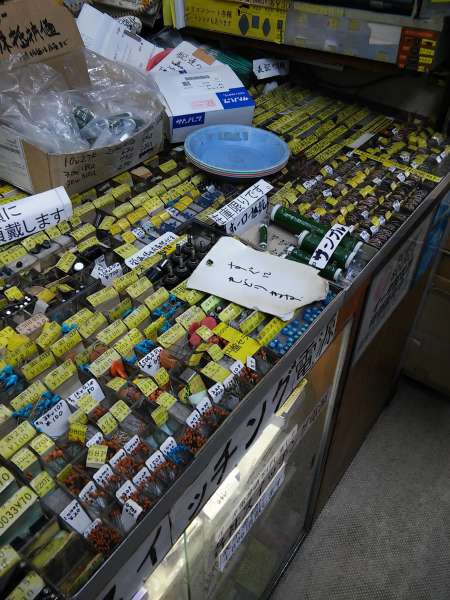 We ended our evening at the Robot Restaurant, which is hard to describe, but kind of like an off-Broadway show, that's a tribute to robots and electronics, with loud rock music, dancing and crazy lights.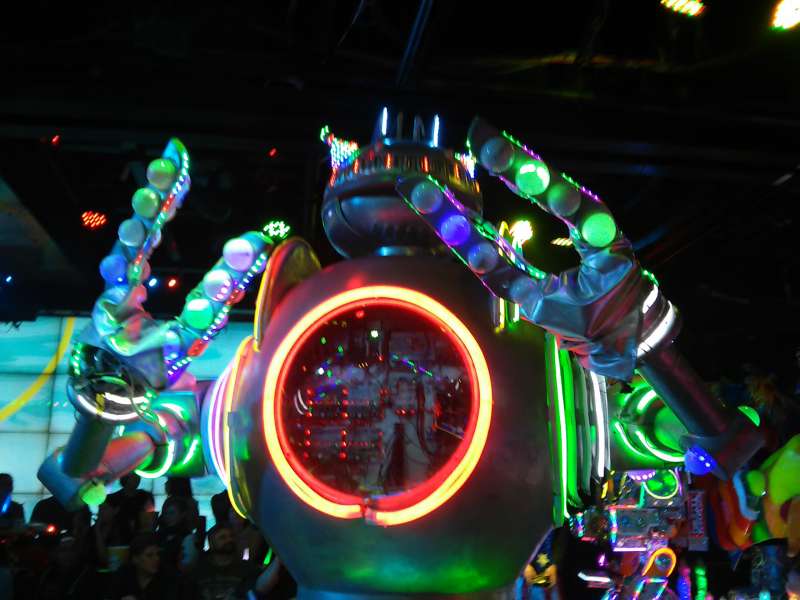 It was definitely not high art, but it was very entertaining. This was the pre-show music, played by real people, dressed up like robots. I want that gig!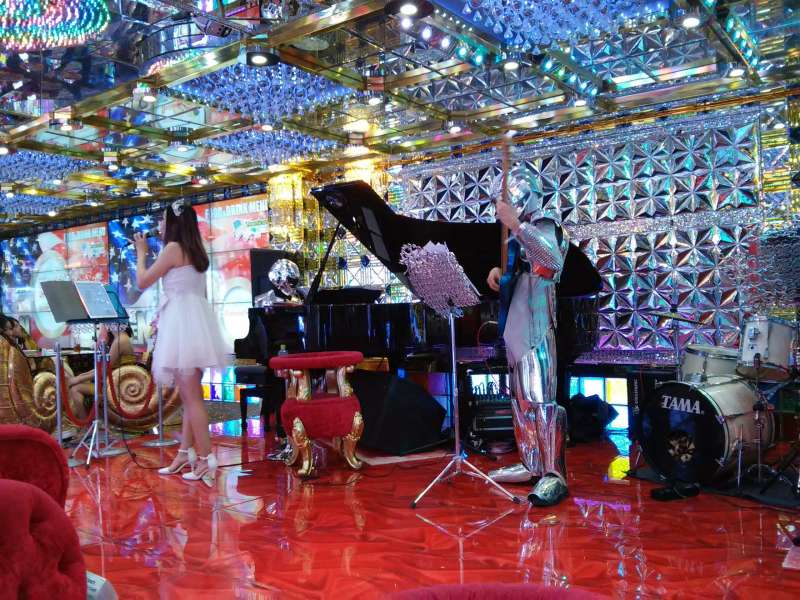 A few things we did every day, wherever we were. One was eat really tasty foods that we don't usually get at home. There was the conveyor belt sushi restaurants – you grab the food as it comes by on the belt, and they count your plates afterwards to figure out how much to charge you.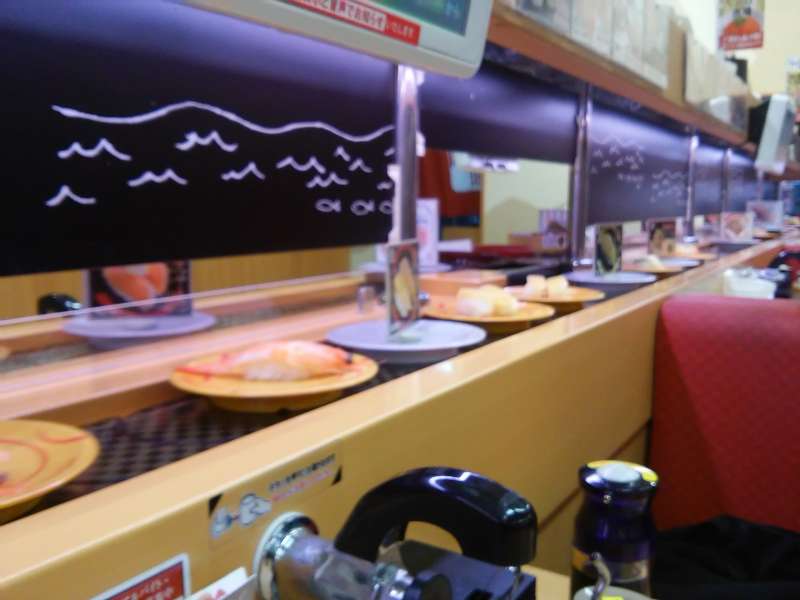 Another was various kinds of noodles with broth, veggies, and meat. Here, from a hole in the wall place we found in Kamakura, Soba noodles (buckwheat) with tiny mushrooms.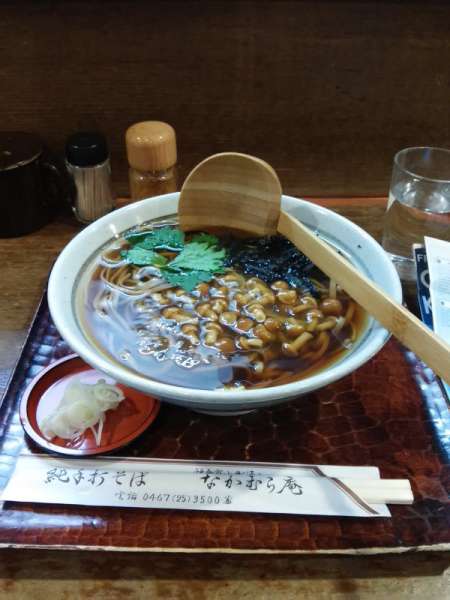 And I'm obsessed with these rice triangles that you could buy at 7-11 (very popular in Japan!), filled with rice, and sometimes meat, or veggies, or egg, or fish. They were the perfect convenience food, easy to eat on the go, or if you needed a snack.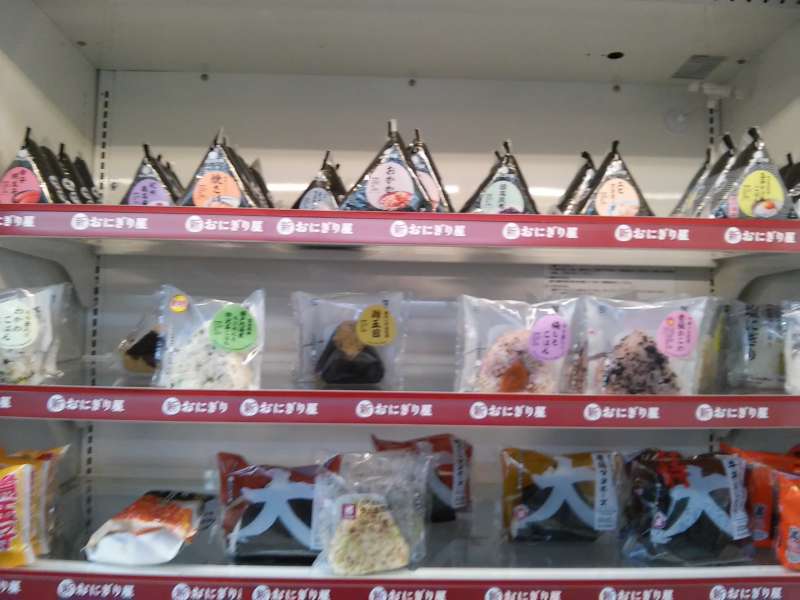 Then I took lots of pictures of funny signs, because they love silly little cartoon characters (and "cute" things in general) in Japan.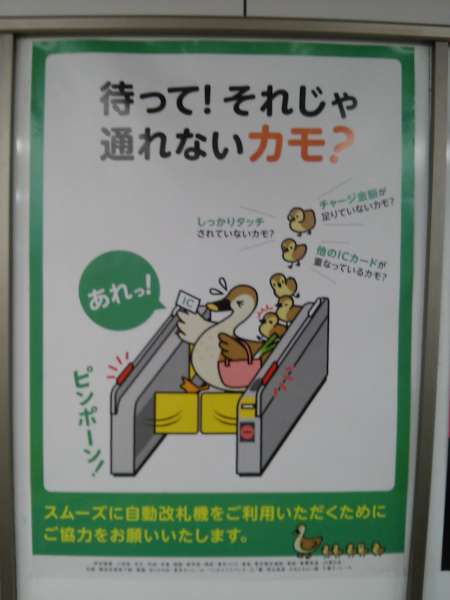 This one was on the elevator doors. I'll bet you can figure it out.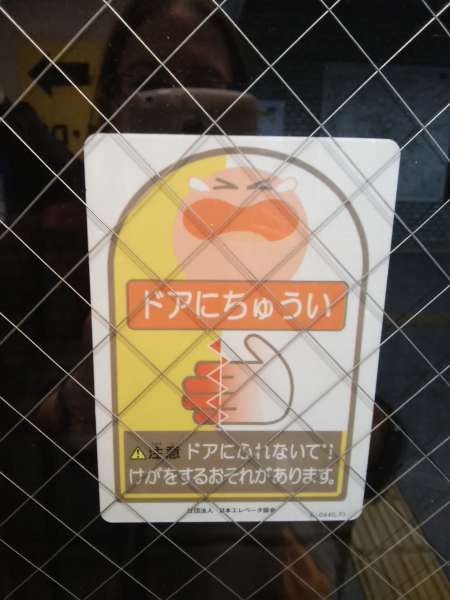 There were lots of cute pop culture characters, and we got our pictures with a few of them.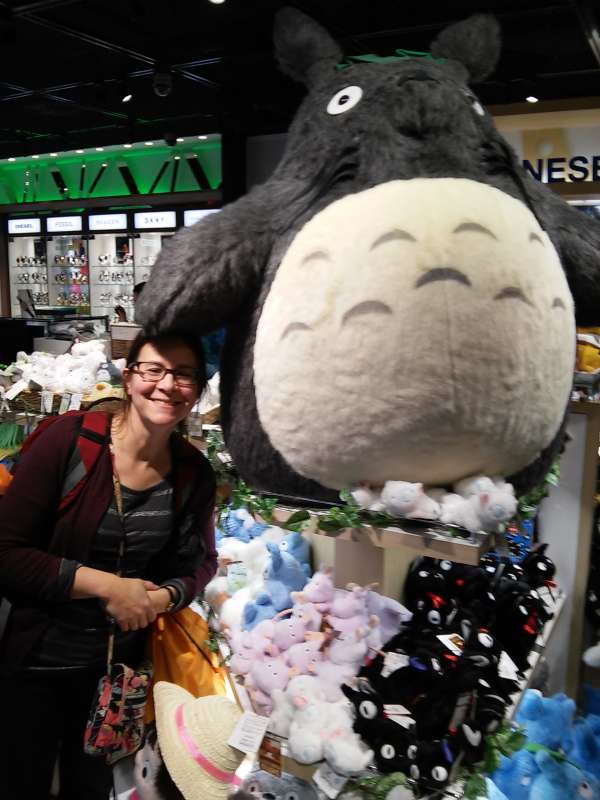 Totoro and I – from My Friend Totoro, the wonderful Japanese anime film.
We went back to Tokyo on Sunday, attended the Anglican church there with Eric, and checked out a museum with some famous robots that those in-the-robot-know, know about, like Asimo, and this android, who was spookily human seeming (Uncanny Valley, anyone?). While sitting in rest position, she blinked her eyes, exactly like a real human would. Freaky!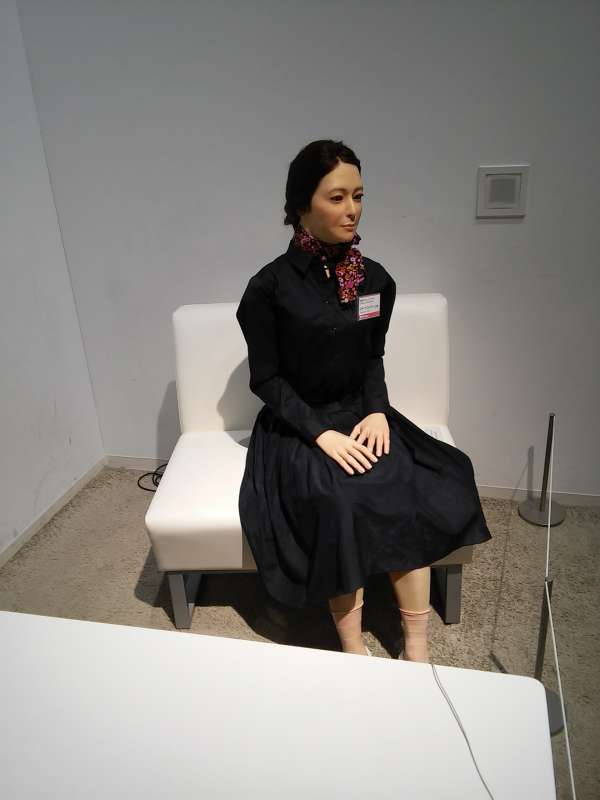 Our final day, with Eric back at work, Mark and I made our way to the Tsukiji fish market.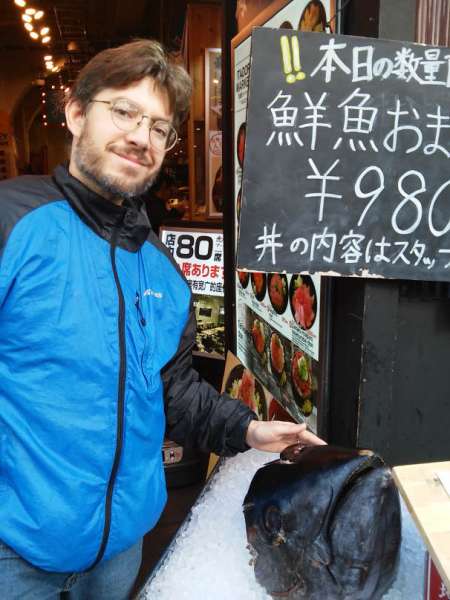 After much wandering, we found the "inner market" where the wholesale fish selling takes place. There are small carts, with funny circular steering wheels, that the sellers zoom around on, carrying stacks of white styrofoam containers, filled with ice and fish.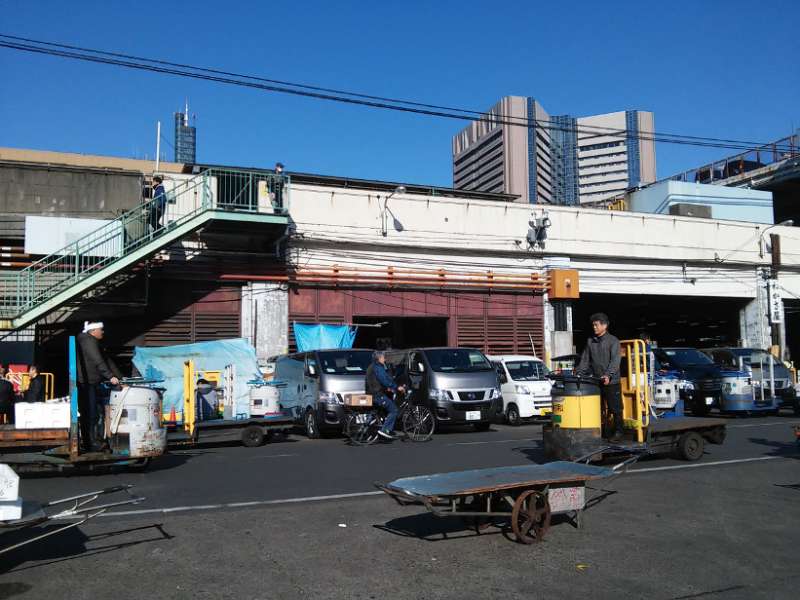 The fish, from gigantic whole tuna, to octapus, and things we didn't recognize at all, were all sitting out, on ice, waiting to be purchased by local restaurants and stores.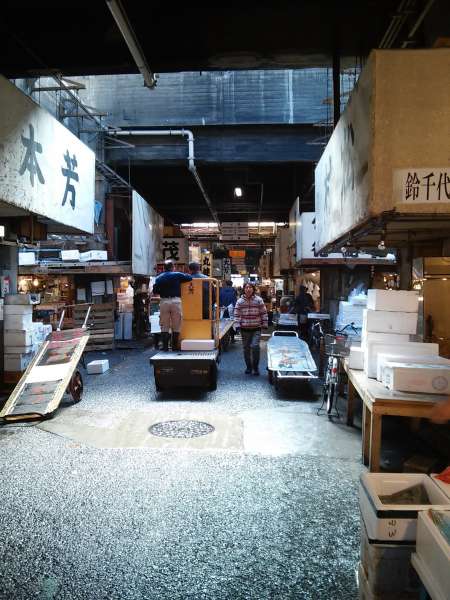 After we'd had our fill of that, we wandered back out to the "outer market", which is a tightly congested mass of stands and vendors – selling lots of kinds of food, both fresh and prepared, as well as other gifts and useful items – knives for cutting your fish.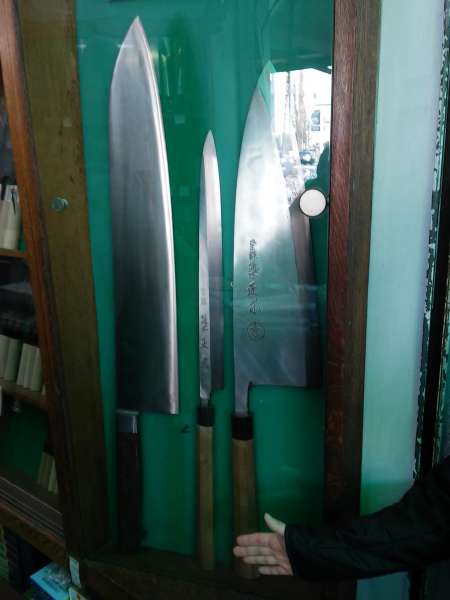 One stand had vats of ginger, in various sauces. Another woman was giving out handfulls of some kind of raw fish (sardines, maybe?), to stuff in your mouth. They were heaped in a huge pile, waiting to be sold. A stand for some kind of egg patties had a line winding around the block, and certain vendors (many of them just hole in the wall places) had signs indicating "No pictures" – I supposed they were sick of being posted online and getting overwhelmed by annoying tourists.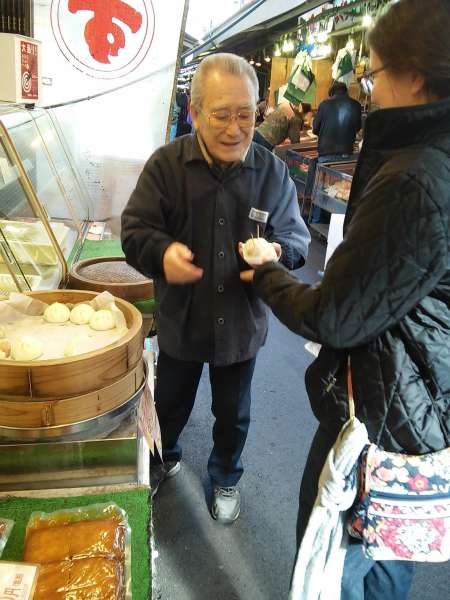 We enjoyed eating lots of treats that morning, from dumplings, to sushi, to dried and candied rose petals, to green tea ice cream.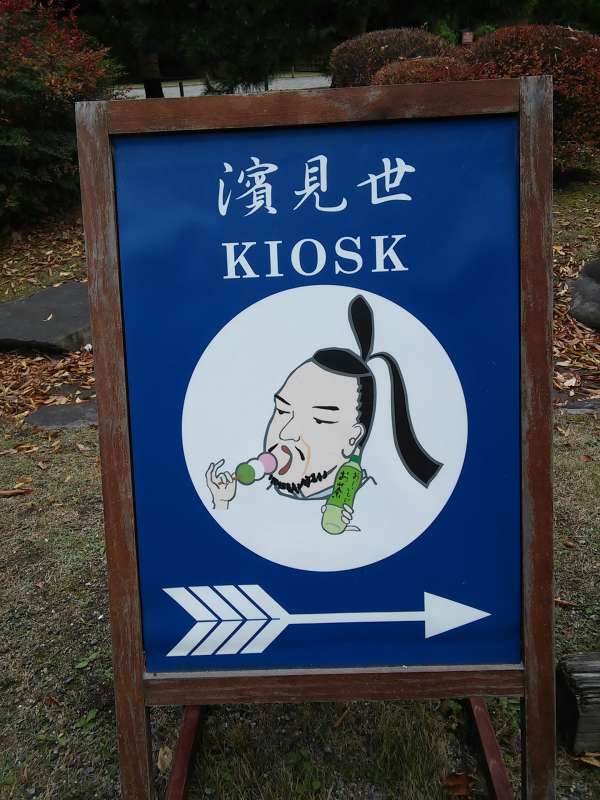 Our final destination was a large park in the middle of the city.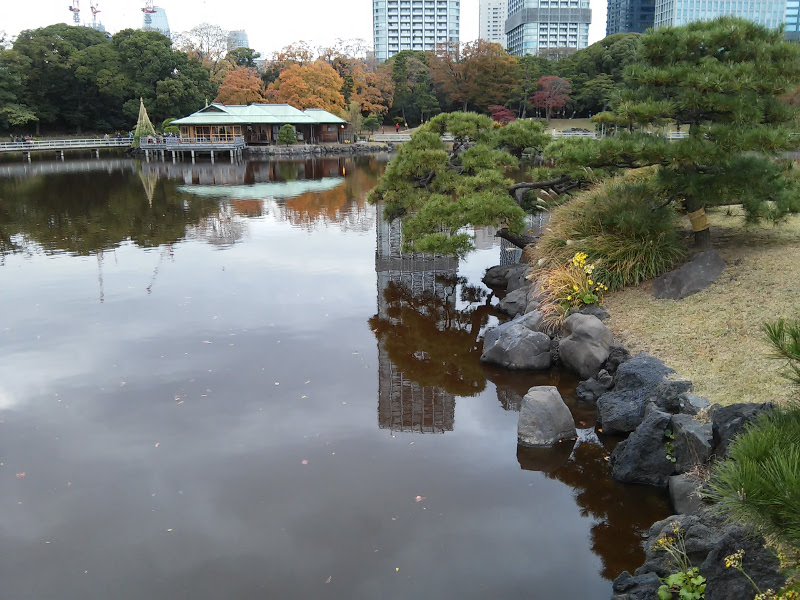 It had some traditional gardens, as well as tea houses and shrines. We got matcha, traditional green tea, with some sweets, and ate it inside on the mats (our shoes off, of course!)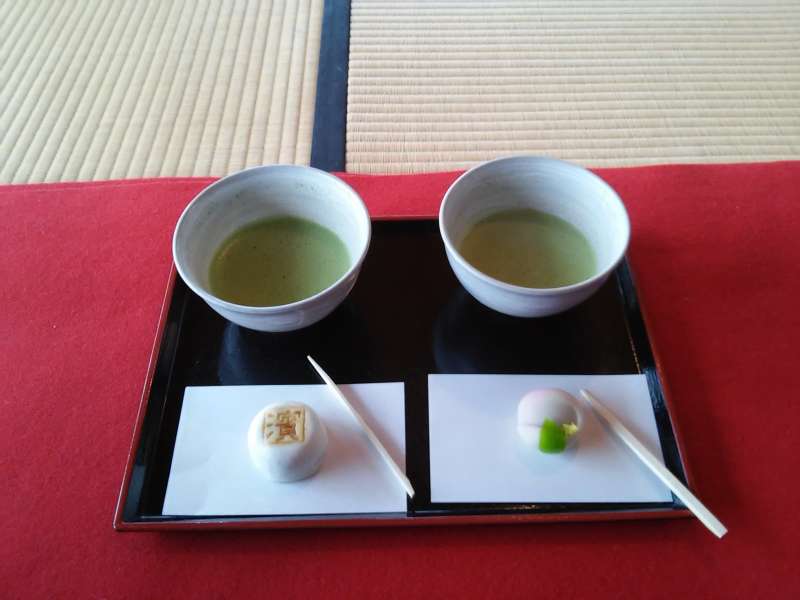 We brought gifts back for the kids, who appreciated most of all their little stuffed characters from My Friend Totoro (the cat bus, and a mini Totoro himself). Now it's back to regular life… Though I've bought some dried seaweed sheets from the Asian grocer, and I plan to look up a recipe for those rice triangles as soon as my Christmas concerts are finished!