Dear Readers,
In the middle of summer 2020 while I'm compiling this blog post, all these activities of 2019 seem so very far away. Flying across the country in airplanes; traveling far and wide (Arizona and Disneyworld!?); playing live concerts; getting up close with friends and strangers…
That was then, back when we took all this for granted, and had no idea how quickly it could all change.
For now, let's enjoy some glimpses of travels, nature, and organs from 2019.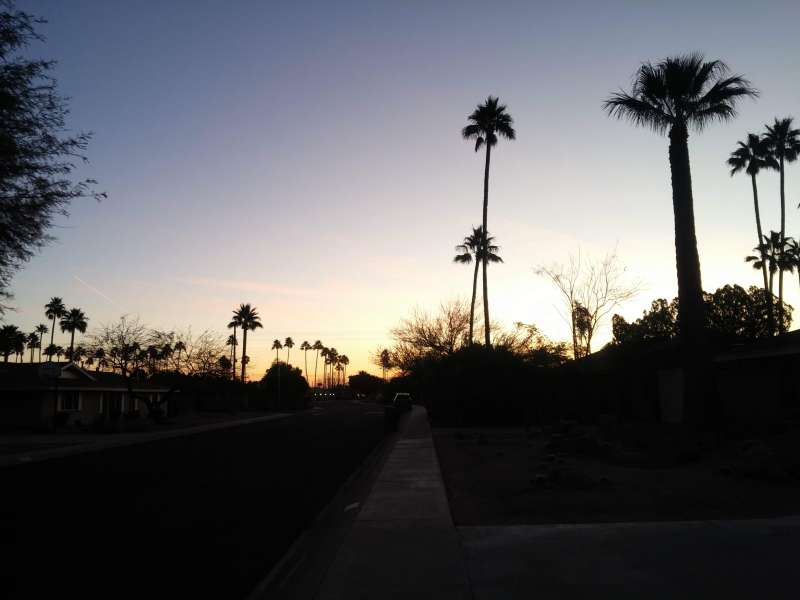 The new year began with a trip to Arizona – my first visit since childhood. I was just enamored with the shapes of the cactus (the cacti?) everywhere, as well as the palm trees.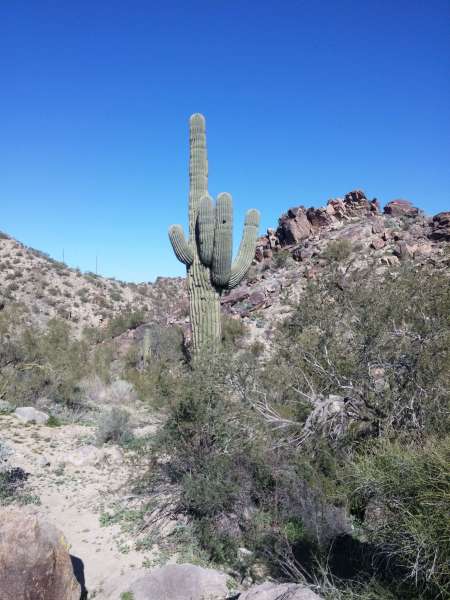 I was there to play the beautiful Fritts organ at Arizona State University, as well as soak up as much sun and warm weather as a Midwestern girl has a right to, in the middle of January. Luckily, not a snowstorm was in sight as I flew through the wintery skies of Michigan, landing to delight myself with hours spent playing THIS!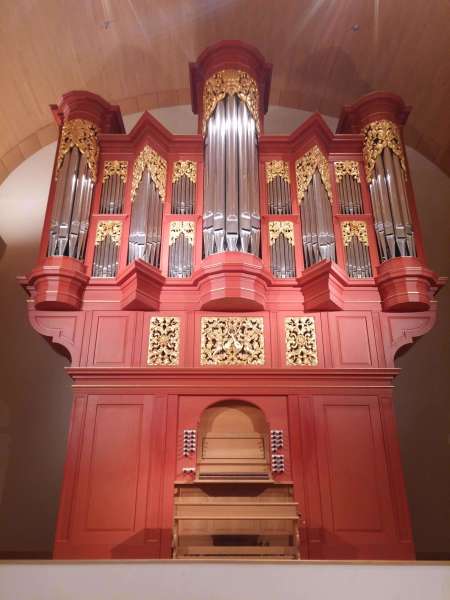 Julia Tucker, a doctoral student of Kimberly Marshall at ASU, was kind enough to take me hiking one morning, satisfying my itch for seeing some more nature (and not spending every waking moment at an organ keyboard). It was great fun. Notice I'm sporting an old-person-in-the-sun-hat. Looks dorky, keeps the sun off.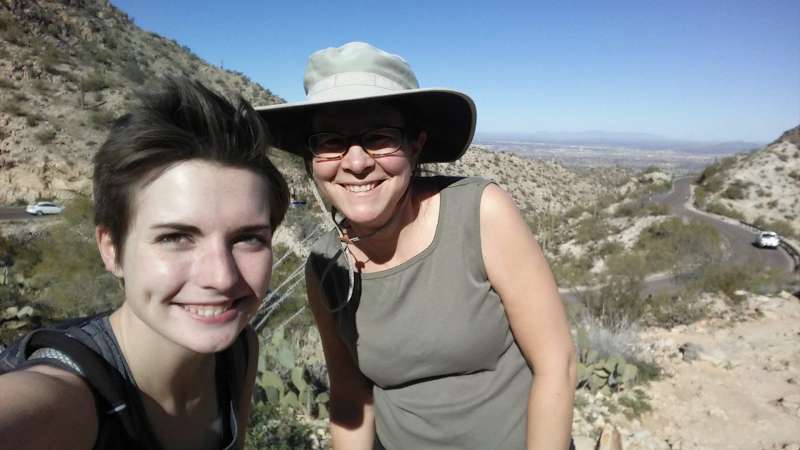 But then, as if to prove that I'm not THAT well-rounded, I spent another afternoon traveling with fellow organist Ilona Kybiaczyk-Adler to Scottsdale, AZ to see the amazing organ from Richards, Fowkes at Pinnacle Presbyterian.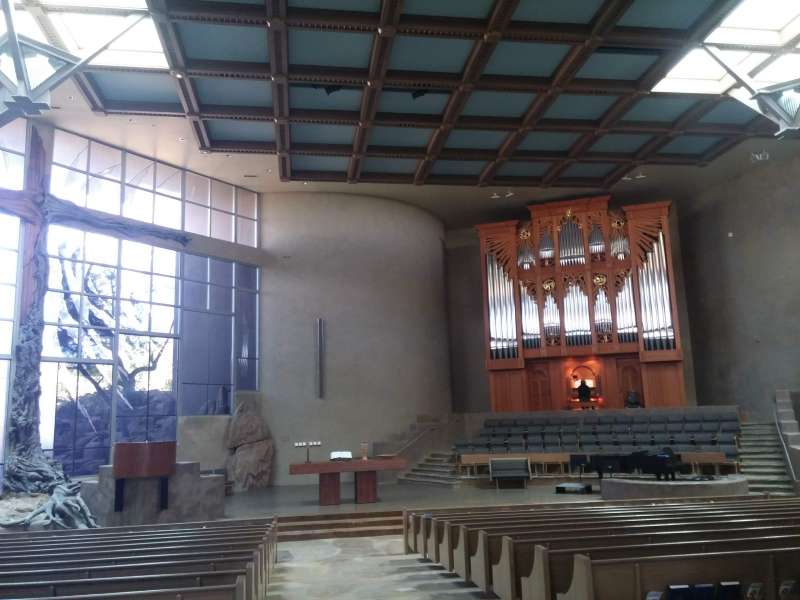 The gorgeous sanctuary fits the beautiful organ well, and the case has a particularly Arizona-themed carving –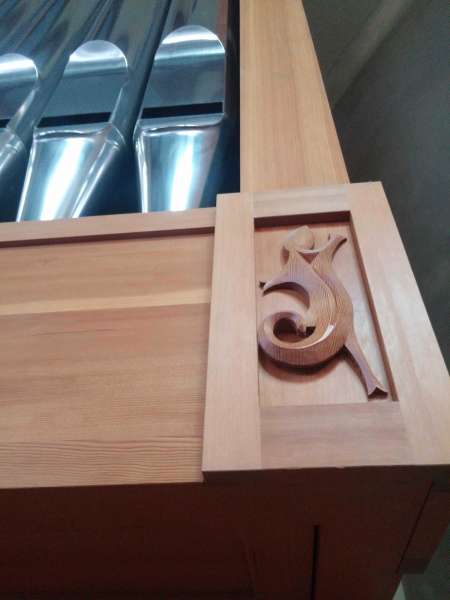 I also had lots of fun with the energetic and spunky Ilona.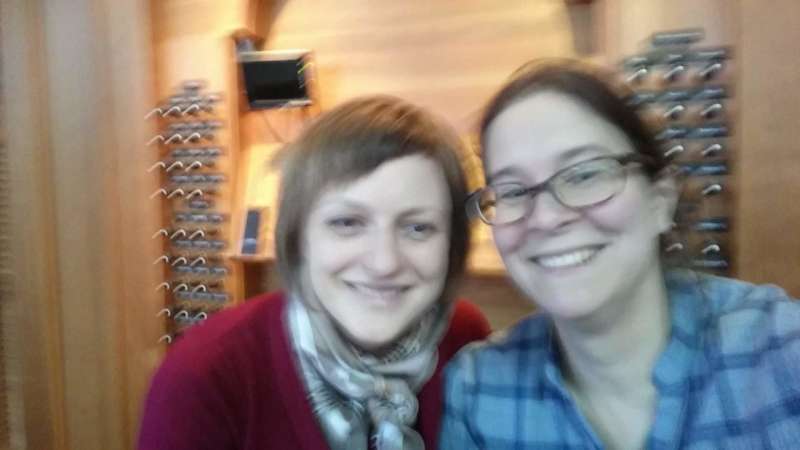 I also had a chance to be back in Chicago (our hometown for about five years, and one of my favorite all-time cities), to play a concert at Fourth Presbyterian Church downtown with colleague Brian on trumpet.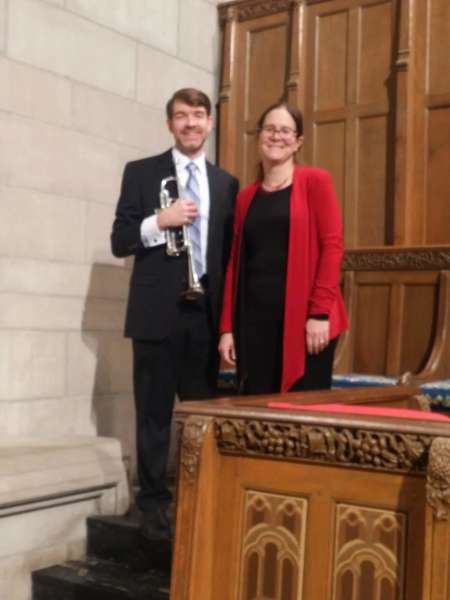 I was hosted well by the jovial John Sherer during my time there – thanks, John! Fourth is a beautiful place with an admirably thriving music and arts program, a gorgeous sanctuary and now a wonderful newly renovated organ as well. Even my old piano professor from Wheaton College turned out to hear my concert.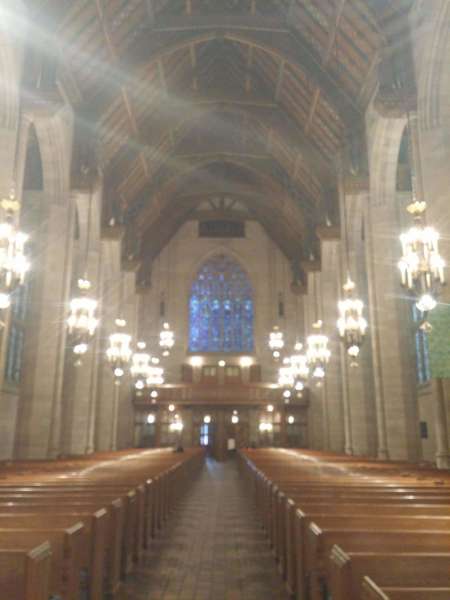 Spring in Holland, MI always means Tulip Time, and any self-respecting citizen has at least one traditional Dutch costume to don for the occasion!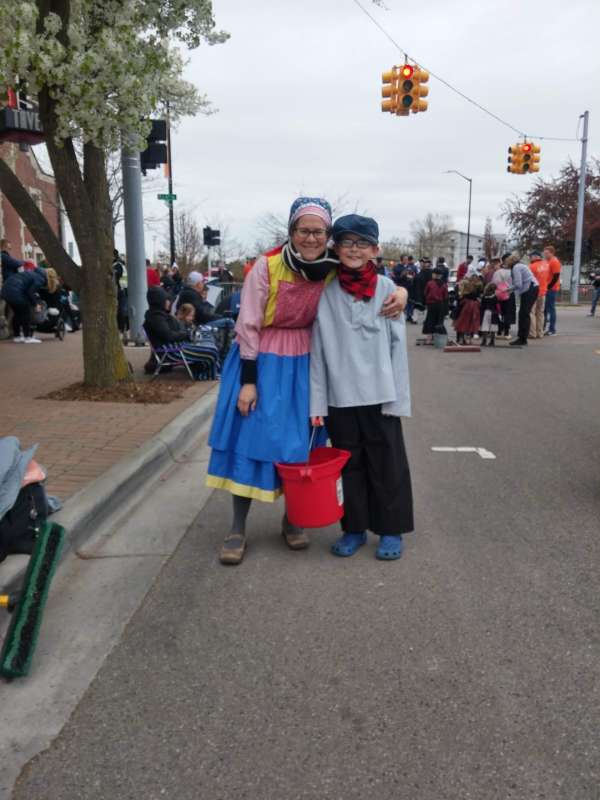 I played my second official Tulip Time concert as part of Holland's festival in 2019. Friend and bassoonist extraordinaire Genevieve Beaulieu joined me for a neat setting of Dutch hymn tunes by Aaron David Miller, and I somehow conned my daughter into putting on her costume to pass out programs. I was not about to play in those skirts, aprons, and petticoats, but I did put on the hat.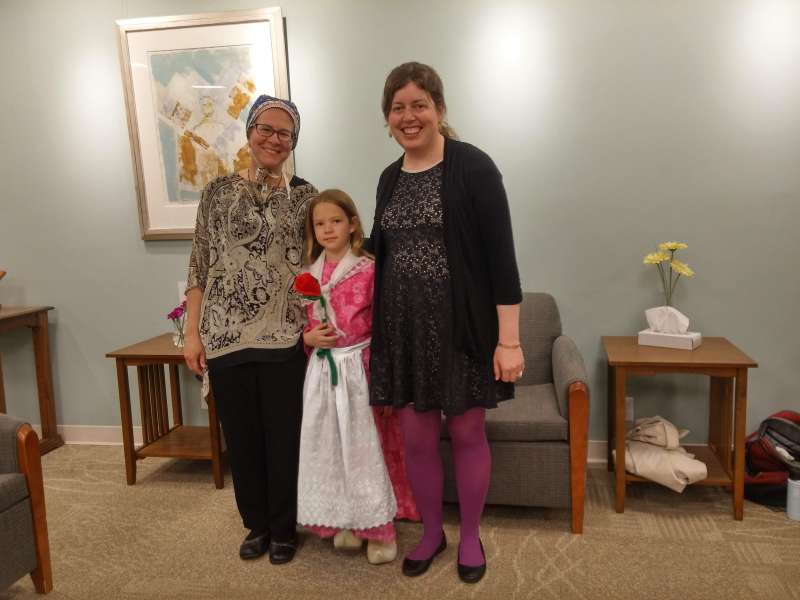 May brought a trip to Florida, with my parents and brother, and a visit to Disney! My brother Eric lives in Florida, as many of you know, a trumpeter in the US Navy Band. We had a great family gathering, and of course, fun Disney-style.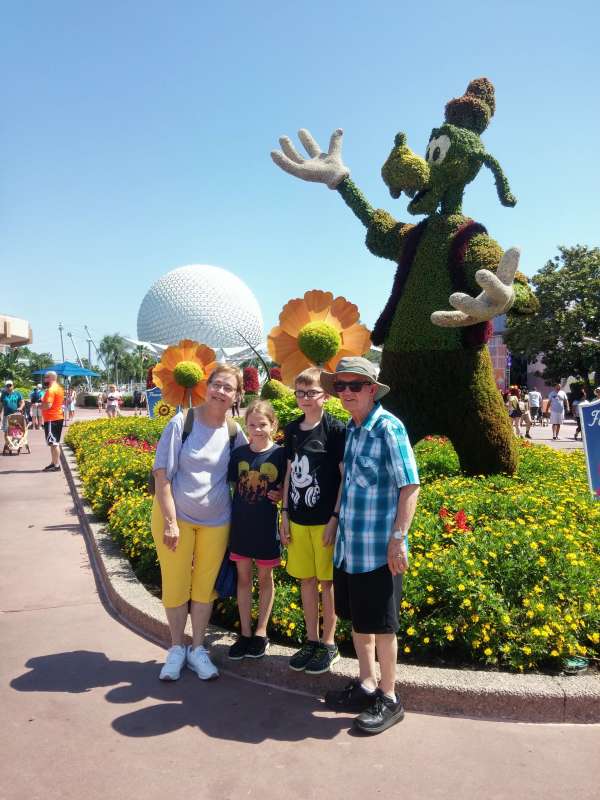 We enjoyed our time in the Magic Kingdom, including lots of coasters, and (a favorite from my childhood) a climb into the Swiss Family Robinson Tree House, where I was shocked and delighted to discover they had an organ! Now I want to live there even more!! Something funky-looking about those keys though…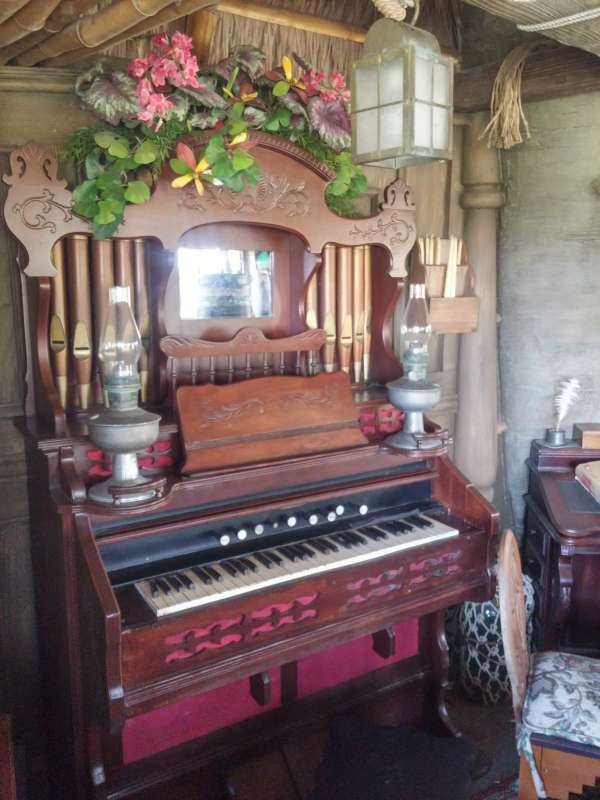 In fact, there were organs all over the place at Disney – outside the Haunted Mansion, in a scene in Splash Mountain. I think Disney must have been an organ fan. Here is my Dad (also an organist) at the Haunted Mansion.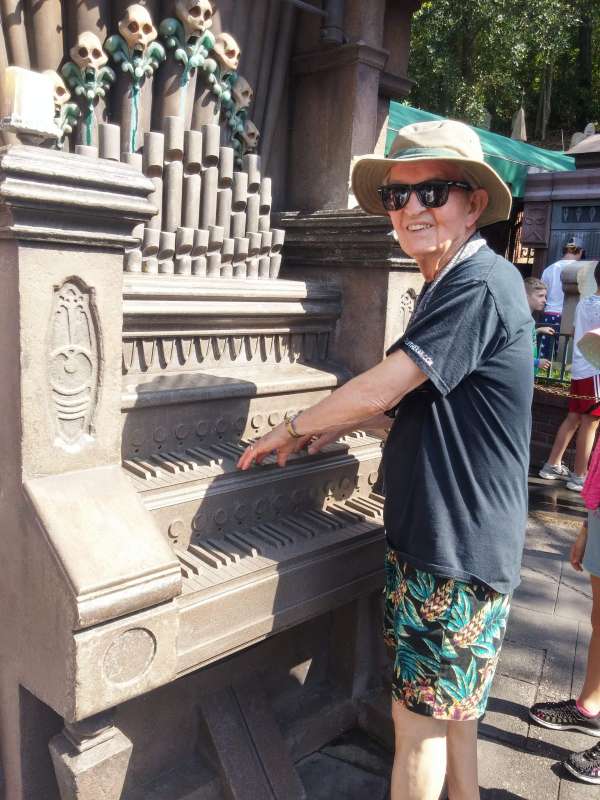 Summer in Holland, MI brings the beloved farmers market, and many a Saturday morning spent riding over on my bike to load up with fresh produce of many kinds. After your handlebars are full, here's a new way to carry the carrots.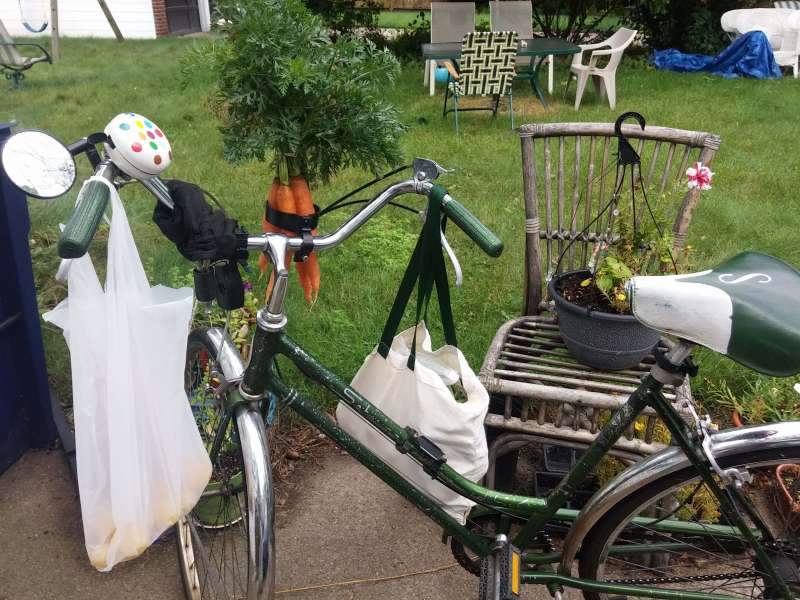 In July the AGO regional convention was held in the Grand Rapids area, and on the day they visited Holland, I was honored to perform on my favorite organ in town, the 2016 Pasi at Grace Episcopal. Martin Pasi (the organ builder) even came out for the concert, which was a pleasure as always.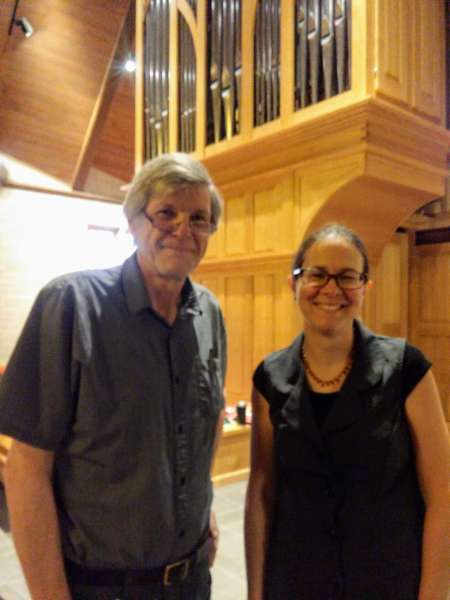 August included a family vacation to Mackinac Island. (It's pronounced Mackinaw, for the rest of you). We didn't stay on the island, but at a lovely Airbnb on the mainland, complete with hammock and lake for swimming. Even though it's a total tourist trap in many ways, there is so much charm that you can't take out of a place like Mackinac Island. The ferry over to the island (under the famous Mackinac Bridge, to the Upper Peninsula)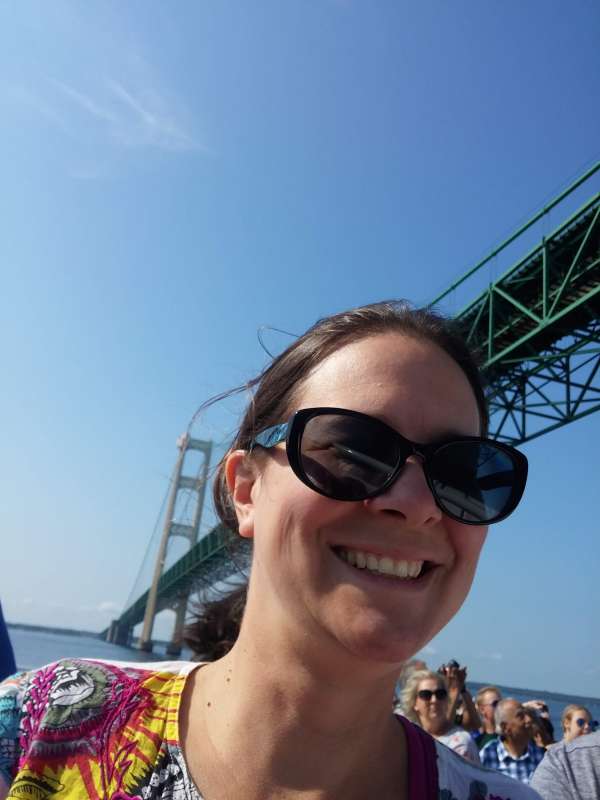 – biking on the island (a must do!) – the gorgeous blue color of the water –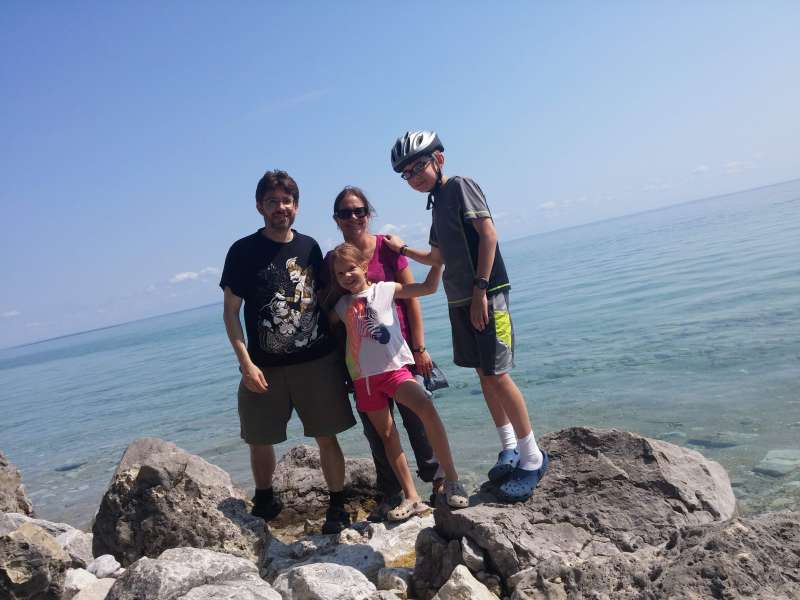 and the famous balcony of the Grand Hotel. Of course, we bought some fudge too, because … Mackinac Island fudge…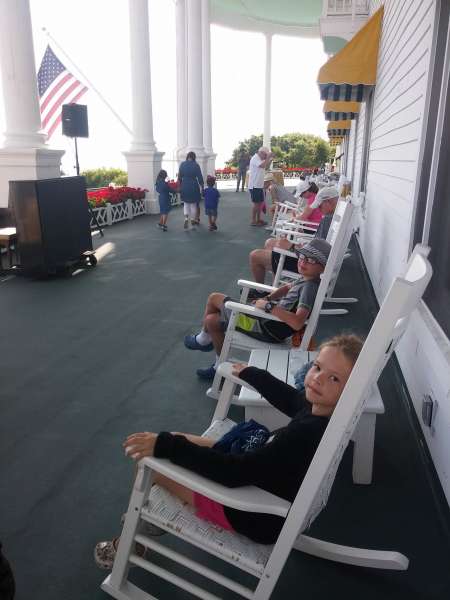 In September, I traveled over to the East side of the state for the U of Michigan's annual Organ Conference in Ann Arbor. Wonderful concerts, and time for dinner or ice cream and chatting with some of my favorite organists!
(Shout out to some of my favorite organists, who also played some of my favorite recitals that week – Kola and Julia.)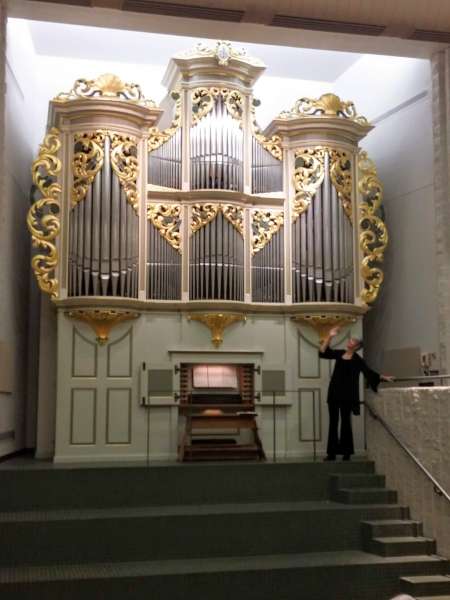 October turned out to be one of the craaaazy months.
There was the Westfield Conference at Oberlin (more time to hob-nob with organists, and oggle fabulous organs)
The new Spanish Baroque organ – amazing sounds and colors!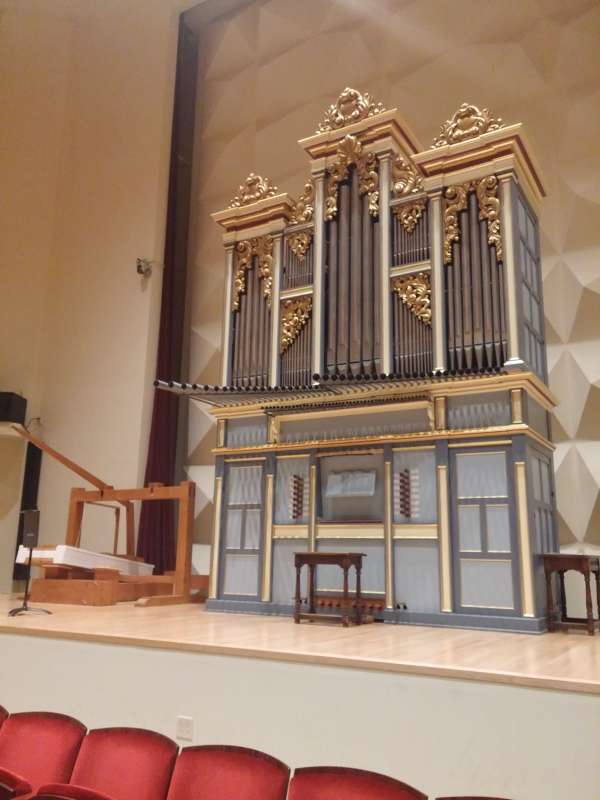 and the old favorite John Brombough at Fairchild Chapel – (can I take it home with me?) played wonderfully by Erica Johnson.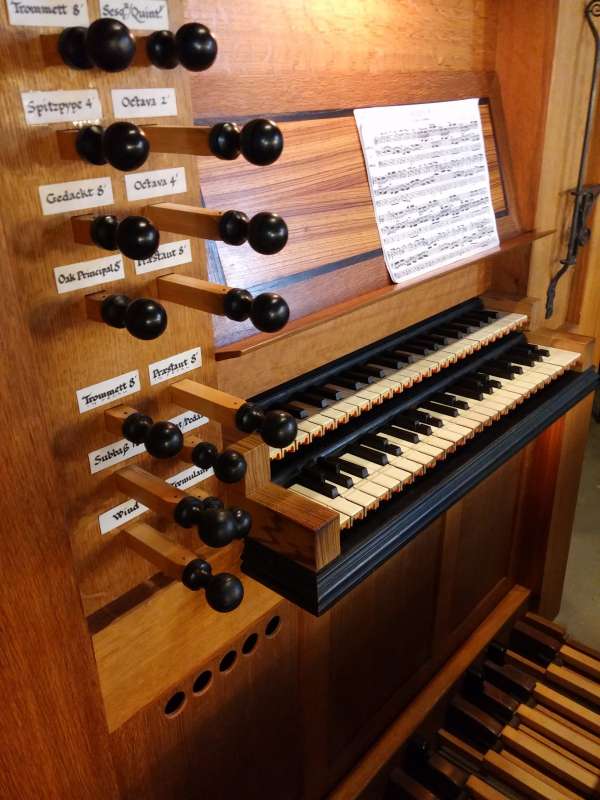 I squeezed in a trip to Bourbonnais, Illinois, to Illinois Wesleyan University, to play a duo concert with Brian Reichenbach on trumpet in their gigantic chapel, with the equally gigantic Ruffati organ.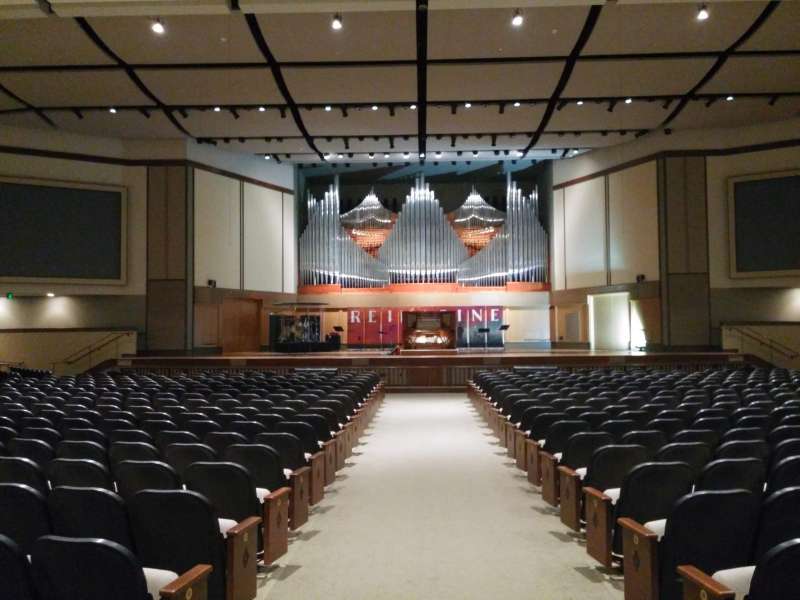 And then there was the Japanese concert with Marimba and Taiko Drums.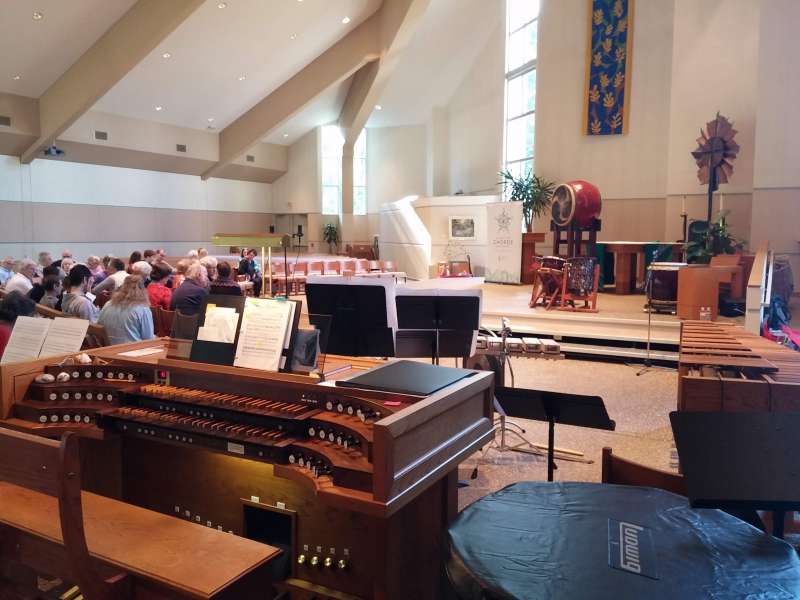 Some of the most gracious and creative musicians signed up with me to bring to fruition a zany idea – many, many thanks are due to Mark Lopez on marimba and Carolyn Koebel on Taiko for making this happen, along with Ken Koshio, Jung Woo Kim, and Michigan Miryu Daiko.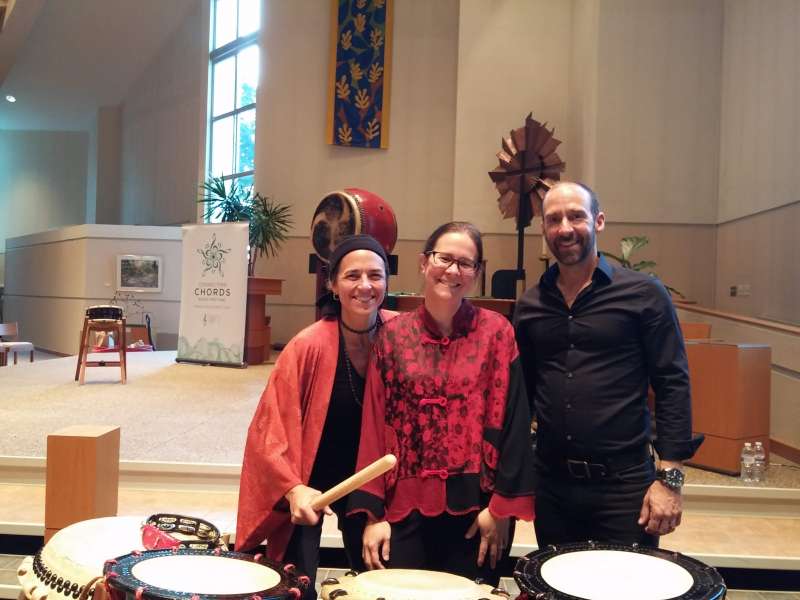 We presented in Holland's Dimnent Chapel on Friday night, and Prince of Peace Lutheran in Kalamazoo on Sunday.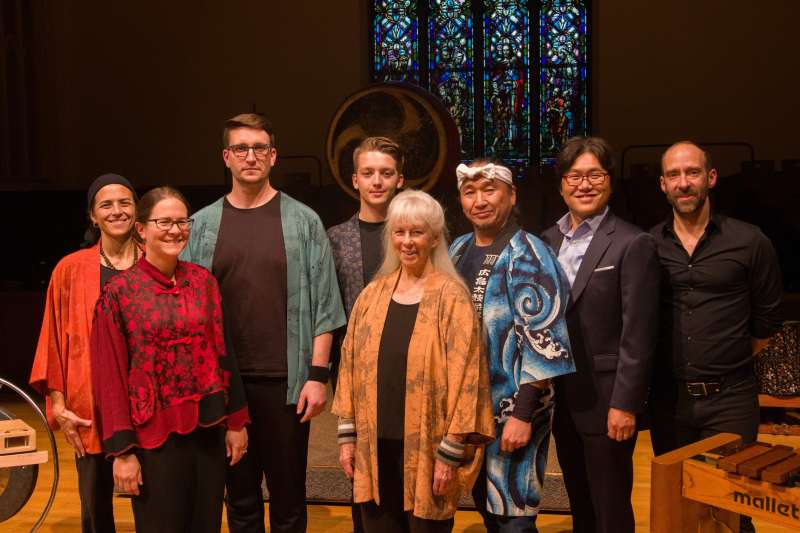 Then it was time for a well-deserved break, so I drove down to a town I still love where I lived in the late 90's, Bloomington, IN, to see a new organ and an old friend.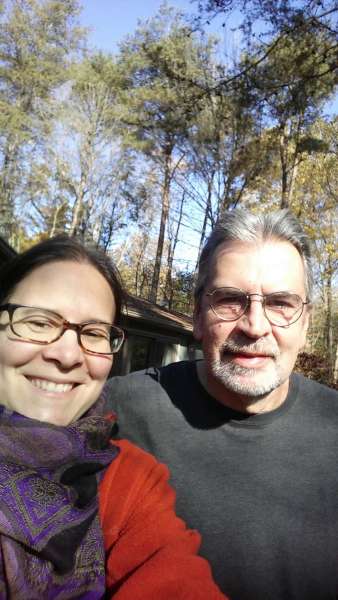 Fall is a lovely time in Indiana, and it was great to connect with Ric again, and see the new Richards, Fowkes organ at First Pres in Bloomington (so jealous of CY!)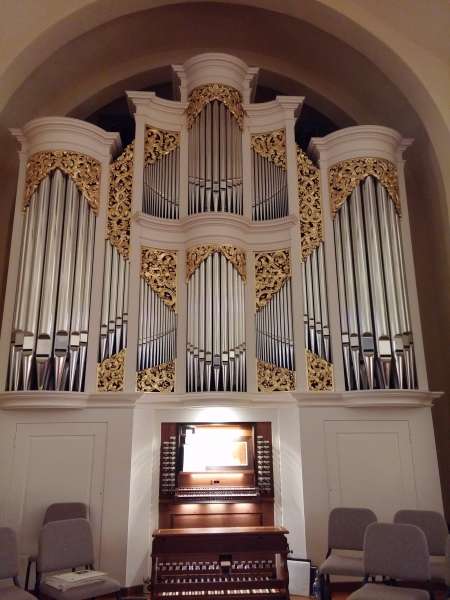 I played an Advent recital at Park Congregational in Grand Rapids right before December started, and was so impressed with their beautiful decorations. If you're going to do the decorations that far before Christmas, you'd better do them well. Also, notice the two close-up screens – it's good I can't see myself on them while playing!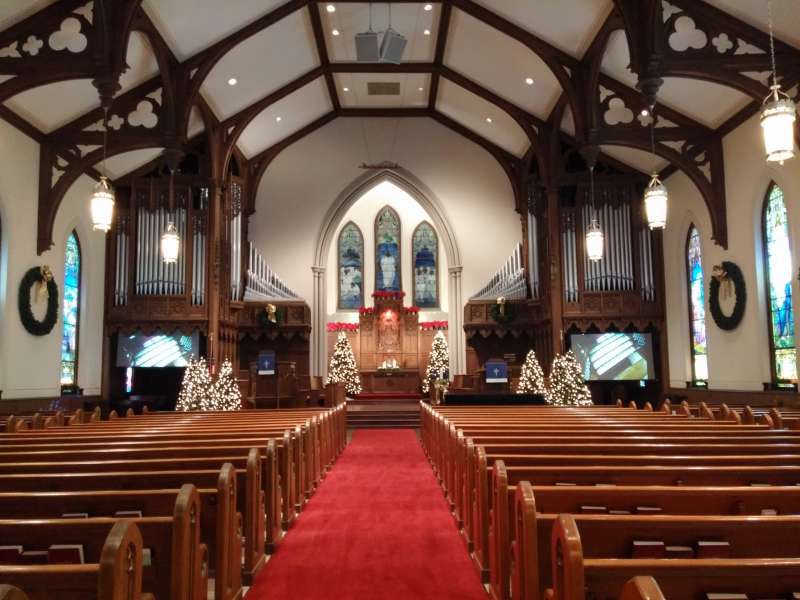 One audience member was an old college friend Thad, who I hadn't seen in 20 years, and who has turned into a totally respectable adult – who would have guessed, back in the day…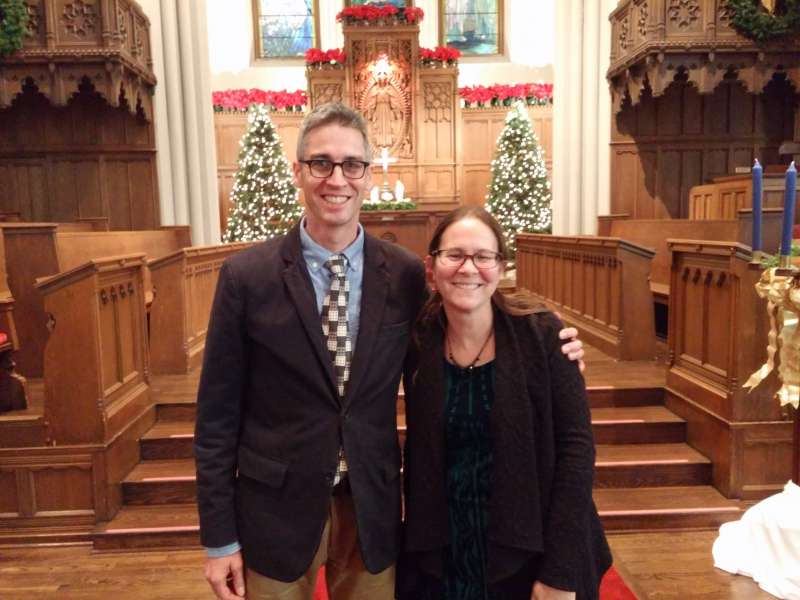 The year ended with another trip to Florida, spending time with my brother and parents, enjoying sunshine and blue waters (and palm trees.)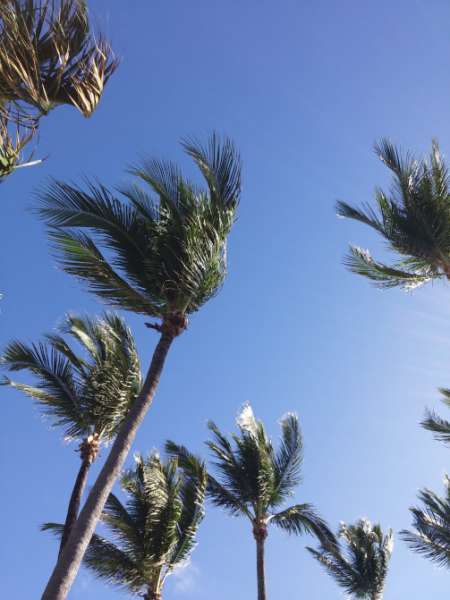 We also took our first (and last?) cruise as a family. Here we are in Nassau, where we landed at the tail end of their New Year's parade, with one of the elaborate and colorful floats.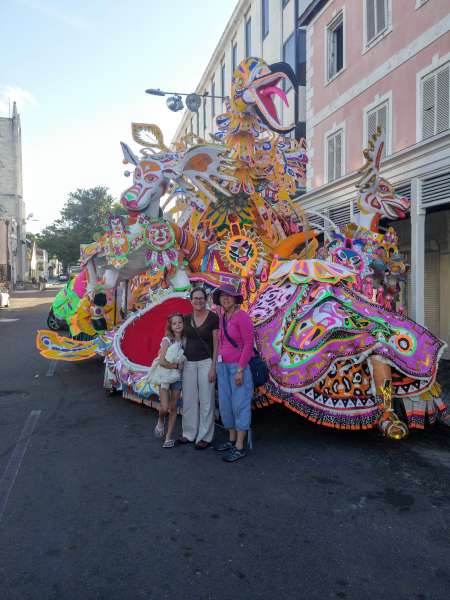 And I'll finish up with the last concert I played before COVID19 hit, in February. It was in Grand Rapids, part of First United Methodist Church's Festival of the Arts, another rendition of our Japanese concert for Organ, Marimba, Voice, and Taiko Drums. This involved my professional percussion debut (perhaps not soon to be repeated, but fun none the less)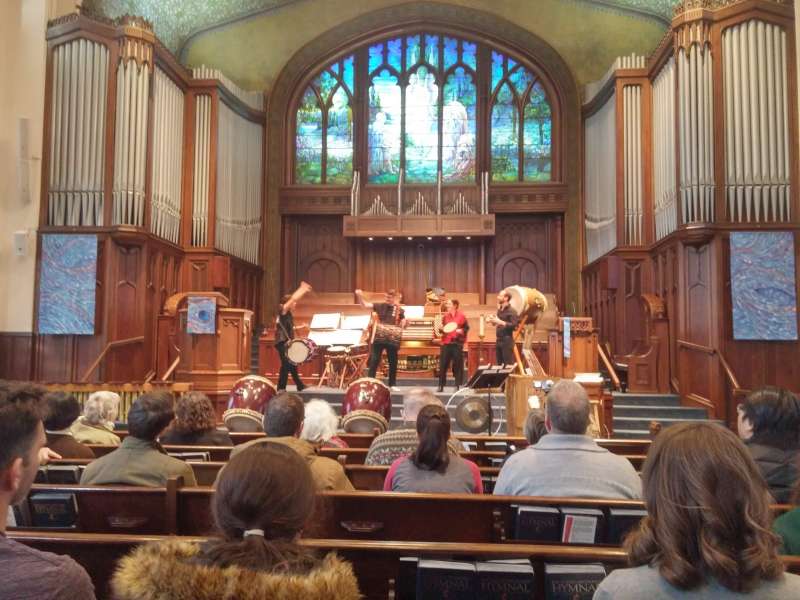 We were hosted graciously by my newest organ-pal Eric Strand at FUMC, had a great audience (including hecklers! – "More Marimba", is a phrase I will not soon forget…), a nice reception afterwards (my kids usually decide if my concerts are worth attending based on the existence of a reception after or not), and another fun time making music with these folks.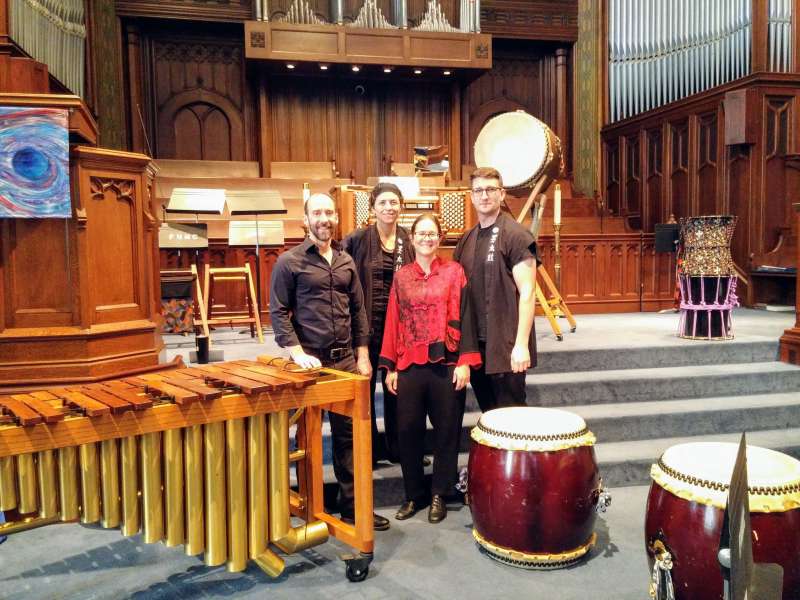 And who knows what the future holds next…
But it was all great fun while it lasted. Thanks to everyone who made all these adventures possible.